Dover 30 inch Round Slate Fire Pit
If you are looking for some style in an inexpensive wood burning fire pit, the Dover 30 inch round fire pit with a slate top surround should be on your shortlist.
With a deeper bowl and sharp looking multi colored slate surround, it will fit a lot of needs for your patio fire pit. The slate pieces are glued onto the surface and can be replaced if needed. Two rows of tiles are used around the fire bowl.
The fire pit will sit on four large legs that will be supported by a lower ring for a very ridged fire pit. Empty it will weigh only 12 pounds and be easy to move for one person after it is cool.
For more ideas on a wood burning fire pit, see my post here.

Overview of the Dover 30 inch round fire pit
| | |
| --- | --- |
| Dimensions | 30 inches wide and 13.5 inches tall without a lid |
| Weight | 12 pounds |
| Bowl Depth | 7 inches |
| Price | $ 94.64 |
| Our Rating | 85 |
Why purchase this fire pit
The Dover fire pit will have a great look with the tile surround and stout looking legs. The smaller size will allow you to use in smaller spaces. A deeper fire bowl will allow more wood in the bowl at a time.
Moderate price will be great for those who are looking for style in their entry level wood burning fire pit. At less than $100 with free shipping, you can have it at your front door in just a few days.
Features
See my video on the features of this fire pit in the video below
Deep fire bowl, stout legs, great looking tile surround, included forked poker, and spark screen. Multi-colored tile surround will give you a small side table when you do not have a fire.
A spark screen to keep embers under control during a fire if it is windy. Hook on top of the spark screen so it can be removed with the forked poker when hot.
Forked poker to stir the burning logs and lift the spark screen. Log grate to keep logs off the floor of the burn bowl to let them get air to burn better.
Materials
The fire bowl and frame are made from steel with a painted surface. The spark screen will have a steel mesh with steel frame. Tile surround will sit on a steel frame, they will be set in place with glue.
The thin steel fire bowl can only burn wood. Charcoal and composite logs may burn too hot and leave your bowl subject to rust and some pinholes.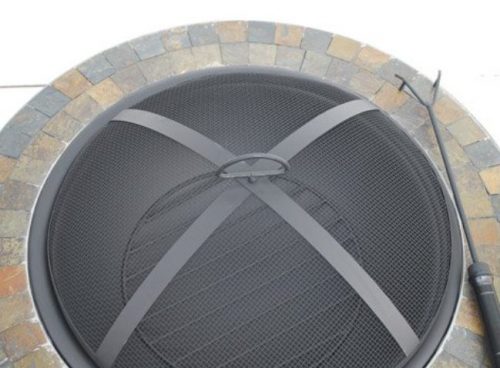 Assembly and Care
Legs will attach to the bottom of the fire bowl and then attach the support rim to the legs. Make sure it is sitting on a level surface for the final tightening for the best results. The ring must be added to the spark screen with a nut.
Add log grate and spark screen then you are ready for your first fire.
Care of your fire pit will be to clean the burn bowl after each fire, the ashes will collect moisture that will attack the surface of the burn bowl.
Getting a cover or storing your fire pit out of outdoor weather conditions will extent its life by several years. I have seen the bowl rust out in a couple of years without proper care.
Some of the tiles may come loose during use, you may have to use a heat resistant glue to reattach them. Replacing them if one is broken or lost will take a little work as they will have to be cut. Matching colors will not be as hard as the multi-color pattern will allow several colors to match any missing tiles.
Pros and Cons of the Dover 30 inch Fire Pit
Pros
Bowl depth is 7 inches. Will hold several logs at a time. will take less time adding wood.
Great looking tile design
Tile surround for burn bowl. Tiles are glued on.
At only 12 pounds empty, it will be easy to move when cool.
Cons
Tiles may be hard to replace if broken or lost. If a lot of them are off or broken, you may have to replace the entire surround. Must use a heat resistant adhesive to keep them attached.
Will have to purchase cover or have a way to store your Dover fire pit out of the weather to keep it from rusting out in a couple of years.
Cannot burn composite logs or charcoal. Heat will be too hot and it will damage the bottom of the bowl.
Conclusion and final thoughts
For those looking for some style in their patio wood burning fire pits, the Dover round fire pit with tile surround will work well with the budget in mind. A very sturdy fire pit with a great looking design and deep fire bow, it will be a conversation piece when you have a gathering in your back yard.
I like the style and ease of assembly of this fire pit. The tiles if they come loose are an easy fix with a heat resistant adhesive. Color is varied so that you can use several different colors without making your fire pit look like you replaced one tile.
The fire pit could use a poly cover of some kind to keep it dry when the weather gets bad, this will give it a longer life outside. For those looking for a cover for their fire pit or another patio item, look at my post here.
If you have any questions or comments, use the forms below and I will get back to you shortly.