Mainstays Owen Park 28 inch Fire Pit Review
If you are in the market for a wood-burning fire pit, let me give you the details of the Mainstays Owen Park 28-inch Fire Pit. In this article, I will point out the good and bad point of this low priced way to entertain your guest in your backyard.
By the time you are done here you will know if this is the fire pit for you. If you would like to look at some of my other wood burning fire pits, see my post here.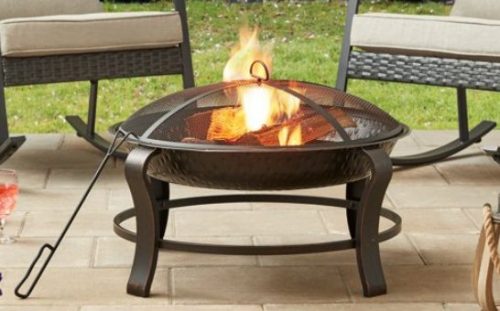 Overview of Mainstays round fire pit
| | |
| --- | --- |
| Dimensions | 28 inches wide, 19.75 inches tall |
| Weight | 11 Pounds |
| Bowl Depth | 5 inches |
| Things included | Forked Poker, Spark screen, Log grate, Poly Cover |
| Price | $ –Under $100 |
| Our Rating | 7.5/10 |
Who is this fire pit for
This is a great Wood Burning Fire Pit for those who do not want to spend a lot of money and do not need anything fancy. Its simple design will give you a shallow bowl for a moderate amount of wood so that you will not have to tend the fire often.
The low price (at the time of this article $42) will be a great deal for those looking to get into the fire pit market. With the stay at home this fall, this will be a great gathering place for you, your family and friends.
Features
Round bowl will hold a moderate amount of wood. If you do not stack to high you can place the spark screen on top to keep the embers from blowing around. Remove spark screen, grab your sticks and roast hot dogs or marshmallows.
The legs will give you a little design as the four legs will elevate your fire pit a little off the ground and let it breathe through the hole in the bottom of the burn bowl. The log grate will keep the wood off the bottom to let it breathe also.
The forked poker can be used to remove the hot spark screen or to move your hot logs to make your fire burn better. The looped handle design will allow you to keep your hands cool while dealing with the hot items.
A poly cover is included to cover your fire pit when not in use, make sure it is cool to the touch before installing as it will melt if installed on a hot fire pit. These covers normally last a couple of years in outdoor weather conditions. For a replacement cover see my links to Walmart, they are under $20 at this time.
Construction
The full metal design will give you years of fires if you protect this fire pit from the elements. Burning will take some of the finish off the bowl and it will start to rust if not protected with the included cover or stored out of the weather.
The spark screen has a mesh surface to keep the embers under control when you have a fire, remove it with the all metal forked poker to add wood or cook your hot dogs.
Cover is made of poly material with a drawstring to keep it in place. It will harden with exposure to the weather and crack, this is what happened to mine.
A stainless log grate will keep a little distance from the burning logs and the bottom of the burn bowl. This will help with the burning of the logs.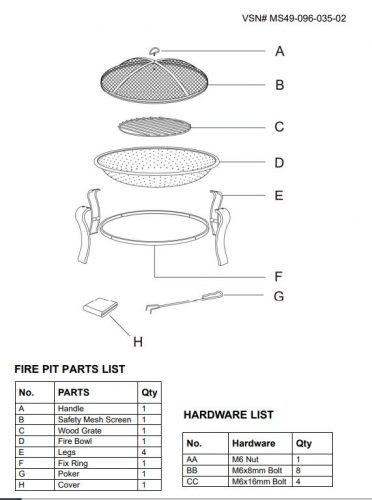 Assembly and Care of your fire pit
Most people can do a simple assembly in under 15 minutes. Tools needed will include a 6mm wrench and a Phillips screwdriver, not included with the hardware kit.
Attach the four legs to the lower side of the fire bowl. Then attach the lower support ring to the legs. Make sure you do not do final tightening until the frame is fully assembled and sitting on the legs on a level surface for the best results.
The top ring for the spark mesh will need a nut tightened to attach it before use. Next, you just add the log grate and you are ready for your first fire.
Care of your fire pit will be to keep it clean and dry when not in use. The poly cover should be used after it is cool enough.
Cleaning out the fire bowl of all ashes will keep moisture at a low level as the ashes will keep the moisture close to the metal surfaces and promote rust.
Pros and Cons of the Mainstays round fire pit
Pros
Low cost
This model will only cost about $42 with free shipping or pickup. For a fire pit with a poly cover this is a great price.
Easy assembly
Takes less than 15 minutes for most, you need to supply your own tools a 6mm wrench and Phillips screwdriver
Poly cover included
The included poly cover will protect your fire pit from rain and extreme weather conditions. This will extend the life of your fire pit.
Cons
May rust if not protected
Must keep fire bowl clean and cover installed to prevent rust of the fire bowl.
Should only burn wood
Not recommended to burn charcoal or Pressed Fire Logs. They may burn too hot for the metal to keep its shape.
Shallow burn bowl
Smaller amounts of wood have to be used, making more trips to the wood pile and tending the fire.
Conclusion-My final opinion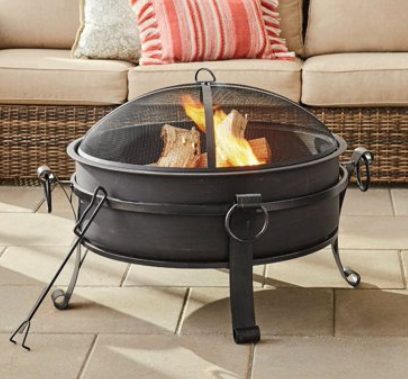 If you are looking for an entry level wood burning fire pit, the Mainstays Owen Park 28-inch round fire pit will be a great choice. You will spend less than $50 or a Friday night date for your fire pit.
If you keep it clean and out of the weather it will last many seasons of fires. The included poly cover will keep the rain out, you just have to clean it after each use.