Have a big patio area where you want some stylish patio furniture, look at this collection of Gotland Patio Sofa Furniture Sets for your solution. Each piece can be set up just for your patio area for your guest's comfort.
With many cushion color choices and some great included options for setup. You can get a set with a gas fire pit or just have a set for casual seating without a fire pit.
Let me show you the options you have to choose from below and you can make a decision on what works best for you. Use the table of contents below to go to a section where you are looking for answers.
Patio Sofa Furniture Sets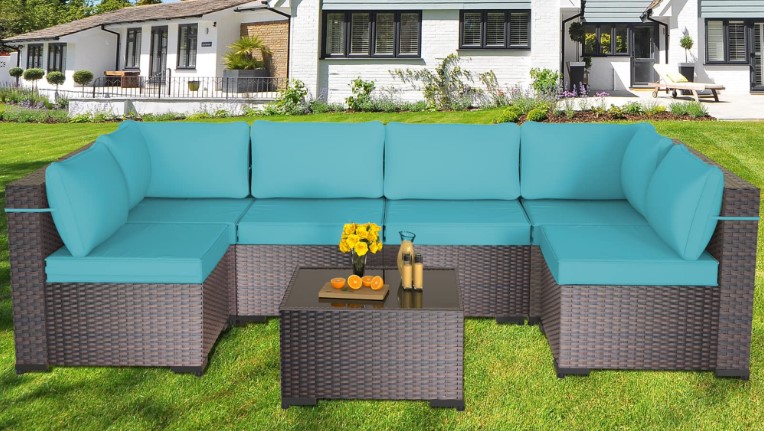 How is the Gotland patio furniture constructed?
All seating and the coffee table have powder-coated steel frames with a hand-woven dark brown resin wicker outer covering. The corner seats will have two backs to use one as an arm at the end of a sofa or loveseat. The seat will have an aluminum bar across it with a velcro piece to attach a cushion too.
Each seating piece will come with a square-cut seat cushion and a pillow-type back cushion. The seat cushions will be held in place with velcro on the bottom that attaches to the frame. The back cushions will have small straps that are color matched with the cushions. The small straps will go around the backs of the seating to keep them in place.
All sets will come with a coffee table with a tempered glass top to store your drinks and snacks. No cushion or extra seating will come from the coffee table.
Each piece will have adjustable feet on each corner. This will allow for even seating of even
Gotland Fire Pit details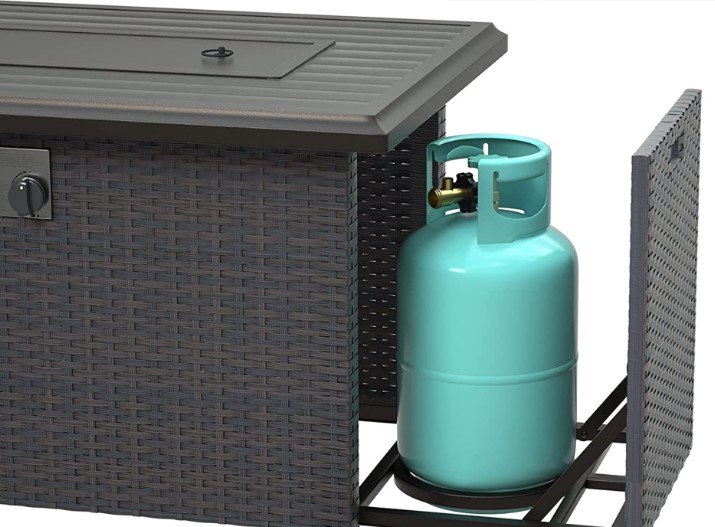 Some sets will come with a gas fire pit that has an aluminum frame with a resin wicker finish on the sides. The top will have a slatted finish. The burn bowl will have a stainless finish and clear glass rocks for the fire medium. A metal cover for the burn bowl will allow you to use your fire pit all year long.
The fire pit will have an aluminum burn bowl cover for when no fire is needed and a glass wind guard when you have a fire and it is a little windy. A poly cover is also included when you store the fire pit to keep it looking like new.
A door on one end will allow the propane tank to be serviced. A control panel with an electronic igniter and flame control button will allow you to control the amount of heat and flame that you have.
The fire pit will give you 50,000 BTU's of heat on the high setting. A glass wind sheild is included to help in windy conditions. Your heat will be effected in windy conditions also.
A poly cover for the fire pit is included for long term storage and protection.
What kind of Pieces do you get with the Gotland collection?
The styles of seating pieces are armless chairs or corner chairs. The corner chairs will have two backs next to each other. The size of the set will determine the combination of pieces for seating to make sofas, love seats, or individual chairs. The pieces will have clips to hold the individual pieces together for bigger seating pieces.
Each set will come with a tempered glass-topped coffee table. This can be used to keep your drinks, snacks, and reading materials on. The design may hold water after rain with the higher sides.
The biggest piece in this collection will have a gas fire pit that will provide heat for the cool nights on your patio. A 20-pound propane tank will be needed to give power to your fire pit.
Several combinations of these pieces will be available to purchase. Depending on your available space and pocketbook, you and your guest will enjoy sitting and relaxing around one of them.
Setup of pieces of these Patio Sofa Furniture Sets
To make a love seat, you can attach 2 of the corner chairs. With the addition of the armless chair in the middle, you can make a sofa for seating for 3.
You can leave all of the seating pieces unattached and have individual seating for your patio.
The fire pit will take some assembly and the addition of the 20-pound tank for power. It will store under the fire pit behind a door on one end.
Frame and finish of patio seating
A powder-coated steel frame will support your seating. A hand-woven resin wicker will be the outer layer. The resin wicker will work out very well in most outdoor weather conditions. Plastic clips will hold the pieces of seating together. They may break if it is cold outside or they are stretched too far.
Seat and back cushions are included for each seating position. The seat cushions will be a square design with flat sides. The back cushions will be the knife edge design.
Both designs will have a method of keeping them attached to the chairs.
Setup of the coffee table
The coffee table will have a square frame of steel with a powder-coated finish. it will have the same hand-woven resin wicker as the chairs.
Four screw type feet will allow you to level your coffee table to an uneven surface.
The 5 cushion color choices
The seat cushions will come in Five color choices. Blue Green, Sand, Navy Blue, Red, and Grey. A color-matched tie will hold the back cushions in place and a Velcro strap under the seat cushion will keep the bottom cushion from moving.
Cushions will have zippers to remove the covers for cleaning.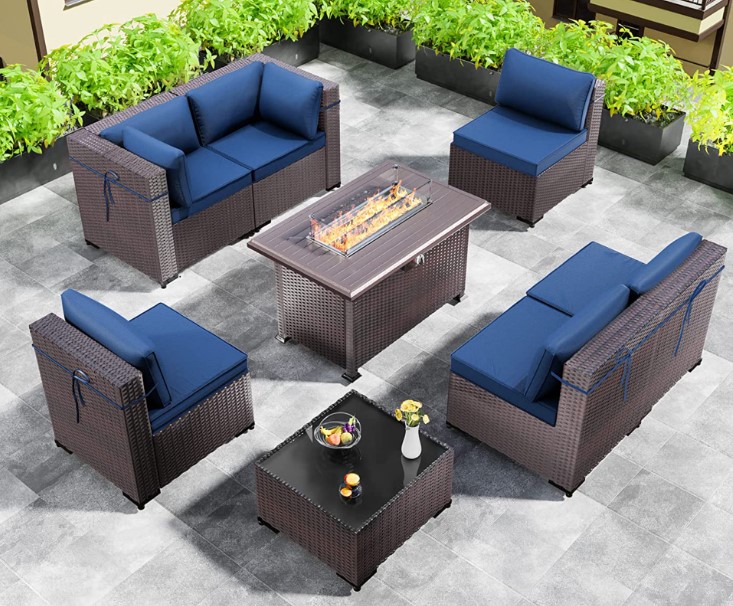 Patio set combinations
The Gotland patio furniture sets will come in sets of 6, 7, or 8 pieces. Each of the sets will come in different cushion color combinations.
The 6-piece set only comes with 2 corner chairs, 3 backless chairs, and a coffee table. A backless chair can be put between the corner chairs for a 3-seat sofa.
2 different 7-piece sets are available. One with 2 corner chairs, 4 backless chairs, and a coffee table. This set will seat 6 people and have a coffee table for your drinks and snacks. The other set will have seating for 5, a coffee table, and a propane fire pit for heat. The seating will include 2 corner chairs and 3 backless chairs.
The 8-piece set will include seating for 6, a coffee table, and a propane fire pit. Each set will contain a Fire Pit, Coffee table, 2 corner chairs, and 4 armless chairs.
Pros and Cons of the Gotland Patio Sofa Furniture Sets
Below will be my quick list of the pros and cons of the Gotland patio furniture collection.
Pros
---
Resin wicker finish
5 cushion color choices
Fire pit for some sets
Cons
---
Cushions will need a storage solution
Ships in multiple boxes
Clips for connecting chairs fragile
My final thoughts on this patio furniture
For those who have large outdoor areas that would like seating that can be changed easily into closed seating or spaced-out seating, the Gotland collection will work well. The sets with the fire pit can add cooler weather outdoor seating for your family and friends.
The cushions will attach to the seating and with the 5 color choices, you should be able to match almost any outdoor decor color. The resin wicker on the seating and coffee table will last for years outside with little care. A weather cover will make this set last for many years.
Any questions or comments on this or any other information on this site, please use the forms below and I will answer shortly.