Want a larger fire pit that does not have to be put in storage during the warmer months, try a Coffee Table Gas Fire Pit for your patio. Each of these examples will have its own advantages, you will have to decide what works best for you.
Some will have remote tank tables and others will have burn bowl covers to make full tables when no fire is needed. Materials range from resin wicker and metal to lightweight concrete for body materials. You should be able to match your current patio furniture with one of these designs.
Use this list below to go directly to my information on each fire pit.
Coffee Table Gas Fire Pit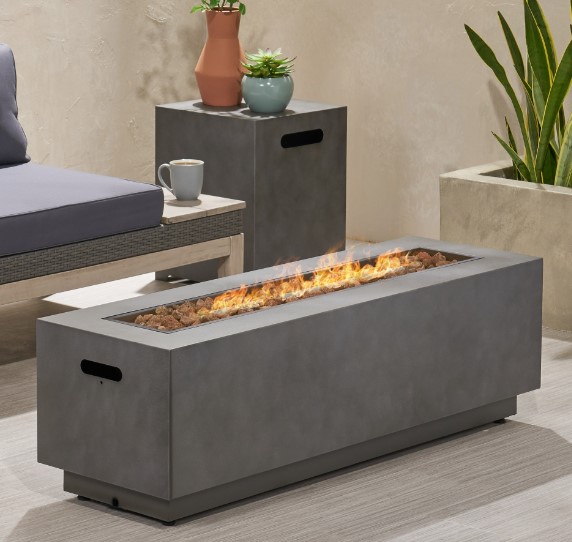 Reign Rectangular Fire Pit with Tank Holder, Concrete
This concrete-finished rectangular gas fire pit will have a separate side table for the propane tank to hide inside. With its gray smooth finish, it will give a modern look to your patio area.
The long fire bowl will have a straight burner that is about 8 inches shorter than the burn bowl. Lava Rocks will fill the burn bowl to help with your heating needs.
No cover for the burn bowl when no fire is needed. You will have a little room to keep your drinks and snacks on for use during the warmer months.
For more information on the Reign fire pit, see my other post here.
Carter Hills gas fire pit
The Carter Hills fire pit has a slatted metal finish on all sides and top. A metal cover is included to turn your fire pit into a full coffee table in the warmer months. Clear glass rocks will fill the burn bowl.
The Propane tank will sit inside the fire pit with a door opening on the end with the control panel. This will make this fire pit a little taller with the tank under the top.
A poly cover will protect your fire pit when sitting outside between uses. Adjustable legs will help with patios that are a little uneven.
For a more detailed review of the Carter Hills fire pit, see my post here.
Better Homes & Gardens Harbor City Patio Fire Pit
The Harbor City fire pit will have a smaller burn bowl than some of the others in this article.
It will have a resin-wicker lower finish with a slatted top look. This will be a favorite for those who already have resin-wicker patio furniture in their patio area for seating.
A metal fire bowl cover is included when no fire is needed. Glass fire rocks will fill the fire bowl along with an H-shaped burner.
This fire pit will store the propane tank under the table top with a door on one end. A control panel will be outside on the long side of the end with the door.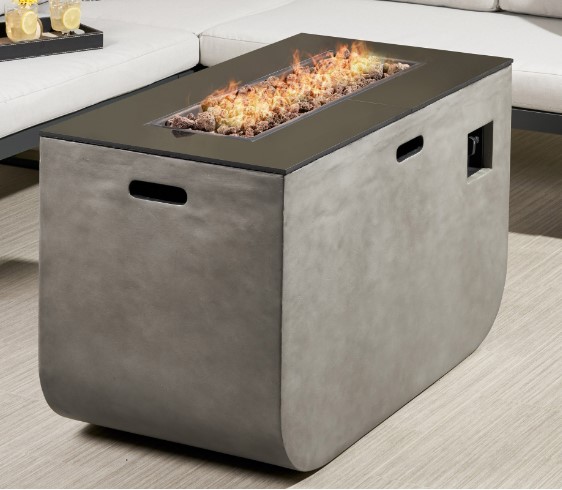 Nickan Outdoor Modern 40-Inch Rectangular Fire Pit
This is a great fire pit for those who like the modern look. With a lightweight concrete body and a ceramic top, it will have very clean lines and look very well in most outdoor spaces.
A door on one side in the middle will give access to the tank storage. On the other long side, a control panel will be on one end. A hand hole on each side will help when you want to move your fire pit to another location. It will still require at least 2 people to move as it will weigh over 112 pounds.
Lava rocks will fill the rectangular burn bowl with a tube type of burner. No cover is included with this fire pit for the burn bowl when no fire is needed.
At only 40 inches long, this is a shorter fire pit than some of the others in this article.
My conclusion on these Coffee Table Gas Fire Pits
Depending on the space, you will need a larger space for any of these fire pits on your patio, if a longer or taller fire pit is in your future. I like the clean lines of the Carter Hills fire pit and that it has a burn bowl cover included.
My second choice would be the low profile of the Reign model. The fact that it comes with a side table for the propane tank is a great advantage over other low-profile outdoor fire pits.
If you have any questions or comments on these fire pits, please leave me a comment with the forms below and I will get back to you shortly.