When you can not use a wood-burning fire pit like on a wooden surface, you can look at some of these Gas Fire Pits for Decks. Using proper precautions you can use a gas fire pit on most surfaces outdoors.
Each will have its own advantages for your outdoor eating and entertainment needs for a solution. From a small tabletop to a large rectangular model, each will have its own environment.
To read my information on each type, click on the highlighted name below.
Gas Fire Pits for Decks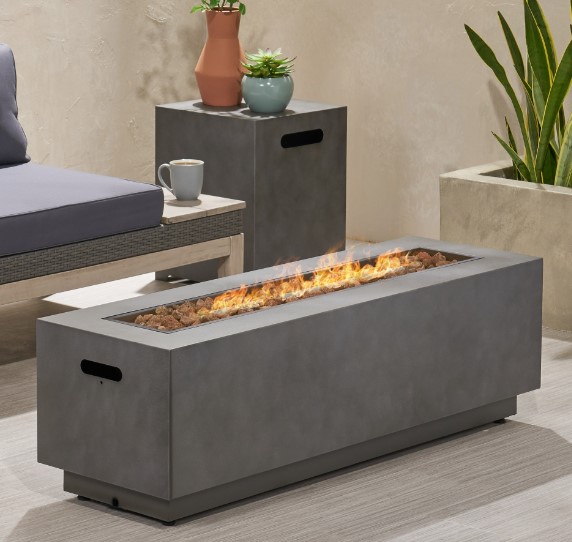 Reign Outdoor Rectangular Fire Pit with Tank Holder, Concrete-Best for large areas
This will be a large fire pit with a remote table for the propane tank. A short hose (about 6 feet) will connect the two. If you desire a longer hose they can be purchased for an extra cost.
The remote tank will allow a lower profile for the top of the fire pit. The fire bowl will have a long burner that does not go all the way to each end. Lava rocks will fill the bowl to provide additional heat.
The concrete structure will have a painted finish in grey color. The 48-inch length of this fire pit with the addition of the side table will need a lot of floor space, I would recommend a larger deck if you were putting a sofa and chairs next to this fire pit.
Each piece will have hand holes in the ends for easy movement for a couple of people, the fire pit is too large to move for one person.
Pros
---
Large fire bowl for bigger areas
Side table for propane tank
Smooth concrete finish
Cons
---
Remote tank may be hard to hide
Lava rocks for fire bowl
Short 6 foot hose for gas
Mainstays Laurel 28″ Square Gas Fire Pit-Small square design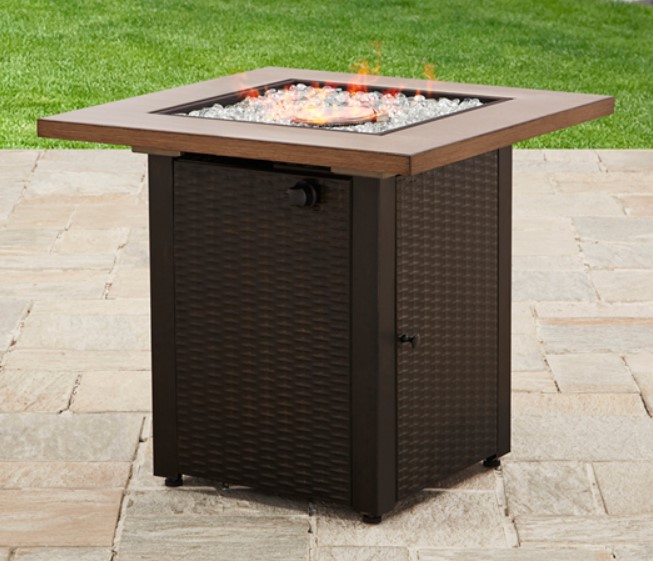 This tall square fire pit will have a faux wicker design for the body made out of metal and a faux wood metal top. The square fire bowl will have a round burner with lava rocks for media.
The propane tank will be stored behind a door on one side. The top will be 28 inches across and 24 inches off the floor.
A control panel will control the flame and have an electronic ignition. A metal cover will keep the fire bowl out of the weather.
See more of my information on the Mainstays Laurel fire pit here.
Pros
---
Small size for smaller spaces
Metal cover included for fire bowl
Poly cover included
Cons
---
Small table top rim
Lava rocks for fire media
Single control knob for flame and starter
Peaktop stone gas fire pit-Best low profile look of rock
This is a low-profile fire pit that has a remote tank. The faux rock finish is made from a composite material. The round fire bowl has a round burner and lava rocks for the fire media.
The low profile (9-inches tall) will make this fire pit have a remote propane tank. No tank table is included for this fire pit, several are available for an extra cost. A tank stand is included for this fire pit.
A control panel will give you a control panel and electronic ignition. This will be a great selection for those with a rock patio or wall close by.
A poly cover is included for when you do not use your fire pit for a while. Make sure it is cool before putting it on.
For more of my detailed information, I have written a review of the Peaktop Stone gas fire pit here.
Pros
---
Stacked stone look
Poly cover for storage
Steel ring for tank stability
Cons
---
Heavy hard to move
Short propane tank hose
Lava rocks for fire bowl media
Better Homes & Gardens Round Tabletop Gas Firepit-Best for balconies
This 10-inch wide fire pit will mount in the umbrella hole in most tables. The 1-pound propane tank will hang below the table. The round steel body will have a control knob for flame control.
The round fire bowl with a round burner will have clear fire rocks for medium for the burner bowl. No igniter is included with this fire pit.
Giving a small amount of heat and light, the round tabletop fire pit will add to any ambiance on your deck or patio. This will be a great addition to a balcony or small deck for a party of two.
This fire pit cannot be used unless you have an umbrella hole in a table. The fire pit mounts in this hole and the propane tank will hang below the tabletop. The tank is hard to replace while using the fire pit, you will have to crawl under the table to change it.
For my personal review of this tabletop fire pit, use this link.
Pros
---
Fits most patio tables
Glass rocks for fire media
Small size fits on balconies
Cons
---
Smaller propane tank
Hard to change propane tank when using
Must mount to patio table with umbrella hole
Colebrook round gas fire pit-Best seller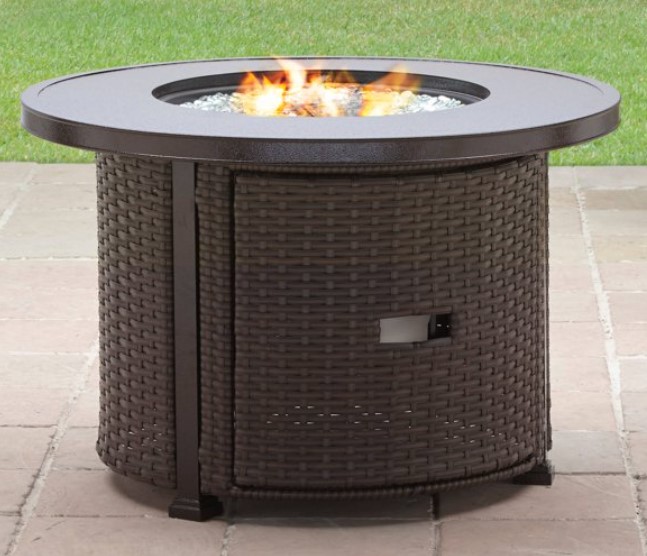 For bigger spaces, this best-seller at Walmart will look good and provide plenty of heat for medium-sized spaces in your backyard. With the wicker look and metal construction, it will last very well in most outdoor conditions.
The table top is 37 inches across the top and can be used with most patio chairs and comes with a metal cover for the fire bowl to convert to a side table for drinks and snacks.
A door will allow access to the propane tank and control panel. The round fire bowl will have clear glass rocks for the fire medium.
This is a fire pit that will fit most patio areas that are at least 8 feet square. For my detailed review of the Colebrook gas fire pit, use this link.
Pros
---
Fuax wicker look
Metal cover included for firebowl
Clear glass fire rocks included
Cons
---
Need larger area
Heavier hard to move
Control panel inside door
Eden 38-inch gas fire pit-Large mantle for drinks
This is a very big gas fire pit and does appear very bulky. It will be 38 inches from side to side and weigh in at 99 pounds without the propane tank.
A larger table area will be available with this fire pit when a metal cover is used when no fire is needed. A wide area is still available when using the fire for drinks and snacks. Just be careful of the heat on your stuff.
The square fire bowl will have a round fire ring. Amber glass fire rocks will fill the fire bowl for your medium. The Control panel is behind the doors. This will keep the kiddos from messing with them.
The side panels will be made from steel with a square hole design that will look like boxed lattice or some wicker designs. This fire pit will go well with most wicker patio furniture.
For more of my information on the Eden fire pit, use this link.
Pros
---
Amber glass rocks in fire bowl
Metal cover for fire bowl
Hammered bronze finish
Cons
---
Heavy hard to move
Control panel inside doors
Can see white tank through holes in side
Costway Portable Gas Fire Pit-Great for camping or the beach
If you want to take your fire pit with you to the beach or camping, this will be your choice. With its lightweight design and remote tank, it will be easy to load in the trunk or back of your SUV when it is cool.
The round fire bowl will have lava rocks for medium and a square stainless steel burner. A metal lid will cover the bowl when no fire is needed or for storage. A strap will hold onto the cover and can be used to move when no fire is needed. You cannot use it for a table as the cover is an upside-down bowl shape.
The propane is remotely connected to the fire pit with a 10-foot gas hose. This will allow you to place the tank away from your seating. The control panel is on one side at the hose connection.
A 1-inch round ring with 4 support straps will support the fire pit off the ground surface.
The burn bowl will have several diamond-shaped holes for your fire to breathe.
This will be a good fire pit for cooking smores for you and your guest.
For more detailed information on the portable Costway fire pit, use this link.
Pros
---
Very portable
Included strap for easy moving
10 foot gas line
Cons
---
Lava rocks for fire bowl medium
Have to drag propane tank with you
Needs a grilling grate
Can I use a gas fire pit on any deck surface?
The answer is yes with some caution. Overhead clearance is needed as the hot air will rise quickly.
As the heat from most gas fire pits is only present towards the top, it also radiates outwards from side to side. You must keep the vendors' recommendations for side clearance with combustible materials.
Please read your Owner's manual to see their recommendations.
Is gas better than wood for an outdoor fire pit?
I have had both, the wood-burning fire pit has a better aroma, produces better heat and you can cook more on it. The Gas fire pit is easy to clean and can be just lit and requires no other work to keep a fire going.
The wood burner will require adding logs, turning logs, and cleanup of ashes after the fire. The gas fire pit may require a filled propane tank if it runs out during your fire, sometimes this requires taking the fire pit apart to change.
Lava rocks or Glass rocks for my gas fire pit?
Lava Rocks
Lava rocks have been used in fire pits and BBQ grills for many years with great results. They will radiate the heat very well and stay warm for quite a while after the flame is out.
The bad news for lava rock users is that the dust sometimes will block the holes in the burner and it will need to be cleaned quite often to keep your flame going on the complete burner.
Glass Rocks
Glass rocks will burn clean and reflect the flame. Clear rocks will give you the most light from your fire. Many colors are available to choose from.
Glass rocks will not radiate as much heat as lava rocks and will not keep the heat as long after the fire is out.
The choice of fire rocks
You will have to check with your manual if you are changing the medium for your fire bowl. Not all manufacturers will recommend using a different medium than is included with the fire pit.
I have changed to glass rocks from lava rocks before to get a cleaner burn pit without any problems. Some warranties will be voided with this change. Ultimately this change will be up to you and the look you want.
For choices in the glass fire rocks see my information here.
My final thoughts on these 7 Ideas for Gas Fire Pits for Decks
Each of these gas fire pits will fit in its place. Depending on your needs and the space available, your choice will depend on your taste.
My choice would be the Colebrook model above, as I have the space and like the look. You can use it for a side table during the warmer months when no fire is needed.
Any questions or comments on this or any other information on this site, leave me a note with the forms below and I will get back to you shortly.