If you have a stone wall or a rock foundation on something in your patio area and looking for a fire pit, this Peaktop Round Gas Backyard Rock Fire Pit will be a great addition.
With a simulated rock structure and round burner for heat, you will give you guest a way to keep warm around a fire that simulates a campfire with its heat and flame.
For the quick details for this patio fire pit, use the chart below. To go directly to a piece of my information on a subject, use the blue highlighted subjects in the table of contents below.
Material
Formed concrete base

Size
Firepit
28 inches across
9 inches tall
Fire bowl
17 inches across
3 inches deep
Fire bowl media
6.6 Pounds of Lava Rocks
BTUs of heat
40,000 BTUs on high
Price
$291.47
My rating
9.2 out of 10
Backyard Stone Fire Pit


Table of contents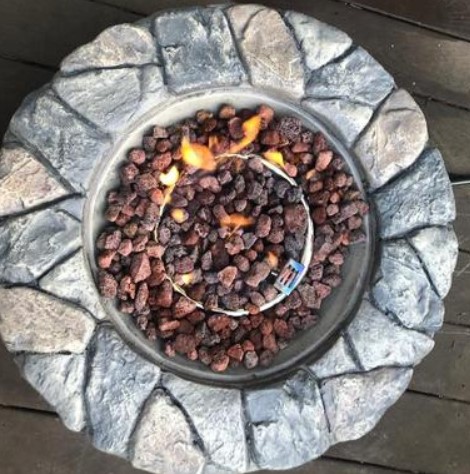 Features and construction
The body of this fire pit is made from a lightweight concrete material to resemble a stacked stone look. The stones are painted to reflect the color of natural rock. The control panel is built into the side and the round top center will have a stainless steel fire bow that is filled with Lava Rocks to help with the heat output.
A 6-foot gas line will connect the control panel to a propane tank. The propane tank will not fit under this fire pit, you will have to hide it under a tank cabinet or behind your chairs.
Size and special options
The Peaktop stone fire pit will be 28 inches across and 9 inches tall, this is one of the shortest fire pits for outdoor use on the market. If you are looking for something that does not look large, this would be a great choice.
At just under 60 pounds without the propane tank, this fire pit should be easy to move when needed. No hand holds are built into the body of this fie pit, you will have to place hands under the body to pick up to move.
The round burn bowl will be 17 inches wide and 3 inches deep. This will give you a 5-inch ledge around the fire pit. A control panel will have an igniter and control knob for flame control. The igniter will work with one AA battery.
This fire pit will put out 40,000 BTUs of heat on the high setting. Some found that the wind effected the flame on lower settings and higher winds.
A poly cover is included that will cover the fire pit when you want to store it for a little while. Make sure all surfaces are cool to the touch so that you do not damage the cover.
The 6-foot propane gas hose will connect to a remote 20-pound propane tank. Some other fire pits with remote tank locations have a 10-foot hose that will allow for easier hiding of the propane tank.
A round plastic tank stand is included, some customers did not know the purpose for this item. The tank will sit in the stand to keep it upright in most conditions and will help in securing tank under a side table if one is used.
Getting a side table to hide the propane tank is an option to clean up your patio area, it is an opportunity to add some table top storage to your patio area seating. There are several options in design for this type of side table.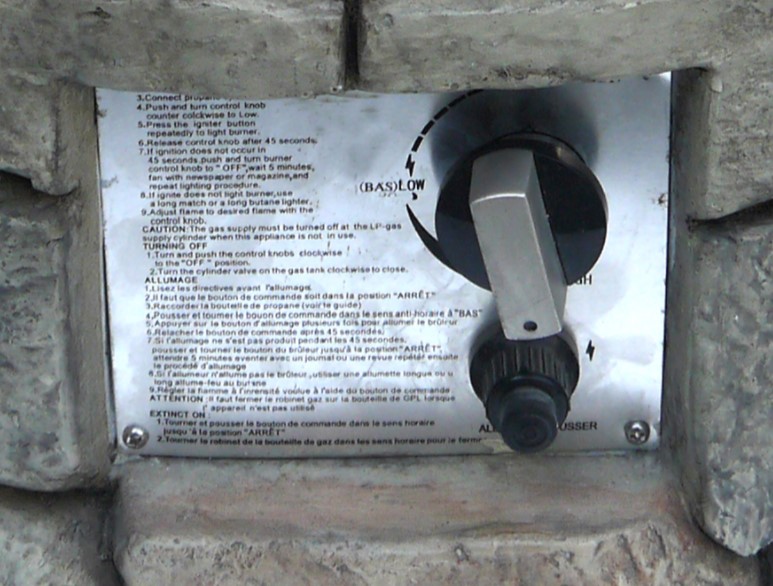 Assembly and/or care
Assembly should be easy for most as all you have to do is to fill the burn bowl with lava rocks, add a battery to the igniter, and connect a propane tank. Most will be ready for a fire within 10 minutes of opening the box.
Taking care of your fire pit should only take washing down with a damp rag or hose and let dry. If this does not take care of your stain, mild soap and water with a rag should be used. No harsh chemicals should be used in cleaning this fire pit as it has a painted surface and the paint will start to peel or fade quickly if damaged.

Pros and cons of the Peaktop stone gas fire pit
Pros
Stacked stone look

The formed concrete is painted to look like stacked stone with a lighter mortar between the stones. The paint looks very well when you open the package. It can be easily damaged.

Poly cover for storage

The included poly cover will allow for weather protection for longer-term storage. Just make sure that the burn bowl is cool to the touch and it is tightly secured.

Tank Stand

A round plastic tank stand is included. This can stabilize your propane tank whether if you have it sitting on the ground of under a side table.
Cons
Short (6 Foot) Gas hose

The 6-foot hose is shorter than some of the other gas fire pits with remote tanks. Some will have a 10-foot hose that will allow for a longer distance to hide the tank. This would be an extra expense to get a longer hose.

Stones paint can be damaged

The stones are painted and can be damaged by objects hitting them, improper cleaning materials, or too much foul weather. Should use the poly cover when the fire pit is not in use.

Remote propane tank

The idea of a remote propane tank is great if you are looking for a shorter style of fire pit. I like the idea of having the tank hidden under the burn bowl of the taller gas fire pits and the ability to use some as a side table when no fire is needed.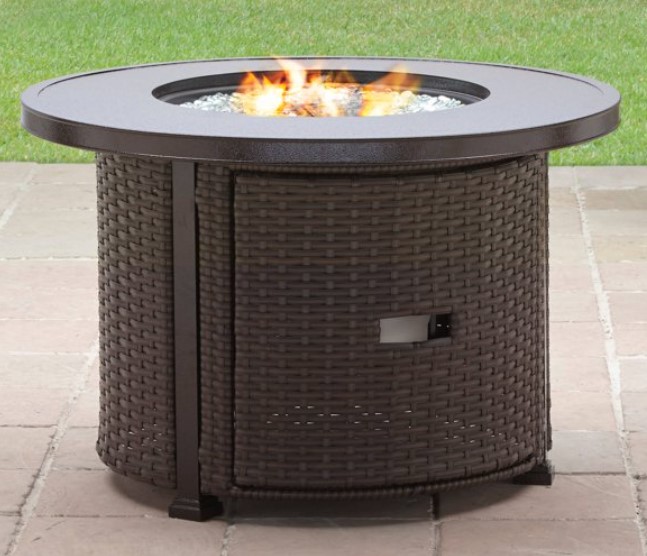 Similar Gas Fire Pits to look at
I have written on several gas fire pits for your patio heating needs. This is the only one I have seen with the stone look and low profile.
The Colebrook model is still one of the best sellers, it is my top choice here.
Final thoughts on the Peaktop – Round Gas Backyard Rock Fire Pit
For a low profile gas fire pit the stone look finish to the Peaktop model will look just like a wood burning stone fire pit at the campground. It will not seem to take up much space and puts out a lot of heat.
The big drawback is the short hose on the remote tank location. This will not allow easy hiding of propane tank from your family and friends.
If you have any questions or comments on this or any other post on my site, please use the forms below and I will get back to you shortly.