Looking for that touch of contemporary for your patio area, try the MoDRN Glam White 60 inch Rectangular Outdoor Fire Pit. Its smooth lines and pure white color will stand out while giving heat or used as a coffee table when no heat is needed.
This piece of patio furniture can be used all year round, you will not have to find a place to store it when the weather is warm. No need to have two separate pieces of furniture for your patio area, this will save room and money both.
The clean lines and low profile will give you the look that all of your visitors will talk about long after they leave. Get the separate propane tank table and you will get a small side table that will match your fire pit and no one will know that it hides your propane tank unless you tell them.
For a quick summary of the details of this fir pit, use the chart below. To go to the detailed description, use the table of contents, the blue highlights will take you directly to that information.
Want to see what the current price and availability is, use this link for more information.
Material
Steel with powder-coated finish
Fire bowl media
White glass fire rocks
Size of fire pit
60 inches long
20 inches wide
18 inches tall
Price as this article was written
$375
My rating
9.3 out of 10
Rectangular Outdoor Fire Pit


Table of contents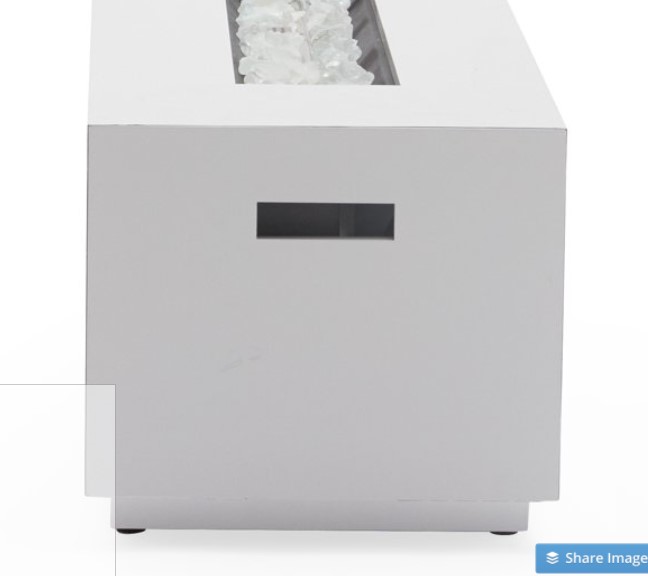 Features and construction
This fire pit is made from a steel material with a white powder-coated finish. No seams will be seen on the main body of this fire pit. The rectangular fire bowl will have a long burner and will be filled with white glass fire rocks.
When no fire is needed a metal cover is included for the fire bowl that matches the white finish on the rest of the fire pit. A lift-up handle is built into the center of this cover to help with removal or installation.
A hose will extend out of one end to let you connect the propane tank to power your flame. This fire pit is too short to contain a propane tank inside of the body. Most customers will purchase a tank cover that resembles a side table. The one that was matching this fire pit is no longer available.
A two-part control panel is placed on one long side at the top right end. An igniter button and a flame control knob will be the two parts of the control panel. A "AA" battery will fit under the button for the igniter.
Size and special options
The fire pit will be 60 inches long, 20 inches wide, and 18 inches tall. It will be shorter than most fire pits or coffee tables. When the fire bowl is used this fire pit will make a large table to hold your snacks and drinks during the times you do not need a fire to keep warm.
The long burner will put out 50,000 BTUs of heat on the high setting. This will warm most patio areas that seat 4 or 6 depending on wind and other factors.
NO poly cover is included if you wanted to store this fire pit or just not use it for any length of time. If you would like to look at fire pit covers for the protection of your investment see my information in my post on covers here.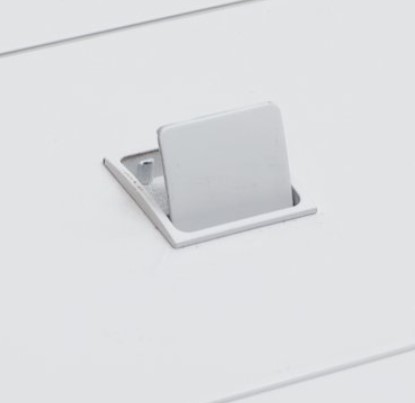 Assembly and/or care
As the fire pit body is all one piece, the assembly will just take putting the burner in the burn bowl and adding the glass fire rocks. The hose will have to be attached to a 20-pound propane tank (not included in purchase) that will sit outside of the fire pit.
Cleaning of your fire pit should be done with a damp cloth or just a mild soap and water mixture. Many of the cleaning materials in the market today will damage the powder-coated finish of this or most pieces of patio furniture.
A poly cover or some kind of protection would be advised if this fire pit will be left out in harsh weather. I have an article on furniture covers here that can be made to fit almost any piece of patio furniture that will need protection.
Pros cons of the MoDRN Glam Fire Pit(affiliate links)
Pros
Clean modern lines

The sides and top of the fire pit look like one smooth piece. The fire bowl will have a similar white cover when no fire is needed. The only blemish on the white finish is the control panel and handle holes on each end for moving the fire pit.

Glass fire rocks

The fire bowl will be filled with white glass fire rocks to add to the white theme. They will reflect the flames when you have the long burner lit.

Fire bowl cover

When no fire is needed, you can cover the fire bowl with the included white cover. It has a pop-up handle in the middle to help with removal when needed.
Cons
Remote tank

The 20-pound propane tank will not fit under this fire pit. A hose will connect the fire pit to the tank. A remote side table is will have to be purchased (at extra cost) to cover the propane tank and keep it out of sight.

Visible controls

The control panel for the Flame and Igniter is on the right end of one of the long sides. Have to watch small hands to make sure that they do not bother these buttons.

No poly cover for protection

No poly cover is included for this fire pit when it is not in use, only the flat cover for the burn bowl is included.
Similar patio fire pits to look at
These three examples of rectangular fire pits will have a similar look to the MoDRN Glam in this article. The Carter Hills fire pit is the most popular with the Hiland coming in a close second.
Alison lightweight fire pit
Final thoughts on the MoDRN Glam white fire pit
This is a great-looking example of a rectangular outdoor fire pit. The clean lines will look great and when no fire is needed the clean lines will extend to the fire bowl cover.
The biggest drawback to this fire pit is the remote tank location, you will have to an external place to store the propane tank, unlike most other fire pits.
Any questions or comments on this information, use the forms below and I will get back to you shortly.