When you have a wooden or composite deck surface, look at Propane Gas Fire Pits for your cool weather heating solution. You will spend more time with your guests as you will not have to fool with adding wood or making sure that it is moved to burn properly. Smoke will be less of a problem also.
Many people enjoy the gas-powered fire pits for their easy operation and many sizes and styles to choose from. In this article, we will look at 7 very different sizes and styles to choose from. We will start with the one that is just under $100 and go up to one that is very contemporary and will cost just north of $500.
You choose your budget and looks that will fit your outdoor space heating needs on the cooler nights. Each will offer different options for you.
Now let us look at my details of each fire pit so that you can make a choice on what works best for you and your guests.
Belden 30″ Propane Gas Fire Pits
This is a simple fire pit that can convert to a side table when no fire is needed. A flat steel plate will cover the fire bowl after it has cooled. This will give you a multipurpose fire pit that will look natural in almost any setting.
The mainframe is made of steel with a brown finish. The top fire bowl surround is made from Envirostone to look like stone. This is a very good material, just hard to replace if it gets damaged.
The square fire bowl is filled with Lava Rocks with a round burner. A door on one side will allow access to the 20-pound propane tank (not included). A knob will allow flame adjustment, just turn on the gas, turn up the flame, and push the button to get your fire started.
It will be 30 inches across and 24.2 inches tall. The fire pit will weigh 57 pounds without the propane tank. At the high setting, it will produce about 50,000 BTUs of heat. A poly cover is included for weather protection when not in use.
Pros
Low price
One knob control
Cover for burn bowl for side table use
Cons
Lava Rocks not as appealing as glass fire rocks
Square boring design
The top could be hard to replace if broken
B H & G Colebrook Propane Gas Outdoor Fire Pit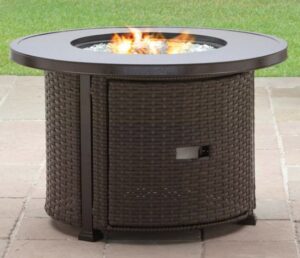 For a gas fire pit with the look of wicker, this Colebrook model will work well for a modest budget. The small round edge surrounds the burn bowl that can be covered with the included cover to make this fire pit a side table.
The lower body will have the look of wicker for the panels the top will be made from aluminum material with a matte brown powder-coated finish that will last well in outdoor conditions and give a modern design. The round fire bowl will have a round fire ring with clear glass fire rocks to control the heat.
Handle holes on each side will help with moving this 77 pound, without the tank, fire pit. A hinged door will give access to the 20-pound propane tank (not included}. The Control panel that is hidden behind the same door will have a knob for controlling heat and a separate push-button for the electronic fire starter.
The fire pit is 37 inches across and 24.4 inches tall. The 50,000 BTU's output will keep most warm on those cool fall nights. A poly cover is included for storing when not in use, make sure you wait for the fire surfaces to be cool to the touch to make sure it does not melt.
Pros
Clean modern lines with wicker look finish
Poly cover included for storage
Large fire bowl
Cons
Small surround rim for drinks and snacks
Some had pieces missing when the box is opened
Some had problems with lighting the fire
Better Homes & Gardens 10 inch Round Tabletop Propane Gas Fire Pits
If you do not have a lot of outdoor space, this little tabletop gas fire pit will work well if you have a table with an umbrella hole. It mounts through the umbrella hole and the 1-pound propane tank (not included) hangs below the tabletop.
The steel frame has a small round fire bowl on top. The clear glass rocks will give you a real modern-looking flame with the reflection from the glass.
The small size of this fire pit will allow those in apartments or places with small balconies with a table with an umbrella hole to enjoy a fire on those cool nights. The table must have an umbrella hole at least 2 inches across and the top cannot be more than 1.1 inches thick at the hole.
At only 10.25 inches across and 7.25 inches tall, this will be a great table centerpiece. It will only put out about 8,000 BTU's on high, a lot less than others in this article. A poly cover is included to cover this fire pit when not in use.
This fire pit, although small, is not intended for indoor use.
For more information on the BH&G Table Top gas fire pit, see my article here for more details.
Pros
Small great for small decks or balconies
Cannot see the propane tank
Poly cover included for storage
Cons
Produces a small amount of heat
Can only be mounted through the umbrella hole
The propane tank can be tricky to change
MoDRN Glam White 60″ Rectangle Gas Fire Pit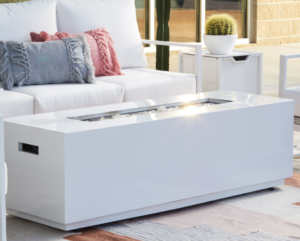 For those with larger outdoor spaces, this fire pit set will work very well. The clean lines of the white powder-coated steel construction will give you a very contemporary look. A matching side table can be purchased for the 20-pound propane tank (not included), this will allow the fire pit to have a lower profile.
Hand holes are made on each end of the fire pit for easy movement when needed. A matching cover for the fire bowl is included so that you could leave this piece of patio furniture out all year long and use it for a coffee table.
A single long tube will give you fire with white glass fire rocks for heat control. It will produce 50,000 BTUs of heat on the high setting.
Although the size of a regular coffee table, it only has a small edge for drinks and snacks without the fire bowl cover. The fire pit is 60 inches long, 20 inches wide, and 18 inches tall.
A control panel will have a heat control knob and a push-button for a fire starter, it is located on the right end on one of the long sides. No length of the hose is mentioned in the description of this item.
Pros
Great contemporary clean look
Cover for fire bowl
Large surface area for fire
Cons
Short hose to connect the tank to fire pit
Requires a remote tank
Takes more floor space than other fire pits
Peaktop – Outdoor 28 Inch Round Concrete Gas Fire Pit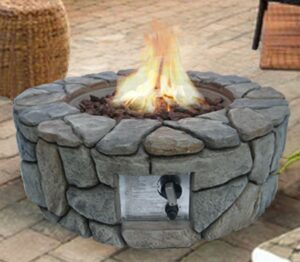 Another concrete fire pit with a round design and the look of a stone finish. Thi fire pit will need a remote tank that must be attached to the 9-foot hose for fuel (no tank or tank cover included).
The round fire bowl will have a round burner covered with lava rocks. A control panel will allow flame control and a separate starter button.
The fire pit is 28 inches across and 9 inches tall. It will weigh 70 pounds, very heavy compared to others in this article. This style of fire pit is available in two other sizes a 30 inch and a small 21 inch for those who have smaller fire needs.
Set on the high setting it will produce 40,000 BTUs of heat for your patio area.
Pros
Stacked stone look
Small height
9-foot hose for tank connection
Cons
Remote tank will be needed, may need a table to hide it (extra cost)
Lava rocks not visually appealing as glass rocks
Hose has to lay on the ground between the tank and fire bowl
Ford Magnesium Oxide Square Gas Fire Pit, Grey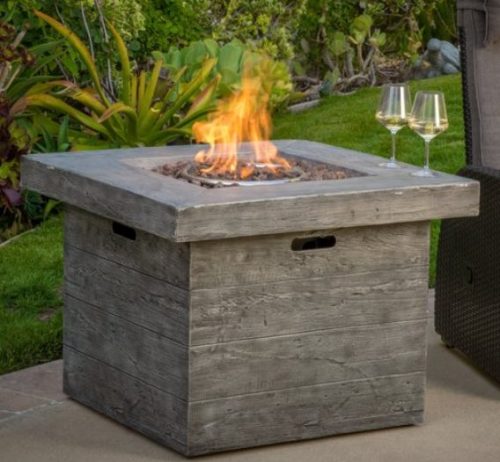 If you like the look of barn wood the finish on this fire pit will be for you. Made from a magnesium Oxide material, it has the durability of the stone matertial. The top will give you an edge to put your snacks and drinks for a short time.
The square fire bowl will have a round fire ring that will be covered with lava rocks. A control panel on one side will let you control the heat, up to 40,000 BTUs, and start your flame.
A panel on one side can be removed for access to the 20-pound propane tank (not included). Two hand holes will allow for moving this heavy, 120 pounds without tank, fire pit.
The top is 32 inches wide and it is 24 inches tall. It will weigh a hefty 120 pounds without the tank, needs two people if you have to move to another location.
Pros
Great barn wood look
Handhold holes for moving the fire pit
Ledge for drinks and snacks
Cons
Very heavy, need two people to move
Lava rocks not as eye-pleasing as glass rocks
No burn bowl or complete fire pit cover
Hiland Round Cast Aluminum Slatted Fire Pit, Black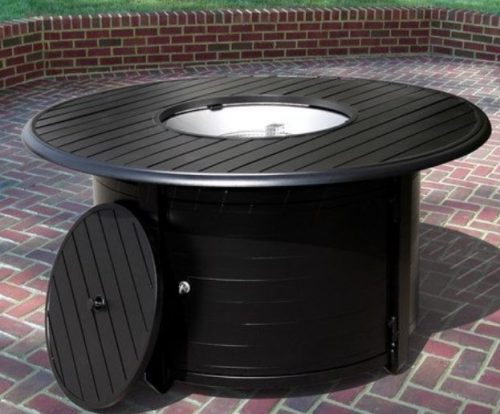 This round fire pit with the big ledge for drinks and snacks will be a great place for you and your guests to sit around during the cool nights this fall. During the warmer months, you can place the cover on the fire bowl and use it as a side table.
The slatted design for all of the top materials will match a lot of decks and patio flooring materials. You can get the outside finish in two colors, black is shown and an aluminum finish.
This is a big fire pit at 47 inches across and 22 inches tall. The bowl will be 20 inches across and have a round burner. Clear glass rocks will fill the bowl and give you a great reflection of the flames.
The fire pit will be a hefty 135 pounds without the propane tank. A hinged door on one side will give access to the bottom to change the tank. The flame will provide 42,000 BTUs of heat on the high setting.
Pros
Two finishes available
Lots of space for food and snacks
The metal lid to cover the burn bowl when no heat is needed
Cons
Heavyweight (135 pounds)
Lightweight metal materials
Slats can be damaged easily, cannot be replaced
My final thoughts on these Propane Gas Fire Pits
When looking for a heating solution for your outdoor space, one of these Propane Gas Fire Pits should be on your list. From the smallest tabletop version to a fire pit that is the size of a coffee table, one of these fire pits could work for you.
I like the smaller units that have the ability to be moved easily as I have a few areas that I can use it. We like to have a fire in the driveway when the kids come by to trick or treat on Halloween. We have the neighbors over so the kids only have to make one stop for their treats.
If you have any questions or comments on this post, please use one of the forms below and I will get back to you shortly.