A big question I get on this website is where to get replacement patio cushions, mine has only lasted a couple of years outside and the furniture still looks great.
All patio cushions should be stored out of the sun and moisture. The hot dry weather is just as bad for your cupatio cushions as the cold wet weather.
in this article I will give you several ideas for storing your patio cushions. Not all are going to work out for you, just choose one that will work best for your home.
Use the chart below to go directly to the section that interests you.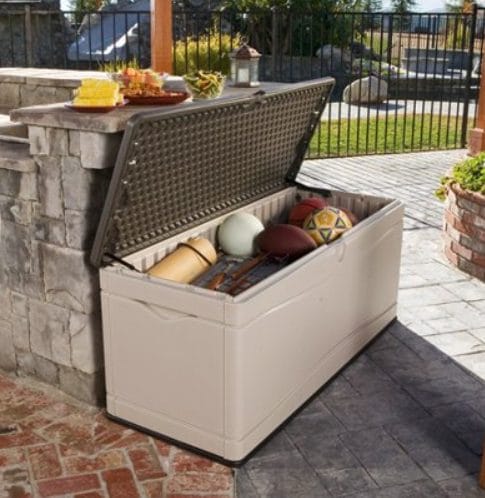 Ideas for Storing Patio Cushions
Inside house in a closet or storage area
The best situation for your patio furniture cushions is to store them in a dry place where the weather is controlled. Moisture combined with extreme heat or cold will damage the fabric on any patio cushions.
Having a closet or storage area that is close to your patio area is the best. This will lend you to putting them away when not in use for extended periods of time.
I have a small storage locker on my 3 season room that works well for storing my small cushion for my glider that sits outside on the deck. I also have a small black foot locker type storage container that can hold a couple of small cushions.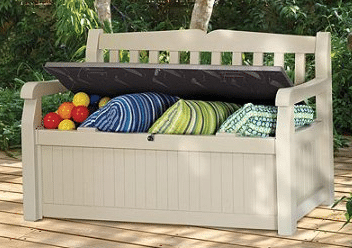 Outside in a storage container
The outside storage solution is second best if it can protect from the suns rays. I have a shed that I put my chairs in for winter storage.
The problem for this as it does not protect from excess moisture or extreme temperatures. A solution for this is to have them hanging like clothes in a closet.
Outside with a cover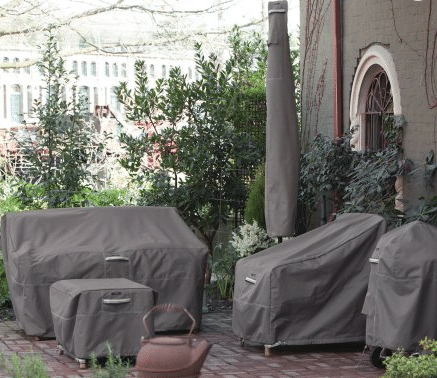 Some patio furniture sets will come with poly covers that will fit your set. Use a proper company to get a good cover that will last for the life of your furniture.
Getting a proper cover for your patio furniture should be easy with a company like Covers and All. I recommend them for any of you cover needs.
Just leave your cushions alone
For those who just leave their cushions outside, be prepared to purchase replacement cushions in a few years. The best solution to those with no storage space is a proper furniture cover'
A proper cover will be made from a poly material that will be made to fit and stay in place in heavy wind. The cost of a proper patio furniture set cover is a lot less than trying to find replacement cushions that will work on your furniture.
For a proper fitting cover for your patio furniture would be from a company like Covers and All. Use the link below to see if they can fit your patio furniture with a quality cover.
FAQ's about protecting your patio cushions
Does foam density matter?
When replacing your patio furniture foam, keep in mind that the density is how far your butt will sink into the cushion. The less dense, normally cheaper foam will allow your but to be real close to the frame of your funiture.
Too high of a density and you will find your seating uncomfortably hard. Check with a quality foam retailer for some samples to get what works best for you.
Does winter weather damage your cushions?
If you leave your patio cushions out in winter weather, they are subject to getting wet and freezing. This will damage any fabric material.
Repeated thawing and freezing will cause the fabric material to start to shred. Having a cover for your furniture will help keep the moisture out.
What cushion material will last the longest outside?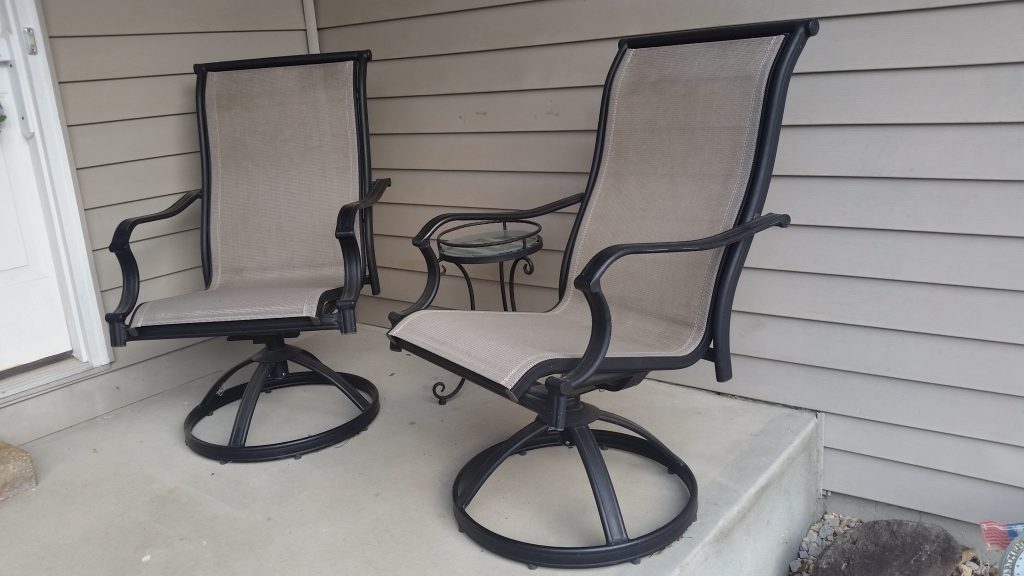 Many people think that just because it is patio cushions that you can leave it outside without any problems. No material will be able to handle hot sunshine and cold wet weather.
Some will handle it better than others. Polyester material is what most sets will come with. It is a good material that will last a couple of years without storing it out of the weather.
Olefin material is a little better. It may last about twice as long as the polyester if not taken care of.
Sunbrella material will last longer than the others, I would still recommend storing when not in use to make your investment last longer.
My dining patio set has been outside for over 15 years and the two chairs on my front porch have be outside over 10 years. The seating for these two sets is a vinyl material called sling seating. This material last very well in most outdoor weather conditions. Very hot and dry is its enemy. I do store these chairs in out of the really bad winter weather each year.
My final thoughts on making patio cushions last
After your purchase of a patio furniture set that has cushions, you should be thinking on how to keep the cushions looking like new for as long as the frames. I have stored my cushions out of the weather when not in use for more that a couple of days. My cushions are still looking good as they are stored inside out of the weather.
Not every one will keep their cushions the same way as I do. If you just leave them outside, the weather will kill them in as little as one year, depending on your weather conditions.
The cost of most replacement cushions is as high or higher than the cost of a lot of patio sets on the market today. If you have a high end set, you will not want to be replacing you cushions shortly.