Impact-Site-Verification: -318861294
In this article I will go over some of the things that I think that you should take into consideration when choosing a wood burning fire pit and where in your outdoor space it should sit.
I will take these ideas from my own experience and comments that I have received. Your needs or outdoor space may be different than mine, some of these ideas may still be useful.
Use the following table of contents to get to the information that most reflects on what your needs are.
Find your Wood burning fire pit
Table of contents for this article
The best wood-burning fire pit for conversations often depends on your preferences, I will outline some of my ideas that may help in your decision. These are my thoughts and may be different than yours.
Size of your fire pit
Looking at the area you will using your fire pit will be one of your first considerations. You will have to have enough room to have chairs for your guests to be far enough away to be out of the smoke and heat of the fire. Although you have the fire pit for heat, sometimes you have to be a little away from it to keep from getting too hot. Plan on at least 4 feet away from the edges of the fire pit for the best results, this will give guests a chance to move back if needed.
Fire wood size will have some reflection on the size of the burn bowl of your fire pit. Most fire wood is cut around 18 inches long. Small burn bowls (under 18 inches) will not handle this longer wood, you will have to find wood in a smaller size.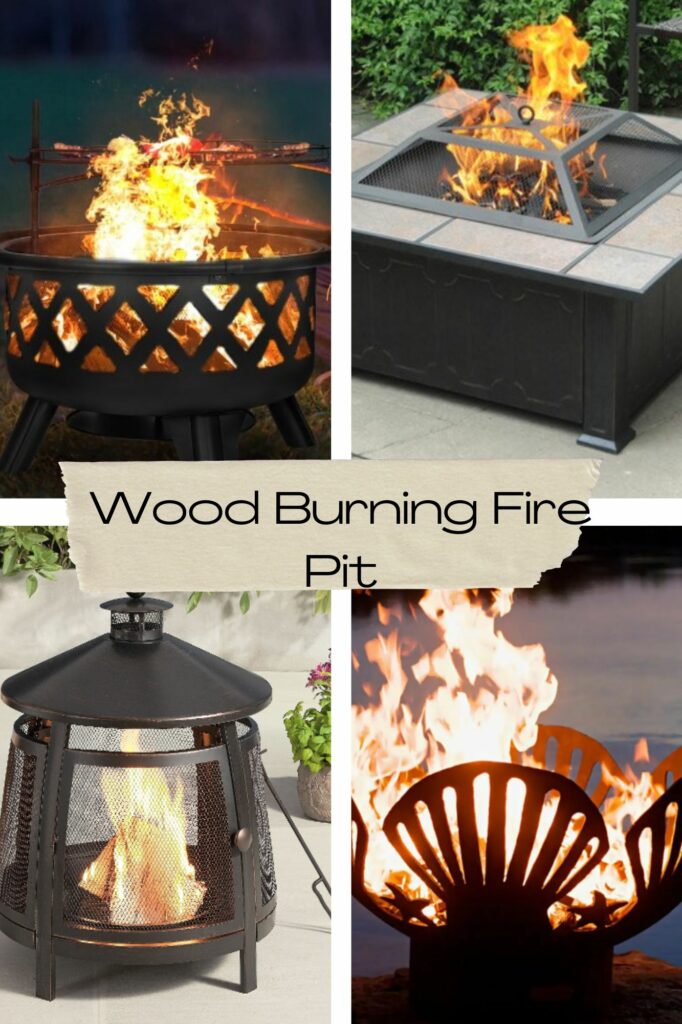 Shape of your fire pit
The shape of your fire pit will be something that will fit the space and your eye. Some will like the round, other shapes available are rectangle, square, or the chiminea.
Your seating arraignment and and space may dictate what shape looks best. A square space may take a round or square fire pit, a rectangular one may look out of place.
Smaller spaces may look better with a chiminea, as they take up less floor space with their upright construction. The big advantage of a chiminea is the smoke goes out over the top of your head not in your eyes.
Design of your fire pit
Deep bowl, shallow bowl, Chiminea, hearth( ceramic tiles), spark screen, or color choices, these are some of the things to look at before you choose your fire pit.
The big difference on the bowl size will be how much wood it will hold at one time, the shallow bowls will have to feed fire wood more often than the deeper bowls.
The chiminea will be a favorite of those with smaller spaces and just looking for some warmth. Most will not give you a 360 degree flame view like a regular fire pit and will not be a good choice for those who like to cook hotdogs or marshmallows.
A wide hearth will be good for several things, you can add some design to your fire pit with a good looking ceramic tile or metal stamping. It will not be so good for putting drinks or snacks on when you have a fire as they will get too hot
A spark screen will allow you to less attentive to your fire as most will keep the sparks that come of burning wood from going out in an area that may burn, like falling leaves and dead grass. You will be using your fire pit in the fall won't you.
The metal can be painted in several colors on most fire pits, they use a powder coating to keep the paint on as long as possible. Most are painted black, bronze, or silver. Chimineas can be made of metal or fired clay, the clay can come in many colors as it is like brick material and can be be black, grey, or earth tones.
What type of materials are fire pits made from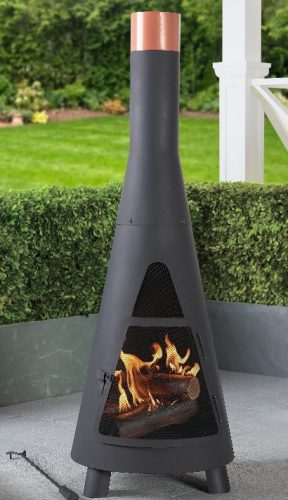 The two main material for fire pits are steel and clay. Clay is mostly used in chimineas, as the steel is used in regular fire pits. Most other materials will not last under the high heat of the wood fire.
Most steel fire pits will have a powder coated finish that will hold up well in most outdoor conditions. If you get some chips or scratches you need to put some paint of these as they will start to rust quickly.
I do have a fire pit at the lake that is made from paver stones. This is an easy alternative to the metal, stone, or clay materials that are sold by the big box stores. Once you put down a paver fire pit, it is really difficult to move.
Does your fire pit need to be portable for the beach or campsite
This is a choice for you when you decide on getting a fire pit, do you want to take it with you when you have an outing away from your regular area.
Smaller fire pits will be very portable, I have a small round fire pit that I can clean up and put in the back of the van if I want to take it with me. One with a big ceramic hearth will not be as portable as it will be heavy.
If you want to have some portability in your fire pit, stay away from the chimineas or rectangular fire pits.
What other accessories will you need for your fire pit
I have several extra items to make my time around the fire easier. I will go over some of these items below.
Small log rack-I have a smaller log rack that can hold a couple of armloads of wood that I can carry and put near my burn area. This keeps me from running to a main wood pile to get fire wood during the evening. See some of my log racks here.
Log Mover with wheels-A log caddy with wheels will help you move more than a handful of wood to your burn area. This can also be used for your log rack and you can easily tack unused wood back to the main wood pile. The log mover that I have is featured here.
Ash shovel and bucket-When the fire is over, you will need to clean up the ashes. The bucket will help taking the ashes to an area like a garden or edge of the yard. The shovel will help clean up the ashes faster than just picking up the entire fire pit and carrying it to a dump area.
Hot dog sticks-For those who like to cook hot dogs or have marshmallows over the fire, you will need to have an easy way to cook them.
Cover for fire pit-If you leave your fire pit outdoors, a quality cover will keep the moisture at a lower level. The big problems with most metal fire pits is rust. Having ashes in the burn bowl will attract moisture and shorten the life of your fire pit. To get a replacement or good quality cover see CoversandAll.
What safety features should you be looking for in your fire pit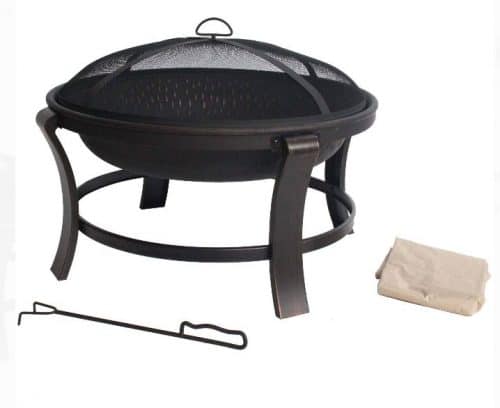 Your safety should be a major concern of all those who use a wood burning fire pit. Inviting people over without considering their safety is not good.
Things to look for are loose debris around the burn area, these can start a fire outside your fire pit. Having a stone or concrete patio is the best surface for pl
Having a good spark arrester to keep flying sparks under control will keep your fire in the fire bowl where it belongs.
Having the proper tools for moving or adding wood in your fire burn bowl. Most good fire pits will come with a good forked poker that will work well.
FAQ's about purchasing an outdoor wood burning fire pit
Where is the best place to have a woodburning fire pit?
As you cannot use a wood burning fire pit on a wooden or composite deck, you need to have an area that has a rock or concrete base. Having a wood burning fire pit on a grassy or other area that can burn is not a good idea either.
The best place for a wood burning fire pit is on a concrete surface or a patio area with paver blocks or rocks. A dirt area will work well if no other combustibles are in this area.
I use mine in the driveway on Halloween night with the neighbor bringing over their own chair. Other wise I use it on a paver patio area in the yard.
Are all woods good to use in a fire pit?
Hardwoods should be used for burning in a fire pit. Oak, Ash, Hickory, Hard Maple, Apple, Almond, and Pecan are the best. Soft woods and Cedar are to be avoided for fire pits as they burn too fast or hot to control.
Most fire pit manuals will also tell you not to use the preformed logs that you purchase in a box. They do burn hotter than some hardwoods and will warp or damage your fire bowl.
Do not use wood pellets in a fire pit, as they will not burn well. The wood pellets will burn really hot and will damage most metal fire pits. Most pellet stoves will have really thick metal cases.
Just think of the firewood that you would use in an indoor fire place. Knowing your woods and where it comes from will help you decide what to burn in your fire pit.
My final thoughts
My ideas may work well for you, I have used fire pits for a number of years. I have one that is small that I have had for over 15 years, it is starting to show some rust in the burn bowl. I keep it in the shed when not in use as the cover only lasted 2 years.
The design of your fire pit will be your choice. The style and materials will vary greatly. I hope in this article that I have given you some information to help in your choice.
Let me know in the comments below what things you look at when purchasing a wood burning fire pit.