A few things to consider when looking for the best Ways of Storing Wood for Fire Pit. How much wood are you going to need each season, How long will you store your wood, does your wood need to be mobile to get to the fire from its storage location, and does the wood need to be protected from outdoor weather conditions.
Each of these questions is going to be answered in this article. I will look at a few different storage solutions, a way to move your firewood, and how to best protect your firewood from the weather.
Look at the chart below for some storage solutions, click on the picture to go to the information about that item. Just keep reading if you do not see what you are looking for.
Storing Wood for Fire Pit
Most people will choose to store their firewood outside as the stacks of wood will gather bugs, rodents, and other things that like to hide in the wood. I have a location in the garage where I can store some wood, my other wood is outside on a rack or stacked way out in the yard. I only keep wood in the garage during the cooler months when I do burn, I also have an indoor fireplace that I burn wood in.
There are a few ways to protect your firewood from weather, one is to cover it when on a rack or to store it in an enclosed shed or storage solution. I prefer to store my wood on a rack with some kind of cover, I think if you have a small storage space a small shed may be a perfect solution to store your wood and protect it from the elements.
I find that my storage location is far from my burn area, I have purchased a log caddy that is much like a 2-wheeler for wood. I can place enough wood on this caddy to burn for an entire evening and not have my woodpile close to the burn area.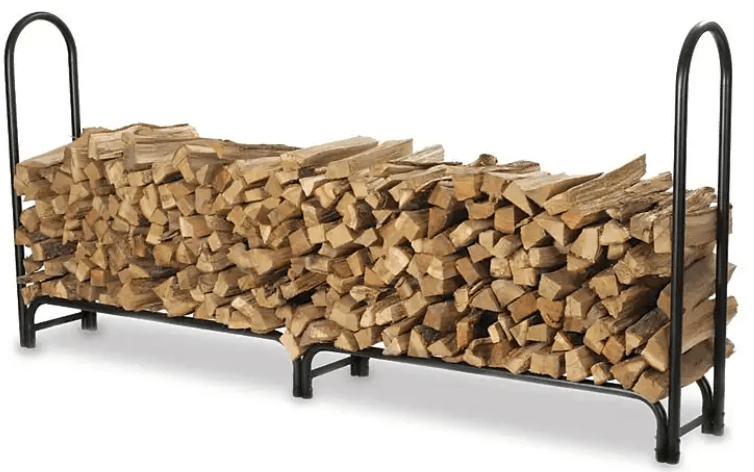 Large Firewood log holder
For the person who burns a lot during the cooler months, a large firewood log holder may be what you are looking for. A smaller one can hold a 4 foot by 4-foot stack of wood that is 16 to 24 inches long. This will be enough to last most people for about 3-5 fires in their fire pit.
I have several log holders of this size and if you get a rank of wood it will take 2 of them to hold it. A rank is usually 4 foot high and 8 foot long. This is the most popular size of woodpile to purchase. If you purchase a whole cord of firewood, a stack that is 4 feet high and 8 feet long, you will need a much larger storage solution or more than one storage solution.
For my larger log rack storage solutions see my post here.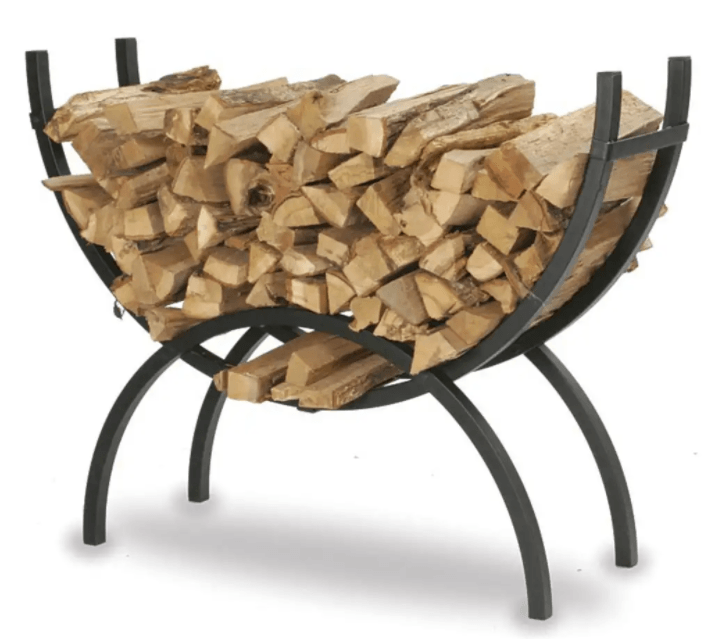 Small firewood log holder
For those who do not burn a lot, you may only need to store enough wood for a day or two of fires each season. For these people, a smaller log holder will work well. Maybe you just want to store a little wood next to your fire pit and the rest is far away in the back yard, a small firewood log holder will work.
I have several smaller wood storage solutions around my home as I have an indoor fireplace also. The smaller log holder will work outside also if it is not left out long enough to start rusting.
A small log holder holds enough wood for one good fire if your wood is long-burning like oak or hickory. Softer wood that does not burn as long may not last a whole night's fire.
Use the following link for some of my smaller firewood storage solutions.
Storage shed for storing wood for fire pit
This would be my least favorite method of storing wood. Because the wood is stored inside a closed container mold and bugs area bigger problems. The closed atmosphere will have a higher humidity level than even a stack of wood covered with a tarp. The higher humidity levels will attract bugs and make it easy for the wood to rot.
I would only use this example if you live in a small location with no yard storage. Use this link to look at some of my small storage shed solutions.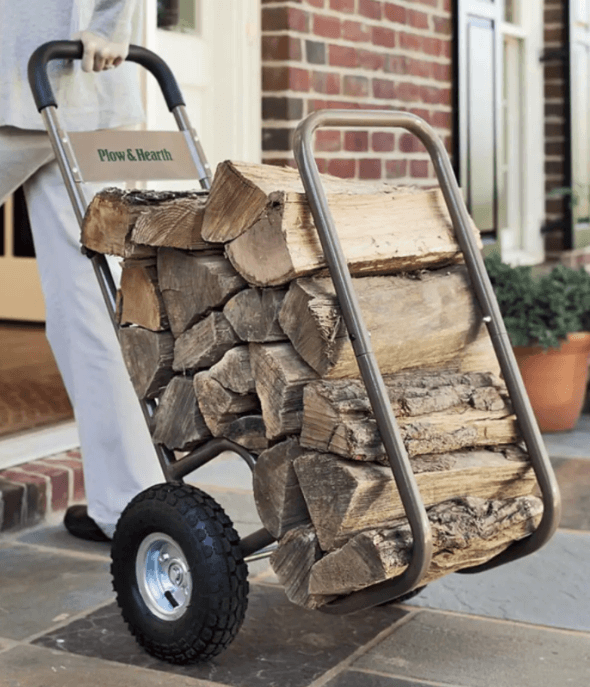 Log caddy
I have a log caddy to move my wood from one location to another. It works very well when I have to go upstairs to move firewood in the house for the fireplace.
The pneumatic wheels allow it to flow over most surfaces even rough terrain. The rack design will allow you to movewood that is wider than the wheels.
The log caddy can move alot of wood with little time and effort compared to just a few pieces in your arms.
To seemore of my information on the log caddy, see my post here.
Protecting your firewood from weather with a cover
Tarps are a great way to cover your firewood between fires. Some of the larger log racks will come with a cover as an option or it may be included in the purchase.
If you store your firewood under an awning or carport, you should not need to cover it to keep it dry. I do have a small amount of wood that I keep on a rack in the garage in the winter months, this makes it easy as I do not have to go out in the snow and get wood.
Faq about Storing wood for fire pit
Faq 1. Is it good to store firewood in an enclosed container?
Be careful to have some air circulation in your firewood container. Your wood will not continue to dry, and it may cause mold if the wood is very wet.
Faq 2. What are the best ways to keep wood dry before the fire?
I would recommend storage under a cover of some kind. If your wood is stored under a covering like a carport or a porch that would work. In an exposed area a tarp or other rainproof cover may be needed.
Faq 3. Should I store my firewood off of the ground?
Firewood that is directly on the ground may be subject to bug infestation and extreme moisture that will break down the wood.
Conclusion on storing wood for fire pit or what do I do
I use many storage solutions for my firewood. I have three large racks, several smaller racks, a log mover, and a log splitter to make larger logs easy to move and burn.
Your needs may be different than mine as I have an indoor fireplace also and burn a lot of wood each year. I have given you some examples of my storage solutions.
If you have any questions or comments on this information, use the forms below and I will get back to you shortly.