Wood Cart With Wheels
When you have to bring in fire wood for the winter fires or just want to bring some to your burn area with a fire pit, having a Wood Cart with Wheels will make the job so much easier.
Each of these carts will do the job of moving a great deal of wood in one trip instead of several. Your back will thank you for your purchase.
For wood storage ideas, see my post here for some firewood storage racks that will have different styles and sizes for your needs. Some will come with covers to protect your firewood from the elements.
Look at the chart below and look how these two carts compare, then go read my information to see what works best for your and your wood moving needs.
Comparison Chart of these two wood carts
| | Big Wheeled Cart | Pneumatic Wheeled cart |
| --- | --- | --- |
| Image | | |
| Wheel size | 18 inch | 10 inch |
| Weight capacity | 150 pounds | N/A |
| Cover | Extra cost | Extra Cost |
| Price | $129.95 | $99.95 |
| | | |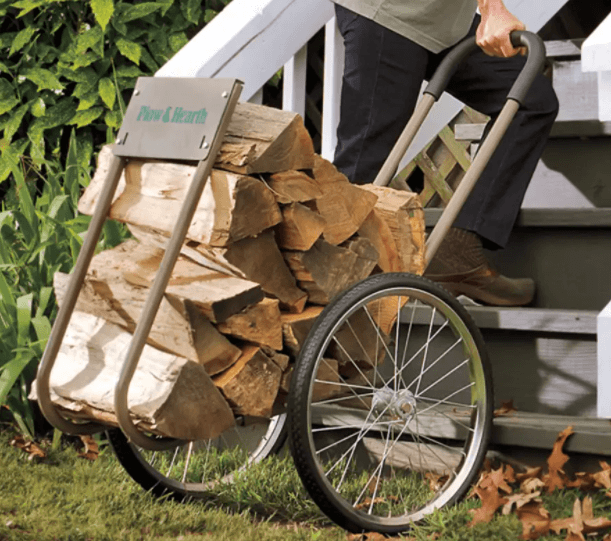 Rolling Wood Caddy with Large Wheels
Overview of the Big Wheeled Rolling Wood caddy
This cart will have big wheels like a bicycle. You will have to watch the length of wood you put on the cart on the back side so that it does not interfere with the wheels.
A frame will hold the wood on the frame and a handle will allow easy movement and hold wood on the cart in the back.
It states that it will hold 20 inch logs, if you are not around the wheels you can handle much longer wood.
Features of the big wheeled log caddy
A light weight tubular frame will have two big wheels that will go over rough terrain very well. Tipping the cart over with a big load will still only require one havd unless you are going up or down a hill. This cart will do steps very easy with the big wheels.
The big complaint from customers was that it did not handle big loads very well and some customers had damage to the wheels or spokes from wood that shifted while on the move.
The wheels on this cart are 18 inches tall and will be 26 inches wide. The cart will be 28 inches from the front to the back and 43 inches to the top of the handle. The book says it will hold 150 pounds of wood, you would be better off not putting this much wood on this cart not to tax the weight limit.
An optional poly cover is available for $29.95 or just an additional $10 when you purchase your log caddy.
Assembly and care of your wood caddy
Very easy assembly, should take less than a half hour. Just put together the frame with the included hardware and add the wheels with a washer and cotter pin.
The wheels may need some service from time to time due to damage from wood or other objects. Many customers complained that the wheels of this cart did not hold up very well.
Cleaning of your cart should only take a damp rag and a quick wash down once a year. Keep it stored out of the weather when not needed.
The Pros and Cons of this Log caddy
Pros
Poly cover available

For $10 extra when you order the caddy or $29.95 if ordered alone.

Big wheels good on steps and rough terrain

Will allow you to move with ease over most any small obstacle from the firewood pile to the burn area.

Lightweight

Made of lightweight materials, can be easily carried if empty.
Cons
Replacement parts not available

some customers had trouble with wheels breaking, no replacement parts at this time from the vendor.

Not made for heavy load

Too much weight will break wheels and lightweight metal connections, will not hold the 150 pounds of wood without some stress on the log caddy.

Smaller wood between wheels

The wheels extend above the area where the firewood sits, shorter wood is recommended there.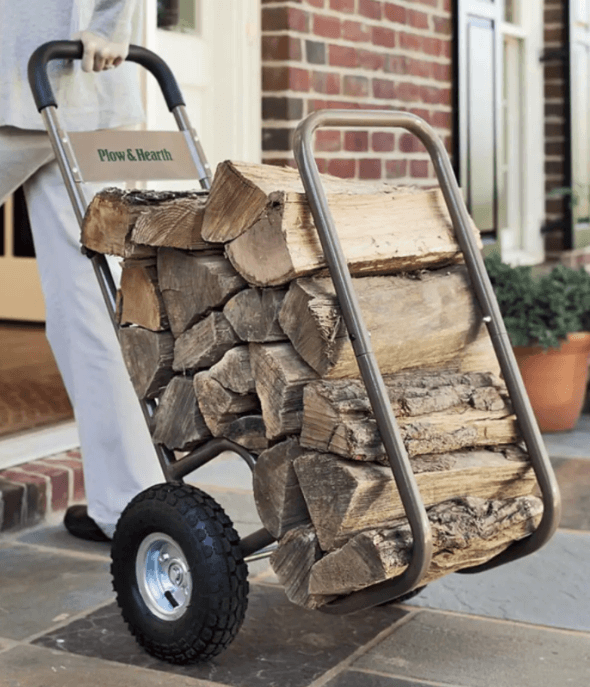 Pneumatic wheeled Rolling Log Cart
Overview of this log cart
Two wheels that are filled with air will support the round tube frame that bolts together. As long as the wood is longer than 14 inches you will not have much problem with it falling through. If you haul shorter wood you may have to build support for your wood.
A handle on the wheel side will allow you to easily move your stack of wood. A Sturdy bar will keep your wood on the caddy without much trouble.
The back of the cart will be built so that no wood comes in contact with the wheels. This will allow easy movement of this cart over most any obstacle like stairs or uneven surfaces.
The car will be 20 inches wide at the outside of the wheels, 22 inches deep from front to back, and 42 inches tall to the top of the handle.
A poly cover can be purchased that will keep your cart and wood dry between fires. It will cost $19.95 or just $10 extra when you purchase your cart.
Features to make it worth it
The pneumatic wheels go over any surface with ease and the structure of this cart will allow easy access up steps. It will hold several armloads of wood at one time, making moving firewood a breeze.
If you want to can store your wood on this cart and use it as firewood storage by the fireplace or firepit. Get one of the poly covers for it and leave the wood on it inside or out.
Easy assembly will have you moving wood in less than a half an hour.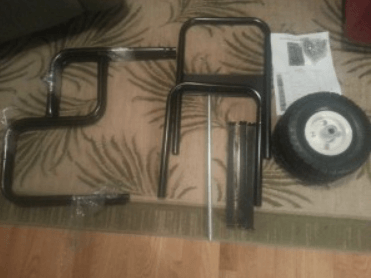 Assembly and care of your log caddy
I put mine together in less than a half hour in the living room. The frame bolts together with the included hardware and the wheels attach with a washer and cotter pin.
I care for mine by storing it in the shed when not in use. I keep mine out of any wet weather to keep any rust away. A simple wash with a damp cloth will keep your cart looking like new.
Pros and Cons to the Pneumatic wheeled log caddy
Pros
Tires good on any terrain

Pneumatic tires when filled with air will easily go over gravel or other rough terrain and stairs with ease if not overloaded.

Wheels do not rub the wood

Smaller wheels do not extend over where wood is held. Any size logs can be transported as long as they fit through the door.

Solid construction

The lower part is made of sturdy steel and handles heavy loads of logs well
Cons
Short wood falls through

Some customers complained that firewood shorter than 15 inches would fall through the supports, they are only 12 inches apart. I would put down some fabric or wood to keep wood on the cart.

Could use rubber feet

I use my cart in an area with hardwood floors, I would like to see rubber tips on the front legs so that when the cart is parked it will not scratch the floors.

The tires have an odor

Rubber tires will have a smell, no amount of Fabrez or other sprays will make it go away. Some may find the smell offensive.
For more information on these wheeled log caddies, use the link below

Which one did I choose
I choose the Pneumatic tire Wood Cart With Wheels to get my fire wood from the outdoor wood pile to the burn area, inside or outside. I have a fire pit and fire place that I burn wood when the weather turns cold. I have had my wheeled log caddy for five winters now and have no problems and it does my four steps from the garage without too much trouble.
If you need to move more than a few pieces of firewood any distance, one of these wheeled log mover will be an asset. I think one is a better deal for your money than the other, I hope my information will help in your decision.
If you have any questions or comments on this or any of post on my site, use the forms below and I will get back to you shortly.