Fire Pit Wood Storage Ideas
If you have a fireplace or use a fire pit when it is cooler outside, you will need to look at Fire Pit Wood Storage ideas. These 5 different ideas will be used for bulk storage or smaller storage next to your burn area.
Each style will have a different look and hold a different amount of wood. Most people if they purchase wood to burn will get a rank or 1/2 cord of wood, any 4 foot long and 4-foot high storage rack should hold this amount of wood. If you purchase a full cord or cut your own wood and need more storage, you can purchase the extra-large racks or just several of the smaller racks.
For those who don't know the measurements of fire wood, a rank is a stack that is 4 foot long and 4 foot high, a cord is a stack of wood 8 foot long and 4 foot tall. A true rank or cord will have wood that is cut 24 inches long, a lot of people shortcut this measurement the most and give you firewood that is only 18 or 20 inches long and call it a rank or cord.
Some of these will have a smaller rack that could be set close to the burn area that matches a bigger rack so you would have a matching styles in your outdoor space. A couple will have storage for smaller kindling wood for keeping your fire going or starting your fire.
Now let us look at some of the details of each of these wood storage racks. If you would like to go to the expanded information, use the blue name of each of these items.
Heavy-Duty Steel Log Racks with Vinyl Covers
This is a simple log rack, I have two similar four footers. They are easy assemble and take apart to store when not needed.
This style will come in three sizes with a vinyl cover included. If you store wood only during the colder months, you will be able to take your rack apart and store in a small space.
The frames will be made of 18 gauge round steel tubing that is connected with hardware at the legs on each end. It is painted black.
The Medium rack will be 45 inches long, 13 inches wide, and 45 inches high, not quite big enough for a full rank (half of a cord) of wood. I have one of these for the garage and one I leave on the deck during the cold weather.
The large rack will be 96 inches long, 13 inches wide, and 45 inches tall. You will be able to store close to a cord of wood on this rack.
The extra large rack will be 60 inches tall with the same other measurements at the large rack. It should hold an entire cord of wood if stack properly.
Each rack will come with or without a vinyl cover. The cover will not go all the way to the ground to allow air to the bottom to make sure your wood does not mold. Each cover will have brass grommets for tie-downs and Velcro strips so that you can open the side to get wood out without taking the cover off.
Pros
Vinyl Covers included
More sizes available
Can be taken apart for storage
Cons
Not a lot of style, plain looking
Medium will not hold a full rank
Large will not hold a full cord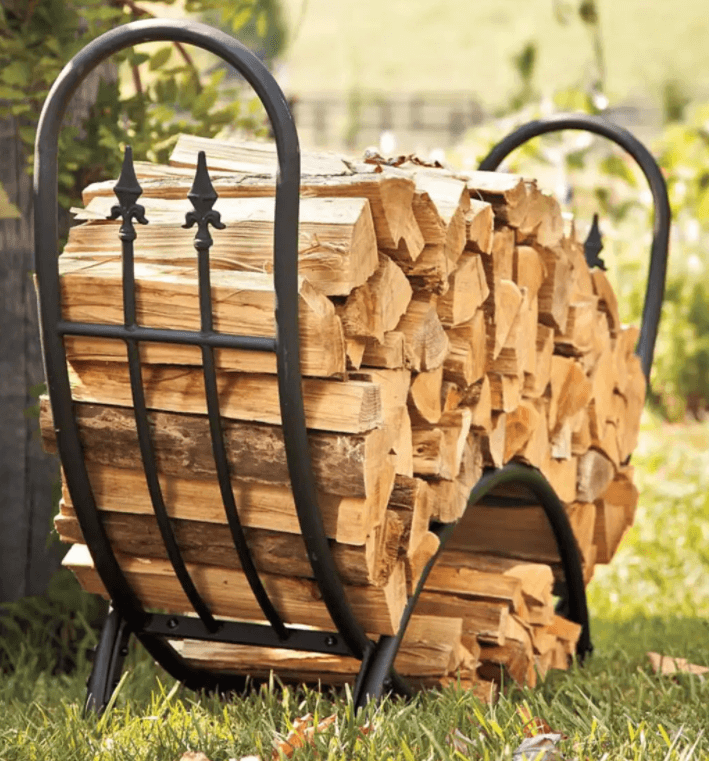 Steel and Wrought Iron Curved Wood Rack with Finials and Optional Cover
The curved design will look great in any outdoor space. The Finials are two pointed spears pointing up on each end, they are inside the frame and should not be damaged by firewood that is placed on the rack.
The frames are made with tubular steel and the finials are made from wrought iron that is solid. A textured black powder-coated finish will make this rack weather resistant.
An arched design on the bottom will allow you to store some kindling wood separately from the firewood. This makes it east to keep dry for easy fire starts.
The rack will be 71 inches long, 17.75 inches wide and 42 inches tall. It will hold a rank or 1/2 cord of wood when full.
A fitted vinyl cover is available for an extra cost ($39.95). It will have brass grommets for tie downs in windy conditions. A Velcro strip will allow you to open the cover to remove small amounts of wood when needed.
Pros
Area for kindling wood
Great Finial and curved design
Holds a full rank or 1/2 cord of firewood
Cons
The cover is an extra cost
Only one size available
Will be hard to store when not needed
Heavy Duty Steel Wood Rack with Finial Design
More of a traditional design with the additional style of a single finial on each end. This style will come in three sizes, even one you can sit by your burn area for a days worth of firewood so that you do not have to run to the wood pile to keep the home fires burning.
The three sizes will give you the ability to have matching storage racks in different areas holding up to a full rank or just enough for a full days fire.
The rack will have an all steel construction with tubed frames and solid designs of finials on each end.
The small rack will be 23 inches long, 12 inches wide, and 23 inches tall. It would be great near the burn area so you do not have to chase wood when you have a fire.
The medium wood rack will be 47 inches long, 14 inches wide, and 44 inches tall. This is big enough for a rank of firewood.
The large rack will be 84 inches long, 14 inches wide, and 55 inches tall. If stacked tight you could a cord of wood on this rack.
A vinyl cover is available made for each size of the heavy duty finial wood rack. The covers are designed with brass grommets for tie downs and a Velcro strip on the two larger covers to open and remove wood easily.
Pros
Three sizes
Good looking Finial design
Vinyl covers available
Cons
Covers are extra cost
No extra space for kindling wood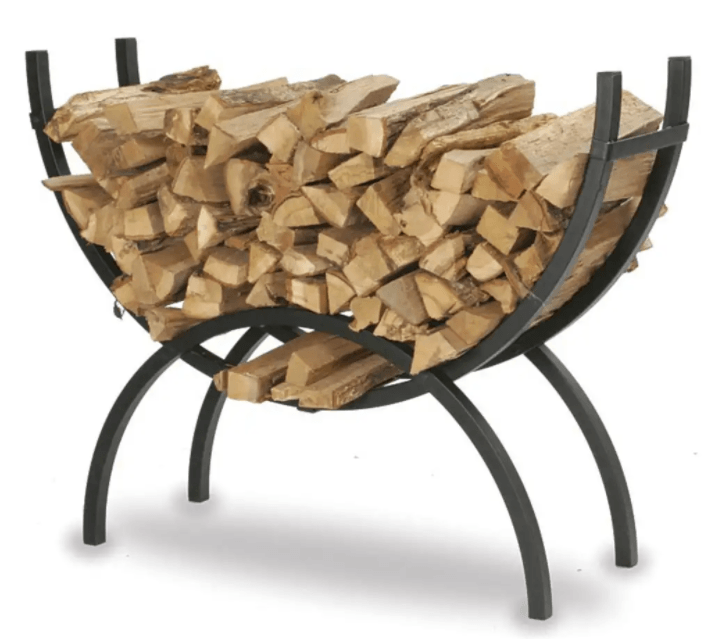 USA-Made Steel Crescent Log Racks
Only comes in one size, a four-foot model. It is made from four main pieces of curved 18 gage 1 1/4 inch steel tubing. Between the arched frame, there is a space to hold kindling wood separate from the fire wood.
This wood rack is 48 inches long, 14 inches wide, and 36 inches tall. It states that it will hold a rank of wood or a half cord.
The black finish on this rack will be a good contrast when full of wood on your deck or in the yard.
Pros
Curved design
Place for kindling wood
Higher off ground, do not have to bend over to get to the bottom of the woodpile
Cons
Not as strong construction as other log racks in this article
No premade cover available for this rack
May not be as stable as others when filled or overfilled with wood
Pine Firewood Storage Box
If you are looking for style in storing your firewood, this box made out of pinewood and plywood will do well. A hinged lid will open to let you store almost anything that will fit.
It is available in 13 distressed finishes to match almost any decor inside or out. the finishes are Avocado, Antique White, Bayleaf, Beeswax, Black, Chestnut, Cottage White, Gray, Honey Pine, Maple, Red, Sandstone, and Solid Blue.
The box will be 18.5 inches deep, 33 inches wide, and 28.75 inches high. It will weigh about 60 pounds depending of finish. It will keep things out of the weather, it is not water proof.
This is a great looking storage solution for almost any area of your home. It could work well for a small amount of fire wood that is stored near your burn area.
Pros
13 finishes to choose from
Can be used to store anything indoors or outdoors
Hinged lid with support
Cons
Will need treatment on wood to make it last outdoors
Higher price
Holds a small amount of firewood
For current pricing and shipping cost, use the link below
My thoughts on fire wood storage racks
When I first looked around for some Fire Pit Wood Storage Ideas, I looked at several before I purchased two of the Heavy Duty firewood log racks that are 4 feet long. I keep one in the garage and one outside on the deck. I can keep my wood dry and ready for burning and it is easy to access. I have a log mover that I use to take my wood to my burn area, for information on Wood log cart with wheels, see my post here.
You choice of design and size will be dependent on your style and needs of wood storage. The smaller wood rack could be used by the fire place or just by the door to keep wood close to the point of the fire.
If you have any questions or comments for me, use the forms below and I will get back to you shortly.