Outdoor Patio Beverage Coolers
When you are planing your party this year, look at dual purpose Outdoor Patio Beverage Coolers to keep your drinks cool and have some place to sit them while talking to your guest.  This cooler will not need a electric outlet, just add ice and your favorite adult beverage.  You will be able to store and keep cool for as long as your ice last.
This is not a cooler that you put in the shed or garage when the party is over.  Just leave it between your favorite chairs to use for you drinks after work or for a bug candle to keep the little pesky ones away.  You won't have to search in the shed for hours to find your cooler, it will be in plain site.
Just lift the lid, add your cool drink and ice.  You are ready that quick for your guest to have a great evening around your patio, you can even use indoors for that party that you do not want the big red cooler sitting on a table by the dart board.



Now lets look at some of the details of this cooler/side table combination and see if it right for your patio area.  I do have some other side tables or cooler solutions for your patio furniture needs in other articles.
Price when article was written: $48.97
What do you get in the box
You will get a round cooler that will hold abut 24 12 oz cans of you favorite beverage on 20 pounds of ice.  The patio side table will come in four colors and two designs.  The wicker look finish in a dark brown will have no legs and flat sit on the floor.  Cooler table with legs will come in three bright colors to match your decor, Gray, Red and Teal and will have a smooth outside design.
Table is designed to hold up to 100 pounds of goods when top is down, not enough for an adult to sit on, just keep the bigger kids off of it so it does not get broken.
Table will be 19.5 inches across and 33.2 inches tall with the lid closed.  The lid will pull up 10 inches to get to the cool drinks, you can use it as a standing bar with the lid all the way up.  It does have a locking feature to leave up, your drinks will not be as cold as if you leave it closed when using as a cooler.  Some customers stated that with one bag of ice this cooler kept their drinks cool for up to 12 hours, this is a long time for a cooler to keep things cool.
When the party is over, there is a plug on the inside that can be opened to let the water from the melted ice out.  You will not have to pick this cooler up and try to pour out the cold water, just let it drain out and dry before closing the lid to prevent mold.
This is a great dual purpose side table that can be ordered in several finishes and colors to match most patio decors.  Get a couple for by the pool for summer parties or just sit them by your patio furniture for side tables.  Having a cooler that will match your outdoor decor will give you something that will be a conversation piece plus look good at the same time.
Assembly and care of your patio side table cooler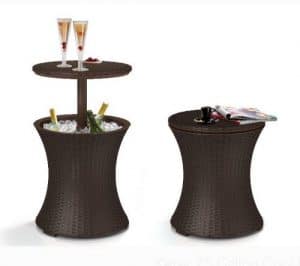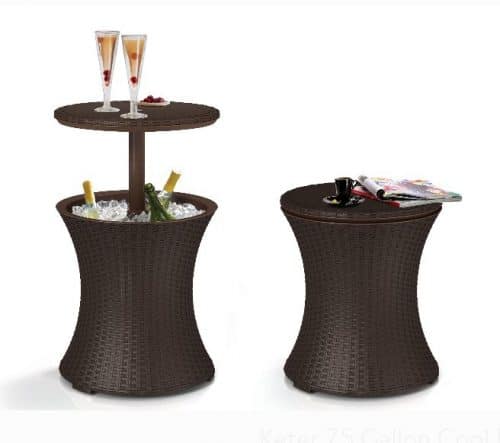 Only the tables with legs will need any assembly.  You will need a screwdriver to attach the four legs.  The wicker one will come fully assembled.  Just add your favorite beverage and ice before your party starts.
Cleaning your cooler will just take a damp rag most of the time.  Do not use any harsh chemicals as they will damage the painted and plastic surfaces.  Make sure the inside is dry when closing it up to avoid a moldy surface when you go to use it the next time.
Pros
Can be used as both patio side table and drink cooler
Has drain to empty when done
Four colors to choose from
Can be used as a standing table when top is raised
Cons
Need ice to keep drinks cool
Some had trouble keeping table top at the high level
---
Where to purchase your patio beverage cooler, side table-use the link below
My thoughts on this patio side table
What a wonder full idea to have a side table that is can also be used for Outdoor Patio Beverage Coolers.  The four colors can match most patio decors, most customers stated that for the bigger areas that they were going to purchase several to sit around their pool or deck areas.  The price will make this piece of patio furniture affordable even if you never use it as a cooler.
Look at using this for your tailgating party for the fall football games.  Just load it up in the truck, you will have a cooler and a side table to put between your chairs.  Put your favorite collage logo on your table and see what comments you get.  What a fire pit with your collage logo on it, look at my information here.
Any questions or comments about the information in this or any of my articles, leave me a note with the forms below and I will get back to you shortly.