Outdoor Wooden Swings with Frame
When looking for seating with motion in your patio or any out door area, there are many Outdoor Wooden Swings with Frame to choose from for your seating needs.  I have a treated wood model in my back yard and it gives me a place to stop and rest when I need to relax in a quiet place.  The motion will add to you relaxation even if you only move a little.  I like my patio furniture to have a little motion, it adds to the comfort of sitting for a little while without adding cushions.
We will look at the types of wood for outdoor swings and how to take care of them to make them last for many years in this article.  I have had my swing for over 12 years and it still looks in great shape and I only treat it every three years.
If you have anything to add or would just like to share your opinion on this subject, please send me a note and I will get back to you shortly.  Now lets look at my information to help you with your decision on a swing.
Types of wood
There are many types of wood material that outdoor swings are made of.   The lowest priced would be just regular pine, this would need paint every year to stay in good shape.
The second lowest would be treated, this is what I have at this time.  The advantages of treated are that it will not rot if on a dirt surface.  It will take most outdoor conditions very well with out much work.  Just keep clean with a broom and damp cloth.  Bird droppings are the worst thing on my swing.
Cedar would be next on the list of materials for price.  This type of wood has a great aroma and color.  It does not rot and the bugs do not like it taste.  It will last a lot of years with little or no upkeep.
Teak wood is the most expensive type of wood, it will last a lifetime if cared for properly.  This type of wood will require very little care to keep looking like new.  If you like the driftwood look, just let the wood age to a patina color and you will have a great conversation piece plus a great place to relax after a long day at work.
Single or multiple seats
Several styles of swings on stands are available, from one to three seats are the most popular.  I prefer the three seat version that I have, big enough for two to share with a little room between.  The single seat versions should be for those looking to relax in a remote area of their outdoor space.  I would only recommend this type to people who do not want others around when they are chilling.
Other motion seating options
Two other main options of motion seating are a hanging swing or a glider.  The hanging swing will require a structure above the swing that will support the weight of the swing and its contents in motion.  I have an article on hanging swings here for more information on them.
A glider would be another option if you do not have a way to hang a swing.  A glider can stand alone and some will be part of a collection of patio furniture that you could have matched for other seating or dining needs.  Look at some of my glider solutions here, they are available in wood, resin wicker and metal finishes to match any outdoor decor.
Care of your wooden swing
Most wooden swings will take little care.  The wooden surface will need to be power washed once a year and treated with the proper solution for the type of wood.  Each type of wood will require a different sealing solution.
Regular pine wood will need to be painted to seal from bugs and rot.  You will have to take special care of the feet if they contact a soil surface, bugs will eat your legs from the inside out.  Also if in contact with a wet surface, this type of wood will rot quickly.
Treated wood will take to the outdoor environment a little better.  You could get by with power washing every other year and treating with a weather proofing material.  I like to use Thompsons water sealer.  This material will come in many colors, I use the clear to bring out the rich look of the wood.
Cedar material will take a little less work than the treated.  You may get by with only treating the surface every three years.  I power wash my cedar trellis and put on a clear coat of sealer every three years.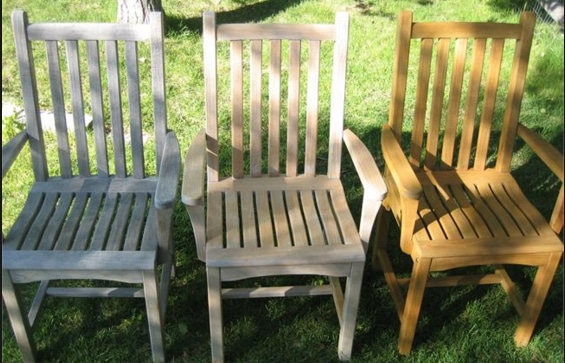 Teak or Acacia wood is the most expensive and will last the longest of any wood style.  This is a very hardwood and has been know to last several generations if taken care of properly.  Even the Egyptians made furniture out of Teak wood that is still usable today.  Just clean up surface spots and treat with tongue oil once a year.  If you let the surface with out any treatment, it will age to a driftwood look.
Why I have a wooden swing on a stand in my outdoor space
I have several wooden items in my outdoor space.  Outdoor Wooden Swings with frame is one of them, I have had this swing for over 12 years.  I also have a wooden play set, made from redwood and a trellis, made from cedar.  This type of patio furniture will take little or no work except to clean and treat once a year.
I like to chill out side and listen to the birds sing and drink a cool one with someone after a long day at the office, what better place than just out the back door under a shade tree.
If you have any questions or comments, please use the forms below and I will get back to you shortly.