Outdoor Wicker Patio Conversation Sets
Looking at the Outdoor Wicker Patio Conversation Sets and do not want to spend over $400, the Mainstays Cambridge Park conversation set will work well.  With two straight leg chairs, a love seat and a coffee table, seating for four in your patio area will be filled.
The woven resin wicker finish will give you the look of a higher priced set.  Add the seating cushions and you will have hours of seating comfort for you and your guest.  Tempered glass top coffee table will give you a space to put your drinks and snacks.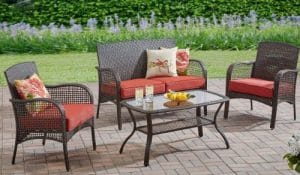 Price when article was written: $349-Free 2 day shipping
What do you get in the box
In one box you will receive your two chairs, love seat and coffee table.  The frames are made for steel for stability and have a powder coated finish for outdoor durability.  A woven resin wicker will cover all frames, backs and sides of the seating pieces.
Coffee table will have four legs with a ring metal support for the legs.  The metal support will have a woven resin wicker finish to make a shelf to store some reading material or snacks, it will not support a lot of weight or it will start to sag.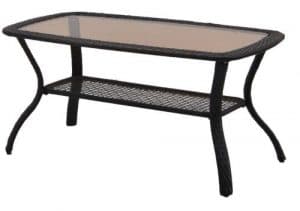 Top of the table will be a tempered glass insert, so it can be replaced if broken.  Table is a standard size at 40 inches long, 22 inches wide and 19 inches tall.  A woven resin wicker will cover all metal pieces to  give a rich look.
Seating pieces will will have seating cushions, no back cushions, that have Olefin fabric covers, this is a very good fabric for outdoor use.  Cushions will sit on metal slats for support.  I would still recommend storage for cushions when they are not in use for a longer outdoor life.  See some of my storage solutions here for your cushions and other outdoor toys.
If you have to get replacement cushions for this set, the measurements for the chair cushions are 19.75 inches wide, 22.5 inches deep and 4.33 inches thick, Love seat cushions are 20 inches wide with the same other sizes.
Chairs will be 27 inches wide, 27 inches deep and 34.5 inches tall.  Each chair will support 225 pounds, love seat will support 450 pounds.  Love seat will be 50.5 inches wide with the same other dimensions.  Seat will be 13.5 inches off the floor surface.  Seats of the chairs will be 22 inches wide, love seat is 42 inches wide.
This set will work best for those with a outside area of at least 8 foot square, anything smaller it will feel crowded.  I like the wicker finish and the seating cushions, it will give you the good looks and long term comfortable seating.  The shelf on the coffee table will give you a little storage so you will not have to get small things from the house.
Assembly of your conversation set
Assembly will take a little time, depending on your skills.  All tools that are needed are included in the hardware pack.  Having an extra pair of hands when doing the assembly will help, just give them one of their favorite adults beverages for a bribe.
Table will need the legs installed to each corner of the table top frame.  Add the support shelf, sit on a flat level surface and do the final tightening of the hardware.  Insert the tempered glass top and table is ready.
Seating pieces will require one end to be attached to the seat base, then back attached to the end piece.  The back will have some pins that fit into the seat base, be careful to make sure they are in the holes supplied.  Next step will be to attach the other end to this assembly, this is the one area that extra hands will be the most help.  Make sure that the seating pieces are sitting on a level smooth surface for the final tightening of the hardware.  Just add cushions and you are ready for your first relaxing moment with your conversation set.
The box this set comes in is 45 inches long, 27.5 inches wide and 18 inches tall.  It will weigh 100 pounds, so if you need to get home you will need extra hands and a bigger van or pickup.
Care of your patio furniture
As with most outdoor patio furniture sets that have a powder coated frame, you need to only use a mild soap and water for cleanup.  Do not use glass cleaner on the table top as this will damage the painted surfaces and it will start to peel and discolor.  Use a damp cloth when cleaning the glass top.
When cushions are not needed, they should be stored out of the sun and weather.  This will prolong their outdoor life to last the life of the frames and woven resin wicker cover.
This conversation set has a three year warranty for defects only.  If you need to contact customer service for warranty, hardware or replacement cushions, use the following links.
Email: customerservice@leisuregardenfurniture.com
1-877-877-1235
Pros
Great looks of resin wicker furniture
Table top can be replaced if broken
Easy assembly, just takes some time
Other patio pieces are available in this style
Cons
Cushions will need storage when not in use
Narrow seating positions
No back cushions are included
If table is tipped over, top may fall out and break
---
For current pricing and shipping information, use the following link

My final thought on this patio conversation set
This set will be like most standard Outdoor Wicker Patio Conversation Sets, with two chairs, love seat and coffee table.  What sets this set apart from others is the resin wicker look, storage shelf on the table and low price.  Depending on what your needs are, this set will work well for those looking for a great looking conversation set that will not break the budget.  Free two day shipping will get you your set quickly to your front door.
Any questions or comments pleas use the forms below and I will get back to you shortly.