Garden Gazebo with Canopy
When you need a shady spot to hang out in the warm months or a screened-in area to keep the bugs away, a Garden Gazebo with Canopy will work well if you have a space to leave it up. It can connect to the ground or a solid surface to hold it in place during light or moderate winds.
Keeping the insects out with the netting will allow you a comfortable evening out under the stars. This garden gazebo is big enough to hold a four-piece conversation set or a small dining set. Patio bistro sets or chat sets will work best for relaxing under the shade of your canopy.
You will just need a flat portion of your outdoor space that is at least 10-foot square to place this gazebo on. Now let us look at some of the details of this gazebo if you would like to look at some of my other shade solutions, see my post here.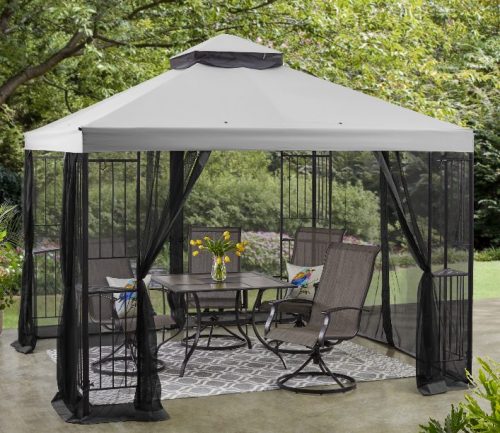 Product: Mainstays Easy Assembly Gazebo
Price when this article was written: $247
Where to get the best price online: Walmart
What do you get in the box?
On the box, it states a heavier duty frame this year, made from steel and with a powder-coated finish. Four corner legs will support the upper frame that will hold the canopy in place. The top of the canopy will have a smaller canopy to cover the very top of the structure, this will help ventilate your gazebo during light winds. Both canopies attach with Velcro straps for easy removal when needed.
The frame will take a footprint that is 10-foot square and can attach to most surfaces, support ropes with ground stakes can be used to secure a solid ground surface like grass or dirt. To attach to a solid surface like concrete, you may have to be a little creative.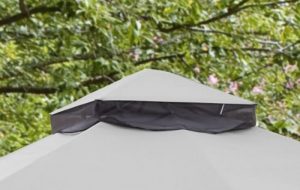 Each corner section will have a small triangle-shaped shelf, you can place flowers or lighting items on these shelves for extra decor. At the top of the corner pieces, there will be a bar with a hook for you to hang plants from or some other decor.
The frame can support some string lights or lanterns for lighting after dark. A rug for the floor of this gazebo would be a great comfort addition if you place it on grass or concrete, for some area rugs that are made for the outside weather see my post here.
A two-piece screen for each of the four sides will attach to each of the corners with Velcro straps. a zipper will close the entire gazebo from flying insects. With shade during the day and mosquito netting during the dark hours, this gazebo will be useful almost anytime you wish to be outside.
Add some string lights for illumination and you can use this gazebo any time you want.
If you are picking up or have this Gazebo delivered, be prepared for the one big box that will weigh about 120 pounds. You will need a pickup or some way to transport to the final assembly area. If you cannot move from the delivery location, I would recommend opening the box and moving and sorting the smaller pieces to the assembly area.
Assembly and care of your Garden Gazebo
This gazebo will take a lot of assembly skills and some extra hands. A couple of small ladders will also be helpful as some of the structures will almost be 10 feet high during assembly. Clips or push-in spring buttons will hold all metal pieces together, no tools should be needed in the actual assembly of this gazebo.
The corner pieces will the first parts to go together. They will be connected with a connector clip on the bottom and a corner connector on the top. Repeat for all four corners. The middle shelf and top hanging bracket will also keep the corners supported and at the right angle.
The four top bars will connect to the corner pieces with the connector clips. This is where the two ladders and extra hands will help the most, place eight bars in the side and corner bars and connect to the top piece. The corner bars are longer than the sidebars, they will not interchange. The corner pieces will have an extra frame to hold the center smaller canopy. All these pieces will slide in and lock with spring-loaded locking pins.
Add the mosquito netting with the attached Velcro straps to the top bar and corner bars. A tieback is included to keep them out of the way when not needed. The smaller canopy will just slide onto the ends of the small frame. The larger canopy will need the Velcro straps attached to hold it in place. The ladders will be needed in the last two steps. Now you are ready to add your rug and furniture and relax.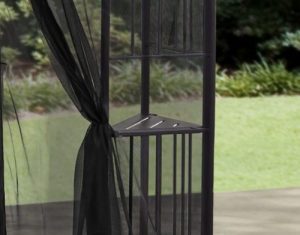 Pros
Keeps out most flying insects
Can be used on any flat surface
Big enough for a conversation set
Easy off canopy
Cons
May need to remove canopy during moderate to heavy winds
May need a light source when using at night
It May take some time and extra hands for assembly
---
Follow the link below for the best Gazebo prices online

My final thoughts on this garden gazebo
Need a place to get away from the sun during the day and bugs at night, this Garden Gazebo with Canopy from the Mainstays collection will be easy to assemble and very sturdy in light to moderate winds.
Hang plants or put them on the included shelves, you can add greenery with ease. Add some string lights to the top after dark for lighting and close the netting to keep the bugs out. You can use this gazebo in all but extreme weather conditions.
If you have any comments or questions on this or any other article on this site, send me a note with the forms below and I will get back to you shortly.