Outdoor Wicker Furniture Sets
When looking for a chat set for your outdoor seating area for two, one of the colors of the Mainstays Skylar Glen Outdoor Wicker Furniture Sets for a solution.  With two straight leg chairs, two ottomans, and a small side table, this set will work best for those with a patio with a little legroom.  This set will still work well on the regular builder's grade deck (8 foot by 8 foot) that most new homes get.
The ottomans will retract under the chairs when not needed, you can use them for extra seating for smaller people.  Cushions will give you comfort for long term sitting and the back pillow will add to comfort for some.
Now let us look at some of the details for this leisure set for your patio. If you would like more information on chat sets, see more of my information here.
Product: Mainstays Skylar Glen Patio Leisure set
Price when this article: $245
Where to get for the best price online: Walmart
What do you get in the box
The metal dark brown frames will have a powder-coated finish with a woven resin wicker highlights.  Cushions will cover the seats of the chairs and ottomans.  They are available in four colors Blue, Teal, Red, and Tan with matching back pillows.
The two chairs will have straight legs for no movement while sitting.   A side table with a tempered glass top will allow room for drinks and snacks.
The ottomans will have a wicker panel on one side only, this is the side that sits out away from the chair.  The backside is lower to allow the ottoman to slide under the chairs for storage.  Each ottoman will be19 inches wide, 19.5 inches deep, and 12.75 inches tall at the top of the cushion.  The ottoman will weigh under 7 pounds, easy to move for most anybody.
Each chair will be 28 inches wide, 27 inches deep, and 32.25 inches tall. They will weigh 17 pounds each and support 250 pounds each.  Curved lower wicker panels will cover both sides and back of the leg area.  The front is more open allowing the ottoman to slide under.  A nice x shape will highlight the sides under each arm.  Woven resin wicker will give your back support with the pillows for comfort also.
The side table will be 20 inches across,18 inches tall, and will weigh under 10 pounds.  The glass top will have an obscure look, the glass is not clear.  Four legs with an x type brace that will match the brace under the arms of the chairs.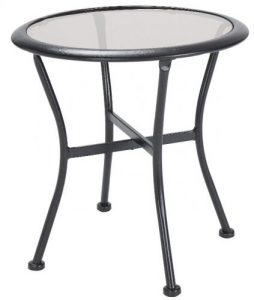 Cushions and pillows will have a combination of polyester fiber and polyurethane foam pad for filling.  The cushions will have Olefin fabric covers and pillows will have polyester fabric covers.  The Olefin fabric works very well for outdoor furniture, it will still need a storage solution to last more than a few years of service.  All cushions are held in place with Velcro straps.
When it comes time for replacement cushions the seat cushions are20.9 inches wide 20.1 inches deep, and 4.3 inches thick.  The ottoman cushions are 16.1 inches wide, 16.9 inches deep, and 3.1 inches thick.
This set will work well for those looking for seating for two in smaller areas and like the idea of a comfortable place to put their legs after a hard day at work. When you are done, you just have to slide the ottomans under the chairs to get them out of the way.
Assembly and care fo your patio leisure set
Simple assembly of this set will take less than a half-hour for the people with some skills.  All tools that are needed are included in the hardware pack.  Your chat set will arrive in one box that will weigh about 60 pounds.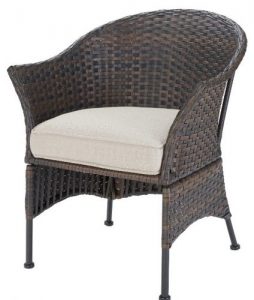 The chairs will be adding the seat to the chair base with the Allen screws.  Add the cushions and you are ready to relax.  Ottomans will need legs added to the base then just add cushions.
The table will need the leg pieces connected and then attached to the top. For best results do the final tightening of the hardware while the table is sitting on the legs.
To clean your patio furniture, only use a mild mixture of soap and water, do not use harsh chemicals even glass cleaner as it will start the powder-coated finish to fade and peel.  A damp cloth will clean most spots on your patio furniture.
Cushions and pillows should be stored when not in use for the best results and longer-lasting in outdoor weather conditions.  For some of my storage solutions, see some of my posts here.
Pros
Extra seating when needed
Ottomans store under chairs
Cushions attach with Velcro straps
Cons
Cushions will need a storage solution
Glass top may not be easy to replace if broken
Ottomans are not made for a full-size person to sit on
---
To see the color combination and current pricing, follow the link below

Why would you purchase this patio furniture
When looking for low priced Outdoor Wicker Furniture Sets, the Skylar Glen Leisure set will fill in a lot of gaps.  With the storable ottomans and cushions for comfort, this patio furniture set will give a lot of options when placed on a seating area inside or outside.
I like the ability to store the ottomans when not in use or if you just want to sit and enjoy a quick drink.  This set will work well in small or medium patios or balconies and will be a hit with most of your guests.
Any questions or comments please use the forms below and I will get back to you shortly.