Outdoor Patio Furniture Fire Pit
Looking for that stone look in an Outdoor Patio Furniture Fire Pit that can be moved with ease to another location, one of these cast stone fire pit will work.  Made from a concrete material that is cast to look like random stones, three different styles and colors are available.
The looks of these cast stone fire pits can give you the look of a higher-priced stone fire pit.  I will look at the details in this article to give you the best information for your purchase.
For those who want the look of a stone fire pit for those special outdoor gatherings and do not need it year-round, this is a great choice.  You can move it to any location that can handle the heat with ease and when not needed it can be easily carried to a storage spot that is out of the weather.  Now to the details.
Product:  Sun Joe cast stone 35-inch fire pit
Price when the article was written: Starting at $149.27
Product details
You will get five main parts with this fire pit.  A black fire bowl will hold most logs under 24 inches. with a spark screen to protect your surrounding grounds.   A small metal grate will keep wood off the bottom of the burn bowl.  Forked fire poker will allow you to lift off the spark screen and stir the fire when needed.
The outside ring of cast material in three different styles- Cast stone, a stacked stone in a natural color.  A Charcoal gray color with a black band halfway up the side.  The rustic wood look with a black band on the top and bottom.  This will give you three choices to match your outdoor decor.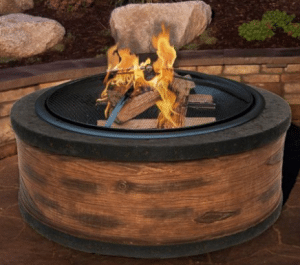 Each fire pit will be 35 inches across and 20.5 inches high at the top of the spark screen.  At about 60 pounds the four handle holes will make it easy to move for two people when not hot.
The fire bowl is 7 inches deep and 29 inches across and will handle most pieces of wood under 24 inches long.  The fire bowl is rated for over 1100 degrees of heat, with proper care should last many years.  A grate for the wood to site on will help your wood keep burning with airflow from under the fire.
Spark screen will help keep sparks under control, can be removed for rolling logs or cooking Smore's with the included forked tool.
No poly cover is included in this fire pit purchase.  Storing out of the weather will be the way to keep this fire pit looking new for many years.  The carry handles will help with this.
This fire pit also comes in a 28-inch size for those with smaller spaces, same designs are available.
Assembly and use
Very little assembly is needed. Just remove packing materials and add the fire bowl, grate to the outer ring of cast material, you are ready for wood and your first fire.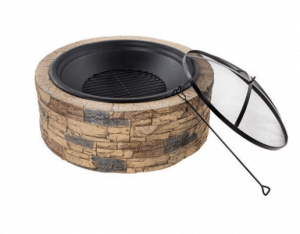 Included poker and lift combo tool will help remove the spark cover when hot.  You can also roll and adjust your firewood when needed.
Some customers painted the black parts with heat resistant paint to make them last longer in outdoor conditions.  Keep the small hole in the bottom of the burn bowl clean so that excess moisture can drain out.
Pros
Has holes on sides for easy moving
Log grate to help keep the fire going
Great looks at a lower price
28-inch version is available for smaller spaces
Cons
The paint finish on the cover and tool, not the best
No storage cover included
Hand holes are not smooth, may need gloves to move the pit

My final thoughts on the stone cast fire pit
For those who want a great looking wood burning Outdoor Patio Furniture Fire Pit, this is a great choice.  With a cast base and metal fire bowl, you will get many comments on the looks of this fire pit even without a fire.
Using this fire pit is easy and it will last many years with proper care.  I like the ease of use and great looks.
What do you think about this fire pit, leave comments and questions below, I will get back to you shortly.