Best Outdoor Speaker System
Looking for the Best Outdoor Speaker System for your deck or back yard?  Indoor and outdoor speakers do have different technologies.  Outdoor speakers do not have walls to bounce sound off of, if you use your indoor speakers outside you will not get the same sound quality as you would on the inside.  The ability to handle the outdoor weather, insects or other outdoor pest and sound quality are a reason to look at outdoor speakers for your patio.
If you want the sound of a outdoor water feature, but not the mess to clean and maintain, an outdoor speaker will give you this feature.  The sound can be set any where you are outside and can be hidden in your outdoor space.
Bluetooth technology is coming to the back yard.  Some sound systems will take input from Bluetooth devices.  Input devices can vary from system to system.  Some systems can hookup to you home Wi-Fi net work and stream music from the internet.
Outdoor Sound Equipment, some details to look for
The Speaker setup for outdoors is different than that of a room with walls.  The indoor speakers are made to have the sound bounce off of the walls to make the premium sound that you hear.  Outside speakers must be built to have direct sound and it will make a difference in the quality of the sound that you hear.
Most speakers are Weather proof. They can take the heat, cold, rain and snow, they cannot take direct contact with water or be in standing water.  Wired speakers must be connected to a source of music, they do not have to have a power source.
Some sets can be painted to match your decor.  Others that look like rocks can blend in with your environment without any changes.  Some speakers can be planted in the ground with only the top showing.
Wireless Outdoor Sound System
Wireless or cordless speakers have a transmitter that will take inputs from 3.5 mm, Bluetooth device and RCA jacks.  This will allow you to use most of your modern devices for a music source.
Most use Bluetooth 900 MHz technology.  They can transmit 150 to 300 feet through walls and other objects.  You do not have to run speaker wire from your sound source to the speakers.
Most speakers of this type work off of a power supply or batteries.  Cordless means you will have the ability to move the speaker system anywhere in your outdoor space without having a line hooked to the music source.  You will have to have a power supply for the speakers for the receiver to work. Most have dual power of a 110 volt transformer to a lower voltage and have either rechargeable or regular battery power.
Stand alone speaker systems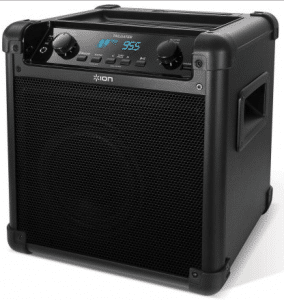 There are several outdoor speaker systems that have rechargeable batteries, Bluetooth, AM/FM that you can use at the beach or just in your back yard.  This style of speaker will allow you to throw that party and not worry about how your music will sound and wonder if it will last until the party is over.
I have information on two of the best in this article here.  They are made to withstand the outdoor elements and give great sound for up to 12 hours.  Use your phone or other music source and you will not have to touch it for hours, just enjoy your party.
 Advantages of

wired

speakers
Do not have to have a power source at the location of the speaker.
Does not require the use of a transmitter.
Advantages of

wireless

speakers
Can be moved without running wire to a new location.  Range of 150-300 feet depending on the model.
Do not have to run wire from the receiver location.
Click here for more information on wireless speakers.
Conclusion
When planning that big summer party this year, get the best outdoor speaker system you can for the best outdoor sound.  Don't be cheap and just use a set of indoor speakers and you will not be happy with the sound.  Use one of the links here to get more information on the different types available.
I prefer the stand alone speaker for outdoor parties, let me know what works best for you with the forms below.  If you found this information helpful, use your social networks to let your friends know.
If you have any questions or comments please use the forms below and I will get back to you.