Outdoor Wrought Iron Patio Furniture
When looking for inexpensive patio furniture for your outdoor space, try one of these Outdoor Wrought Iron Patio Furniture with Chair Cushions solutions.  Most of these pieces can be used with or without the cushions, your buns will like the extra comfort.  Each person will have different seating needs in their patio area, bistro, dining, conversation, and lounging furniture will be included in this article.
Each set will be black wrought iron with seating cushions, this type of material will last very well in most outdoor conditions if you store your cushions when not needed.  I know this is a pain, this is the biggest problem with outdoor patio furniture that I see.  For some of my storage solutions, see my post here, you do not have to have a plain-looking box on your patio.
Now let us look at the details of each of these sets to see what will work best for your wrought iron patio furniture needs.

Mainstays Bellingham Collection
Price when the article was written: $247 for the conversation set
                                                  $129.98 for the swing both with free 2-day shipping
This collection will offer you two choices for your patio seating needs.  A four-piece conversation set and a two-person swing withstand.  The seating pieces can be used with or without the included tan cushions.
The black wrought iron has a powder-coated finish for outdoor durability in most weather conditions.  The seat and backs of seating pieces will have a mesh design that will not hold water when cushions are stored away.
The chairs will have straight legs and no motion, with curved arms for added comfort.  Each sitting position will support 250 pounds of weight.  Each sitting position will have a cushion, conversation set seating will have extra comfort with the included back pillows.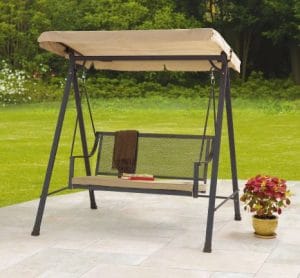 The swing will include a four-legged stand and springs to hang your seat.  This will give a little comfort will sitting.  Adjustable fabric canopy will provide shade while using your swing.  Only a seating cushion is provided for the swing.
Cushions are made from polyester material.  They will take a little time to dry after rain.  The cushions have clips for holding them in place while sitting.  The cushions should be stored when not in use to prolong their outdoor life.
This would be a great matching set for the patio or by the pool for relaxing after a hard day at work.  Both these pieces can be used without the cushions.
Pros
Two seating choices
Can use without cushions
Back pillows are included
Cons
No dining solution in this collection
Cushions will need storage when not in use
This bistro set is very similar to the set I have at the lake.  With two straight leg chairs and a small table, it will work well for sipping your favorite beverage and a snack while talking to one of your close friends.
The chairs will have a mesh seat and mesh panel for the seatback.  They can be used without the red and white striped cushions if needed, I use mine without cushions all the time.  When it comes time for storage of the chairs, they will stack.  Each chair will support 225 pounds of weight.
Cushions are 20 inches deep, 21 inches wide and 1.5 inches thick.  The cushions will have an Olefin cover with a polyester fill.  The Olefin fabric is one of the best for outdoor fabric, I would still store when not needed.  Ties will hold cushions in place while sitting.
The table will have a mesh top with four legs for support.  The top holes will be small enough to support most drinks without tipping over, you may lose a small snack from time to time though.
This is a great bistro set for small spaces and will last a lot of years outside with little work. My set has been around for over ten years with little work, just one repaint of some little rust spots.
Pros
Can use chairs without cushions
Great for small areas
Cons
Cushions will need storage when not in use
No motion in chairs
Only bistro set available in this style
This metal patio furniture collection has been around for several years, the big selling point is the chairs that have motion in the dining furniture.  The motion is made by a spring that is built into the lower frame the allows a gentle back and forth movement.  It is available in three styles at this time, a bistro set, a four-seat dining set and a lounger.
The seats and backs of all seating pieces will have a mesh material that you can sit on without the cushions.  All dining chairs will have cushions for the seats only.  Each seat will support 225 pounds.
The lounger will have a full cushion and adjust to 5 positions.  Large metal wheels will allow you to move with ease while chasing the sun or shade.
Cushions are covered with a Jacquard woven fabric with comfortable polyurethane and polyester fill.  Each cushion will have two fabric ties to secure to the chairs.  Cushions are available in two colors red and green.
The two tables available are similar in style with a mesh top.  The bistro table is smaller and the dining table will have a hole and lower support for a market umbrella.
This collection of patio furniture will work well for those looking for movement in their sitting pieces and want to include several matching seating pieces in their outdoor area.  The two-color choices will let you match several outdoor decor colors.  I have an article with more details on the Clayton Court collection here.
Pros
Several seating choices
Movement in chairs
The lounger has wheels for moving when needed
Cons
Cushions will need storage when not in use
---
Where to find more information on your Wrought Iron patio furniture needs and availability, use the following link
My thoughts on wrought iron furniture with cushions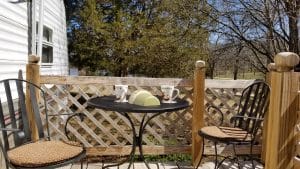 I have several pieces of wrought iron furniture in my outdoor space.  At the lake I have a very similar set to the Mainstays set, I added my own cushions.  We have coffee in the morning and do eat some meals out when the weather is good.  This type of patio furniture is very comfortable with cushions for long term sitting and will last very well in most moderate outdoor conditions.
I do store my cushions indoors when not in use to keep them looking new.  One of the biggest problems I see with customers after they have had their patio furniture for a couple of years is that the cushions need replacing.  I have not had this problem because I do not leave mine out when not in use.  To look at some of my ideas on replacement patio furniture cushions, see my posts here.
If you have any questions or comments on this or any other information on this site, leave me a note with the forms below and I will get back to you shortly.