When you are coming home from a long day at work or just want to relax in your outdoor space, one of these Single seat Glider Patio Furniture options may work for you. With forward and backward motion without rocking, they could work in smaller spaces that will not allow a rocker to work.
The glider motion is done with two hanging straps on each side that will give each of these chairs several inches of movement. The movement will give you extra comfort along with the thick cushions.
Each of these chairs will be similar in design, just with different finishes and colors. The quick details of each chair will be in the table below, to go to a chair quickly, just use the blue highlighted name in the table.
For those looking for a link directly for purchase of a glider chair, use this link.
Single Seat Glider Patio Furniture
Better Homes & Gardens Colebrook Glider Chair
The Colebrook collection has many pieces of patio furniture, the glider chair is one of them. With this collection you can have matching patio furniture for your entire outdoor space.
The woven resin wicker finish will cover a powder-coated steel frame, with a looser weave under the arms and in the lower back. Straps will support he seat cushion, this chair cannot be used without the cushions.
The glider will be 32.25 inches wide outside the arms and 24 inches wide inside the arms. It will be 33 inches deep from the front of the chair to the back of the top, it will be 23.5 inches deep in the seat area.
Seat will be 12.5 inches above the ground without the cushions, this will be almost 18 inches with the cushions installed. The glider will support 225 pounds of weight.
Each of the blue cushions will have Polyester fiber batting and polyester polyurethane filling with Olefin fabric covers. The Olefin fabric is one of the better fabrics for outside cushions, it will still need storage when not in use to last for more than just a few years in most outdoor environments.
If you do need replacement cushions, the seat cushion measures 25.2 inches wide, 24.41 inches deep, and 5.12 inches thick. The back cushions will be 22.44 inches wide, 25.59 inches tall and 7.87 inches thick.
Assembly time will be about 30 minutes for those who have some skills in this area. if you are picking this glider up the box will be 35.5 inches long, 18 inches high, and 33.5 inches deep. The box will weigh almost 50 pounds, some will need a van and extra hands to pick this glider up.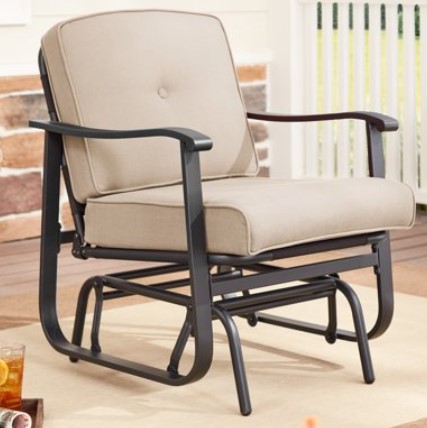 Mainstays Belden Park Glider
This glider will have its sides open and you can see the bars that connect the upper and lower parts that make the chair glide back and forth.
The steel frames will have a black powder-coated finish. A fabric material will be used for the cushion support for both the seat and back.
The chair will be 29 inches wide, 25 inches deep, and 32.1 inches tall. They will weigh 12.5 pounds each and support 250 pounds of weight.
The cushions will come in four color choices to match most outdoor decors. The colors choices are Red, Blue, Green, and the Beige shown.
This glider will come in one box that will be 26.38 inches long, 12.20 inches high, and 23.23 inches deep. If you pick this up make sure it will fit in your car.
Assembly should take the average person about 30 minutes. All tools that are needed are included in the hardware pack, some customers stated that the holes did not align very well when putting this chair together. I have found this a problem with a lot of patio furniture after it has been shipped. A little minor adjustments should get your patio furniture together.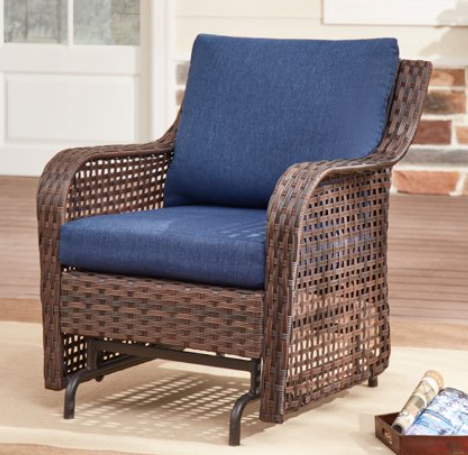 Mainstays Tuscany Ridge Glider Chair
The Tuscany Ridge glider will have a woven resin wicker finish over a steel frame. The wicker weave will be a open design for the back and both sides under the arms. A solid panel will cover under the seat in the front.
The chair will be 31 inches wide, 30 inches deep, and 32.8 inches tall. It will weigh about 30 pounds and hold 250 pounds of weight.
Cushions are only offered in the blue color shown. They will have polyester fiber filling with the better Olefin fabric cover. As with any outdoor patio furniture cushions, they should be stored out of the weather and sun when not in use to extend their outdoor life.
This chair will arrive in one box that will be 33 inches long, 31 inches wide, and 17.75 inches tall. The box will weigh about 40 pounds, you may need a van to get it home if you pick it up.
Care of your glider patio furniture
All patio furniture will require the use of a mild soap and water mixture for cleaning. Any harsh chemicals will damage the painted and resin wicker finishes.
Storage of cushions when not needed will be the biggest thing to help with their outdoor usefulness. See some of my storage options in my post here.
For the most current information on one of these single seat gliders, use the link below
My final thoughts on these gliders
The choice of your single-seat glider patio furniture may come down to style and cushion color. Some of these examples have multiple color cushion colors, one only has the choice of blue. The choice of a resin wicker finish or just a plain metal finish with all of the hardware showing.
All of these gliders have other matching patio furniture in the same collection, you can match the style in all of your outdoor seating needs with the same style.
My choice is Belden Park because of the clean design.
If you have any questions or comments, please use the forms below and I will get back to you shortly.