Patio Lamps for Outdoor
Want to make your dining or sitting area light up after dark, look at these 3 styles of Patio Lamps for outdoor use. They will give you enough light to get around without falling over things.
I will look at floor lights and lights for tabletops in this article. Most will have features that will make them look great in any outdoor room.
Lets look at some quick details of each style. If you see a style that you like, hit the blue name of that item to get to the expanded details and see if it is for you.
Hatteras
Slate
Wicker tabletop
Wicker floor lamp
Image
Height
31″ high
23.5 " High
29.5″ High
61.5″ High
Shade
16 " Round
4″ X 10″
Rectangle
12.25″
Round
17.25″
Round
Maximum Watt Bulb
100 W Bulb
60 W Bulb
60 W Bulb
60 W Bulb
Bulb inlcuded
No
No
Yes
Yes
Price
$189.95
$99.95
$119.95
$169.95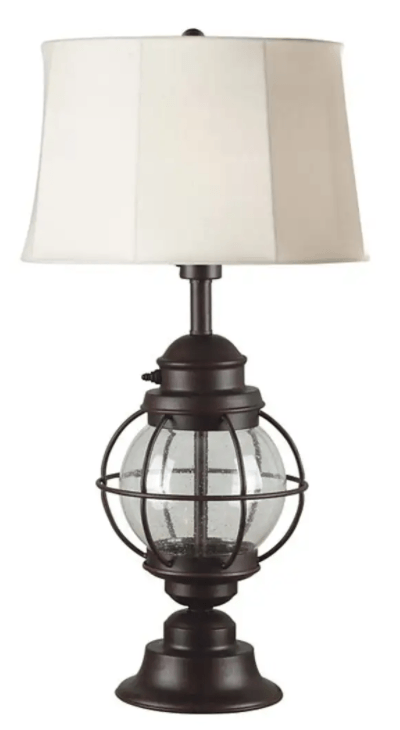 All-Weather Hatteras Outdoor Lamps
The Hatteras patio table lamp will look like a ship's lantern with the big seeded glass globe in the middle with the metal framing. The rest of the frame will be painted black to contrast the tan linen shade. The base is weighted to keep the lamp stable in even moderate to high winds.
The 100-watt maximum bulb will sit inside a glass globe for weather protection. The bulb is not included in this lamp so that you can choose the size that best matches your outdoor lighting needs.
At 31 inches tall it will be a very tall and bulky looking lamp. It will include a shade that is 16 inches across and be a terylene and cotton material in a tan color. A very small amount of customers had trouble with the seams of the shade coming apart after a few seasons. Above the globe is a weatherproof off-on switch.
This outdoor lamp will look great and be a focal point for your conversations with friends and family after dark. Not one customer complaint with this lamp tipping in high winds.
Pros
Weighted base
Ship's Lantern style
Takes a 100-watt bulb for more illumination
Cons
Shade seams may come apart
Shade not white more of an off white or tan
Bulb not included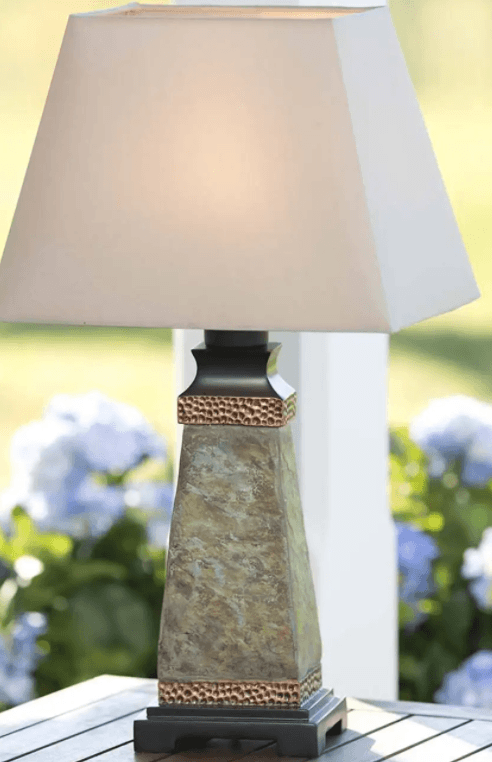 Weatherproof Slate Outdoor Table Lamp
The slate patio table lamp will give you a great conversation piece with its high-end design. The black base will be a big contrast to the hammered brass bands on the top and bottom of the stem. Between the brass is a slate material in a dark gray mixture of colors.
The rectangular shade will be 90% terylene and 10% cotton for outdoor weather durability. It will be 14 inches long and 10 inches wide. The lamp will be 23.5 inches tall.
This lamp will take a 60-watt bulb at maximum. The bulb is enclosed to protect it from wet weather. The base is weighted to protect the lamp in moderate to heavy winds.
The soft light of this lamp will make your outdoor space look more like an outdoor living room.
Pros
Slate and hammered brass design
Weighted base
Shade last very well in outdoor conditions
Cons
Only 60-wat max bulb
Bulb not included
Glass and shade will make the bulb look dim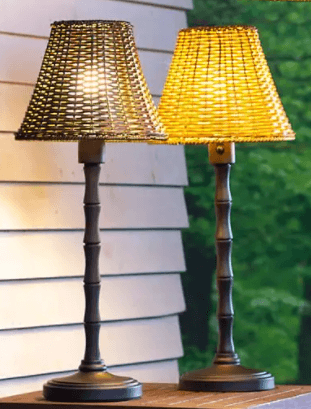 Waterproof Outdoor Wicker Table Lamp
Looking for the combination look of bamboo and wicker for that oasis outdoor feeling, these table lamps will give you that combination.
With a weighted base, bamboo-shaped post, and wicker shades available in three colors, these patio table lamps will look great in most settings. The shades will come in Brown, Tan, and White, the color and brightness of the bulb will change color when the light is on.
The lamp will be 29.5 inches tall and will be 12 inches wide with the shade. The round base will include extra weight to make this lamp stable in severe weather conditions.
The shade will be 6.5 inches wide at the top and 12.25 inches wide at the bottom. It will be 9.5 inches from the top to the bottom.
The 10-foot cord is rated for outdoor use. 60-watt is the maximum rating for the bulb for this lamp. A globe will cover the bulb to protect it from moisture.
Pros
10-foot weatherproof power cord
Great wicker look of the shade
Weighted base
Cons
Light can be dim with darker colored shades
Some customers had rust on the shade in two to three years
The post is plastic, not Bamboo or metal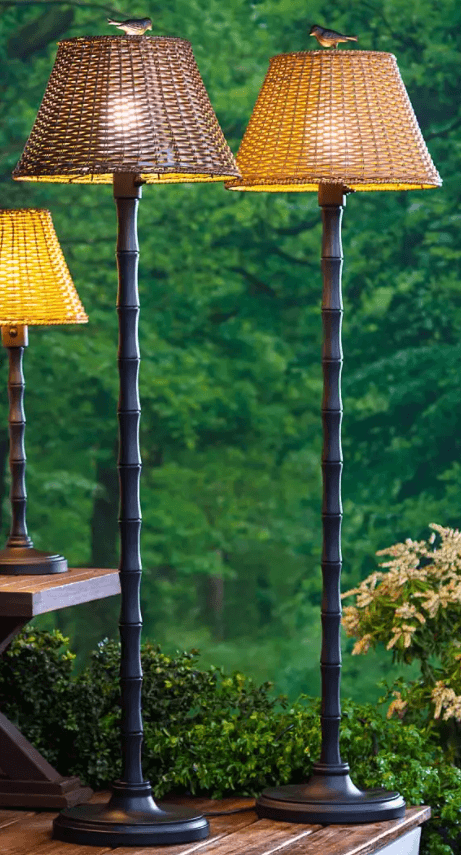 Waterproof Outdoor Wicker Floor Lamp
This lamp will be a great addition to the wicker table lamps above. The same style of post and lampshade. With the addition of a small bird finial on the top that will glow with a reflection when the light is on.
The post has the look of bamboo and is made out of plastic. The shades are made from resin wicker material and will be available in Brown, Tan, and White, the same as the above item.
The lamp will be 61.5 inches tall to the top of the bird, and the shade will be 16.75 inches wide. The size of the shade will be 17.25 inches wide at the bottom, 10 inches wide at the top, and 10.5 inches tall.
The power cord will be 10 feet long and will be made to be weatherproof. The lamp will support up to a 60-watt bulb. This will quite dim with the darker shade and will look like a night light.
This lamp with the addition of the matching table lamp will give your outdoor space look like a living room. They will make for a very relaxed atmosphere.
Pros
10-foot weatherproof power cord
Great wicker look of the shade
Weighted base for stability
Cons
Light can be dim with darker colored shades
Some customers had rust on the shade in two to three years
The post is plastic, not Bamboo or metal
For more information and current shipping cost, use the form below

My final thoughts on this lighting solution for your outdoor space
If you are looking for your outdoor seating or dining area, one of these Patio Lamps for Outdoor use will work well and last for a number of years without a lot of work.
My choice would be the Hatteras table lamp, the look will do great in my outdoor space. Your lighting needs may be different than mine or you may need more light. For more lighting options for the outdoors, see my post here.
If you have any comments of questions for me on this or any other information on this site, use the forms below and I will get back to you shortly.