Wood Burning Fire Pits
I will give you the information on the 5 best wood burning fire pits with decorative finishes. They will have cutout patterns or stylish designs. The three cutout types will be very similar in design. The two larger ones with cutouts will be heavier and more expensive.
Each will work well in most outdoor burn areas that are away from any combustible materials. You cannot use any of these fire pits on wooden or composite decks or close to the side of your home. For a compatible gas burning fire pit for these areas, see my post in the gas fire pit category here.
Now we will look at all of the information on each of these fire pits and see what looks and work well for your outdoor space.
To go directly to the information on each of the fire pits, use the name in blue below.
Timberline Wood-Burning Fire Pit
This simple fire pit has a forest scene on one side that goes 180 degrees around the sides. A screen will keep ashes and sparks from coming thru the cutouts.
Three legs support the bowl. A ring around the top of the fire bowl will protect you from the hot bowl.
A domed spark lid made of a tight screen material with a band keeping it solid. A handle on the top will allow you to remove it with the included forked poker when it is hot. A removable cooking grate is included for those fast meals.
The fire pit is 30 inches across and 25 inches tall at the top of the spark screen. It will weigh 25 pounds empty. The fire bowl will be 12 inches deep and 23 inches across.
A drain whole in the bottom of the burn bowl will help keep your fire pit dry. The steel construction will have a matte black finish.
Pine Cone Wood Burning Fire Pit – Black
This solid fire pit will have four cutouts of pine cones around the sides. Three solid round legs will support the fire bowl.
The cutouts will have a screen to keep your embers inside the burn bowl. A spark screen will cover the burn bowl to help keep embers from blowing out. A handle on the top will help remove the spark screen with the aid of the included poker, when you need to stir your firewood to keep a good burn.
A cooking grate is also included that you can remove when it is not needed. The solid steel fire bowl is painted in a matte black finish.
The Firepit is 30 inches across and 23 inches tall with the 6-inch tall spark screen attached. A ring of steel will keep you from hitting the hot burn bowl accidentally. It will also help you move the 25-pound fire pit with ease.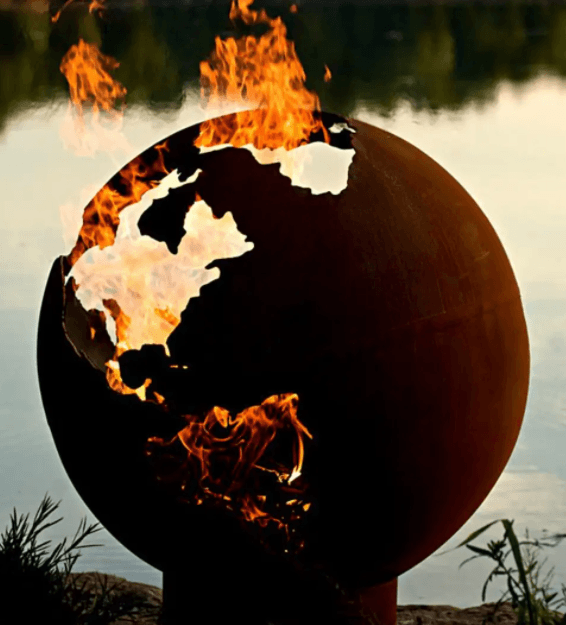 Globe Fire Pit
This is a big round fire pit with a world cut out. It does look like a giant globe when no fire is lit. The largest cutouts will be where you put your wood in and adjust the fire.
The globe will be large 36 inches wide and 40 inches tall with a 6 inch tall and 19 inch across the round base. It will be a hefty 275 pounds, bring plenty of friends if you plan on moving this beast.
The fire pit will be made of thick (1/4 inch) Carbon Steel. It will look great in your yard if you have a fire or not. The finish will have a patina finish that will weather well in outdoor conditions. A 1-1/2 inch hole in the bottom of the burn bowl will keep water from building up and causing rust to start.
The great thing about this fire pit is that it is handmade in the USA, and has a brass plaque from the artist with an individual number for each fire pit.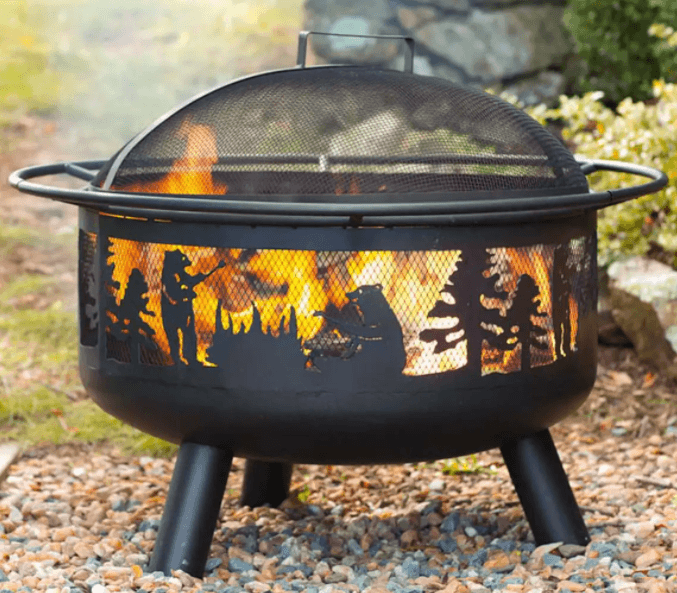 Bear Camp Fire Pit
The Bear Camp fire pit will have a camping cutout on one side. Bears cooking over a campfire. A screen will keep embers in the side where the cutout is.
Three solid legs will support this fire pit with a ring around the fire bowl to keep you away from the hot bowl.
A domed mesh fire screen will keep embers from blowing away during your fire. A handle on the top will allow the removal during a fire with the included forked poker. A cooking grill is included so that you can cook simple things or foil packs.
The fire pit is 30 inches across and 23 inches tall with the cover on. The cover will add about 5 inches to the height of the fire pit. The fire pit will weigh about 25 pounds empty, it will be easy to move by most people after it cools.
Firelight flickers through the unique cutouts of our Bear Camp Fire Pit. The 180° scene includes bears roasting marshmallows over a fire and tree silhouettes that stand out against the flickering flames.

A domed spark guard contains flying embers, while a built-in guardrail offers added safety. One-piece, heavy-gauge steel frame with durable black sand paint finish. Includes cooking grill and poker. Easy assembly.
Steel fire pit with unique cutout bear design
Silhouettes include bears roasting marshmallows and forest
Cutouts are highlighted by the dancing flame behind them
Comes with domed spark guard, cooking grill, and poker
Heavy gauge steel frame with all-weather black finish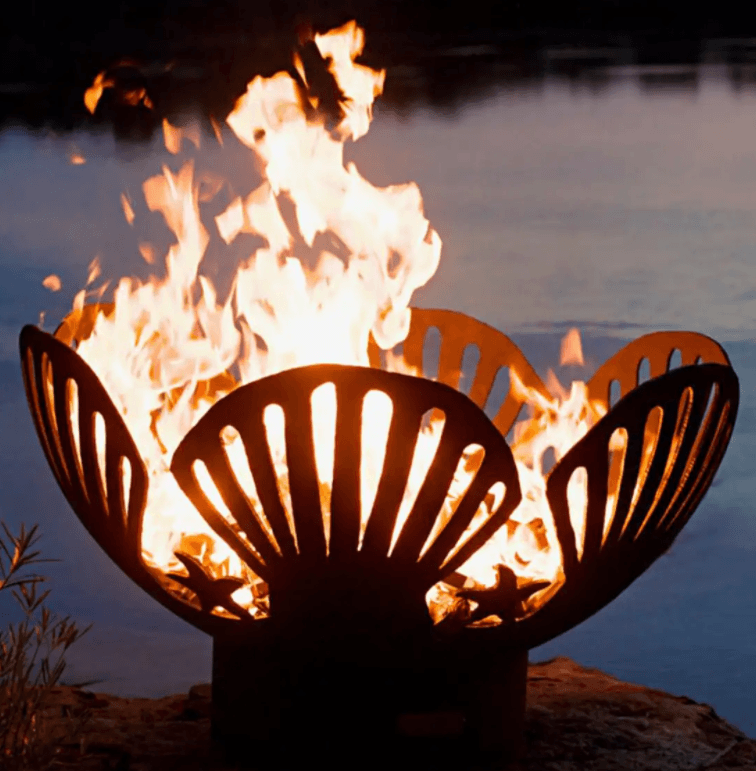 Barefoot Beach Seashells And Starfish Fire Pit
With an alternating starfish and seashell around the outside, this big fire pit will look great whether you have a fire or not. It would look great just like a yard ornament.
The six large sea shells will have a small star fish between each of them. It will look like your fire is held in hands of the sea shells.
The 19 inch across round base that is 6 inches tall will support the upper part of this fire pit. It will be 36 inches across and 22 inches tall at the top of the shells.
The sides will be cutout from carbon steel, it will be welded to the base. Each of these fire pits is hand made. A bronze plaque will be numbered with the name of the artist.
This fire pit will weigh about 110 pounds, it will take a couple of people to move when needed. The iron oxide finish will resist rust in outdoor conditions very well.
Care of your fire pit
The two large fire pits have a patina finish that will last very well in outdoor weather conditions. The three smaller fire pits will have a matte black finish that will protect the finish in most weather conditions.
To further protect your fire pit, make sure that you do not leave ashes in the burn bowl, this will keep moisture next to your finish and will start early rust problems. Clean the fire bowl of your fire pit out after it cools for the best long lasting fire pit.
The other recommendation I make for any outdoor patio furniture items is to store them out of the weather or cover them with a quality tight fitting poly cover to keep them dry and out of the sun. The two things that will damage your fire pit the fastest is the wet weather or the hot sun, both will damage your finish and start the process of rust.
Plow and Hearth offers two fire pit covers, item 63721 or 56024.
For more information on the covers or one of these fire pits, use the link below.

My final thoughts on these fire pits
I like the Bear Camp one that the Bears are cooking marshmallows over a open flame. Any of these wood burning fire pits will do the job of burning wood, each will have a different look and style.
The three smaller ones can be taken almost anywhere with ease, they weigh only about 25 pounds, the others are quite heavy and will need to be left in place unless you are moving to another home.
Any questions or comments on any of these fire pits, leave me a not on the forms below and I will get back to you shortly.