When researching the internet trying to find the right seating articles for your outside space, I hope the information in this blog on the Best Patio Furniture For Small Deck will help.
I will go over some of the small spaces that I have around my home and property at the lake to give you ideas.
Your needs and spaces may be different than mine. Whatever type of space you have, I hope this information is helpful in your search.
Best Patio Furniture For Small Deck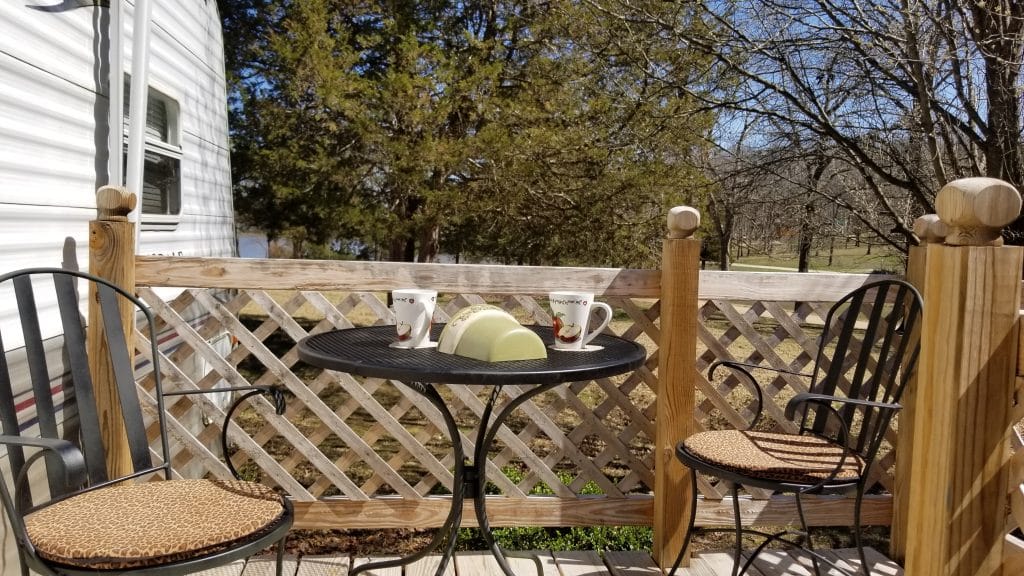 Builder grade deck
Most builder's grade decks will be 8-foot square. They will have a single door, sliding patio door, or french door coming from a living or dining room.
Some of these decks will have access to the back or side yard via steps if elevated. Furniture placement will depend on the path from the doorway to yard exit
If you do not have yard access from your deck, patio furniture can be placed against the far wall away from the house. This will also allow bigger-bodied furniture like the resin wicker.
Most builder's grade decks will allow room for a large bistro set, a two-chair gas fire pit combo, or a small conversation set. I would never recommend a wood-burning fire pit for a deck, only for concrete or ground surfaces
Your needs for sitting or dining will determine if you need a place to eat for 2 or a place to relax for 4.
A dining table with 4 chairs will not be a comfortable fit on most smaller decks. It will be hard to get to all the chairs and hard for traffic to get by if your deck has an exit to the yard. My folding set might fit in some places, see my information on folding dining sets here.
Bistro sets
Smaller decks and those with a traffic lane will do better with a bistro set. They will only have seating for 2.
The bistro set will have 2 chairs that will range from straight legs as shown in the image above to resin wicker sets shown in the image below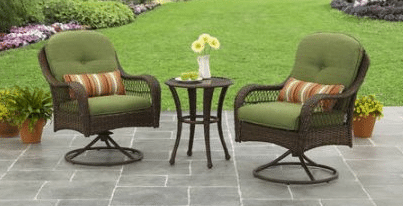 that rock and swivel. Depending on the amount of room you have, will tell you the style of patio furniture that will fit.
Swivel chairs can be easier to get into, not easy to get by if you have a narrow pathway.
Table size will also be very different between sets. Smaller tables will be 18 inches across, larger tables will be 30 inches across. My table at the lake is 30 inches across.
To see more information on bistro sets available, use my post category here.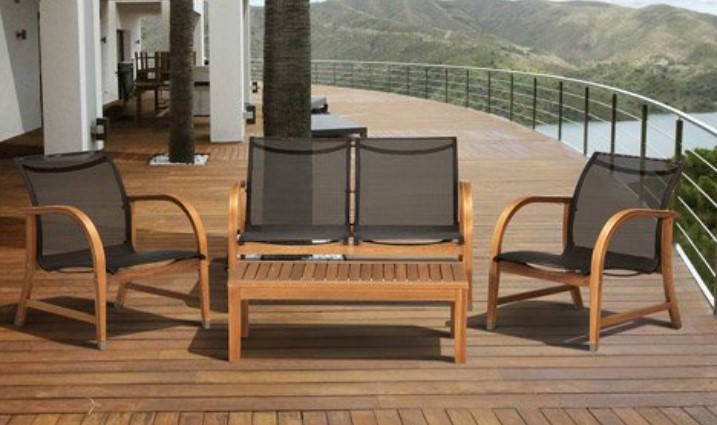 Conversation sets
A conversation set will consist of 2 chairs, a love seat, and a coffee table. Most can be arranged in many ways to fit traffic and sitting needs.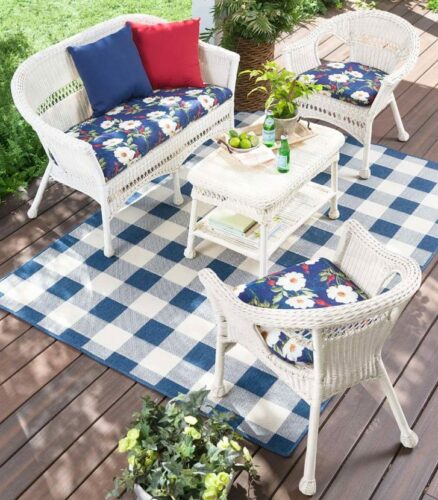 The metal and wooden sets will take up the least amount of space. If you have a bigger space or no thru traffic you could use the bulkier resin wicker sets.
Coffee tables will range in size from small 16 by 30 inches to larger ones at 20 by 40 inches. Height does vary also from 14 to 18 inches tall. The size of your deck will tell you the size of furniture that will fit comfortably.
To see a large collection of conversation sets, use this link.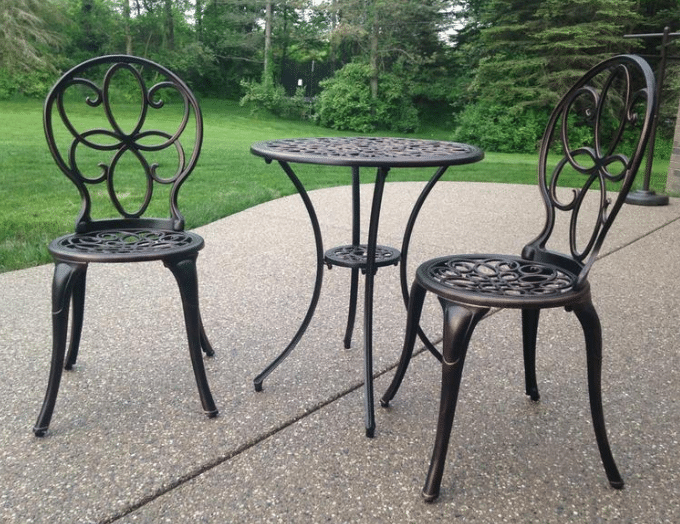 Balconies
Smaller balconies will only hold what I call a cafe set. This is two small chairs and a small side table, normally less than 18 inches across.
Bigger balconies can hold a full bistro set with a 24-inch table. Having enough room to get to the second chair will determine the size of the table that is comfortable on your balcony.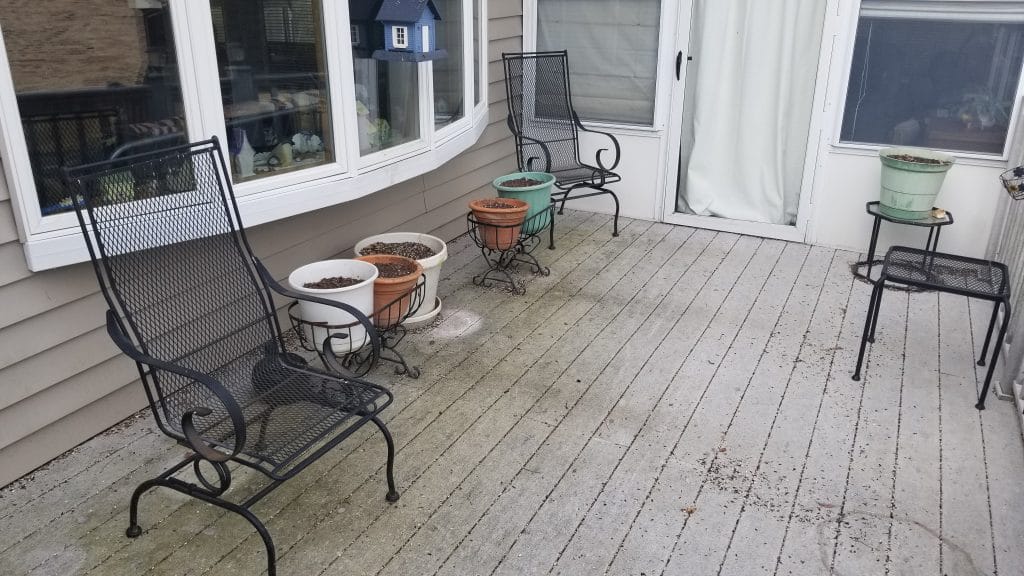 What do I have in my small outdoor spaces
Since there are only 2 of us, I have several bistro sets for my smaller deck areas. I have 3 outside areas with bistro sets, each set is a little different.
I do have a table with 4 chairs at the lake, the table is only 40 inches across and it has folding chairs that store easily. This sits on a small concrete patio at ground level at the camper.
If you have any questions or comments, use the forms below and I will get back to you shortly.