In this article, I will give you some great information to help you with your Backyard Patio Fire Pit Ideas. I will go over the styles of fire pits and give you the information to help you decide what type will work best for you and your guests.
The major types of fire pits in this article will be-wood powered, 20-pond propane tank powered, 1-pound propane tank powered (tabletop), and propane-powered with remote tank.
In the table of contents below, you can use the highlighted name to go directly to that information.
Backyard Patio Fire Pit Ideas
Wood burning Backyard Patio Fire Pit Ideas
Wood burning fire pits are a favorite of some who like the smell and cooking ability of the wood fire. It does take a little more effort to get the wood, keep it dry until a fire, and then keep the fire burning during the evening.
The two major styles are the built-in the ground, normally with stones or rocks, or the stand-alone, one that is portable and can be stored when not in use. I have one of each and enjoy the fire on a cool evening in the yard at the lake with the one in the ground. I like the stand-alone fire pit as we can take it to the driveway on Halloween night and invite the neighbors over to have one-stop shopping for the kids. It does not hurt that the adults can gather and have a few beverages to talk over things.
Built in ground
The built-in ground fire pit will have either a rock or paver stone foundation in a circle or square design. You will have a fire inside the border.
The image is what the previous owner left me at the lake, I am going to put pavers around this pit to make it more pleasing to the eye.
It is also a great place to burn limbs that fall out of the trees during the year.
This type can be placed on any flat surface in your yard that does not have overhanging tree limbs. The big disadvantage to this type of fire pit is that it cannot be moved except to take up all of the foundations and clean up the burnt area. You may have to plant grass seed after a time to get a cover.
Pros
Can be used for more than a fire pit (I use mine to burn downed limbs)
Don't have to worry about it rusting out
Don't have to clean it out every fire
Cons
Cannot move it without a lot of work
Will not include a spark screen
Most are not modern looking
Stand alone
This type of fire pit will have many styles and some will include a burn bowl cover to convert to a side or coffee table. You can choose a style that matches your current furniture or get a set that was made to match.
Square, rectangle or round designs are available made from metal, lightweight concrete, or a combination of both. With different colors and designs, you can match almost any decor that you have currently.
The wood-burning will give you the advantage of cooking hot dogs or Marshmallows without having to worry about spilling on the burner of a gas fire pit.
For more of my ideas on wood-burning fire pits, use this link.
Pros
Can cook small items on a stick
Some convert to a table
Smel of wood burning
Cons
Cleanup after a fire
May rust fast if not clean or stored properly
Need wood pile and constant work keeping fire going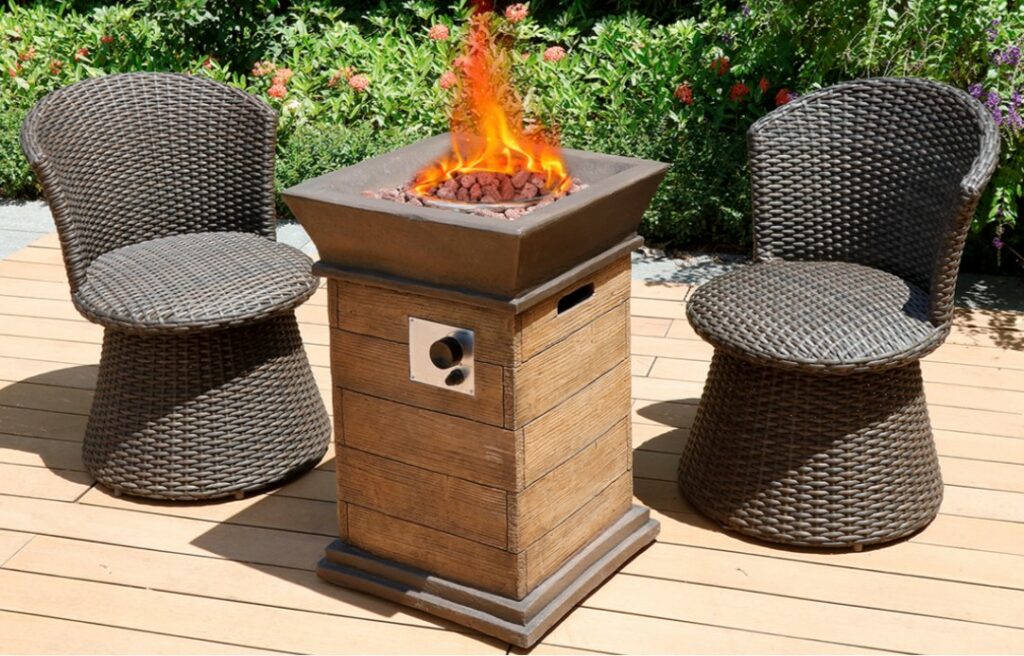 20-pound propane fire pits
Most gas fire pits for the backyard are the ones with a 20-pound propane tank that is stored inside the fire pit. There are many styles of this type of fire pit available. You can match your decor and most can be used on wooden or composite decks if they are far enough away from the house siding.
My gas fire pit category is full of different styles of finish, colors, fire bowl media, tabletop, and size. If you choose this style you can match the furniture that you have or upgrade to a full set that matches the style with seating.
For more information on different styles and designs on the propane fire pits, follow this link.
Pros
Some have table conversions
No mess to clean up after a fire
Can be used on wood and composite deck
Cons
Not as pleasing for some as the smell of wood burning
Changing the tank in the middle of a nights fire
Can be pricey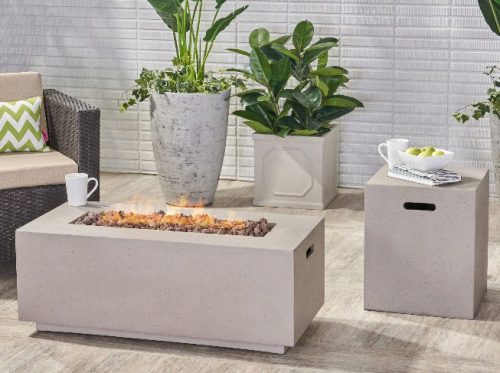 Remote tank gas fire pits
The advantage of a fire pit with a remote table for the propane tank is that it can be much lower to the ground. When you have a cover for the burn bowl, you can use it as a coffee table in the warmer months.
You can mix and match styles as most remote tables for tank storage will be an extra purchase item.
This is a premium type of fire pit that takes more floor space than other gas fire pits.
For a remote tank fire pit with seating, see my post here.
Pros
Fire pit can be lower to ground
Can exchange tank away from the fire pit
Etra place to place food and drinks
Cons
Most fire pits will come with a 6-foot gas line-may not be long enough to get behind chairs
Most remote tables will be an extra cost
May have to unload top to exchange propane tank
Tabletop fire pits
The tabletop gas fire pit will be powered by a 1-pound propane cylinder. Most will require a table that has an umbrella hole in the middle. The fire pit attaches to the hole and the propane tank hangs under the table.
This style will not provide much heat for your space. The heat will be best if you are within just a few feet of the fire pit.
This style of gas fire pit is available in two major styles, round as shown or rectangle. All will have the glass fire rocks in the fire bowls for great viewing of the flames.
The tabletop fire pit will require a table with an umbrella hole. See my post on this tabletop gas fire pit here.
Pros
Can use it at a table in place of an umbrella
Takes up little space
Can add fire glassscreen to protect people from flame
Cons
The tank can be trouble to exchange (is under table)
Does not produce a lot of heat outside of 4 feet
Must have large table with umbrella hole
Accessory guide for Backyard Patio Fire Pit Ideas
Below I will list some of the accessories for each style of power for your fire pit. follow the link at the end of the information to go to my article on these items.
Wood
Burning wood will take a wood storage solution. There are other things that are that make your fire more enjoyable, tools for fire cleanup and maintaining the fire, ways to move wood, and storage solutions when not in use.
See my wood-burning accessory choices here.
Gas
Gas fire pits will take a little different list of accessories. Burn bowl medium, lava rocks, glass rocks, or fake logs. Other things will be covers for when the fire is not needed or a fire bowl glass wind guard to help during winding conditions.
For more information on accessories for gas fire pits, see my post here.
My final thoughts on Backyard Patio Fire Pit Ideas
Each person and backyard will have different needs for a fire pit solution for heat or just a place to sit and relax with friends and family. You will have to choose between the warmer and better-smelling wood burner or a gas fire pit that takes less of your time preparing and when your fire is burning.
I have used both and prefer the wood burner for most of my fire pit time. I also have an indoor fireplace that burns wood and this makes it easier to keep a large woodpile and be able to get it to my burn area quickly and without much work.
Your needs may be very different from mine and that is why I give you the information to make a great choice. Use the links in this article or the utilities category on the top of the page to go to further information on each style of patio fire pits.
If you have any questions or comments for me, use the forms below and I will get back to you shortly.