Hanging Chair Swings for Outdoor
One of my favorite places to sit after a long day at work is one of the hanging chair swings for outdoor use. You can place them inside or out to sit and relax with a cool drink after a tough day.
I will go over the details of three chair swings in this article. A stand for two of these swings can be purchased at an extra cost if you do not have a tree or ceiling to hang the swing from.
Different styles and layers of comfort can be had in these chairs. I will give you the details so that you can make a better choice in what works best for you.
Use the blue product label to go directly to the information on that product in the chart below.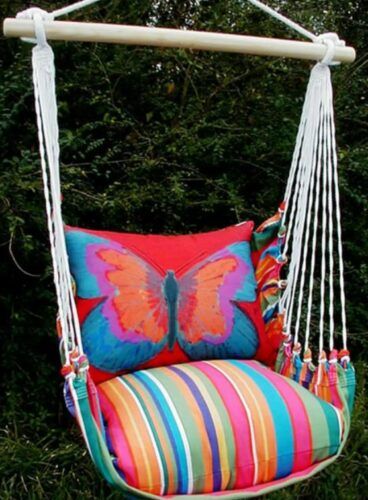 Butterfly Hammock Swing
The Butterfly hammock swing is a wide rope swing that will need to be attached to the ceiling, stand or a tree. This chair has a great looking back pillow with a butterfly design, thus its name. The seat cushion has stripes in similar colors.
A wooden bar will go between the seat portion and the ropes that will attach to something above.
The ropes will support the fabric seat base that the pillows sit in. The construction of this chair will support 250 pounds, depending on the mounting above.
The two pillows will give plenty of comfort. They will be made from a polyester material. A storage solution should be found to keep the sunshine and rain from fading the bright colors.
The swing is 31 inches wide, and 48 inches from the top hook to the seat base. Will be wide enough to sit a grandkid or two in the chair with you if everyone is petite.
Pros
Great colorful cushions
Wider seat base
Top ring to hang from
Cons
Hard to move to another location
Need a storage solution for the cushions
Low weight capacity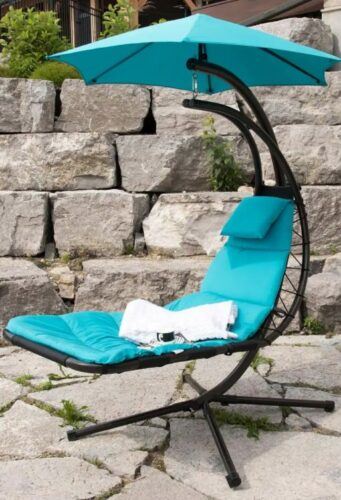 Hanging Dream Chair Lounger
This swing chair will come with its own base. A small umbrella will give you some shade from the sun. A small sewn-in pillow will give your head some comfort.
The swing chair will come in three major parts, the stand with a small umbrella, the frame for the swing, and the cushion. The 2-inch thick cushion will be available in three colors, the turquoise shown, bright red, and silver.
This stand alone swing will be easy to move and hold up to 265 pounds of weight. Umbrella can be removed for a full body tan.
The swing will be 78 inches long, 50 inches wide on the base, and 85 inches tall. No width of the cushion is not given anywhere.
Pros
Stand alone, can be moved easily
Three colors to choose from
Has removable umbrella
Cons
Cushion will need a storage solution
Movement may it hard for some to get in
Both frames need assembly
Rope Hammock Swing/ with Pillows
Similar to the first swing, this on has ropes all across the bottom, it looks more like a minature hammock.
The rope is made from a cotton-polyester material. The pillows are made from polyester fabric and fill. This swing can be purchased with or without the pillows.
You can purchase this swing with or without the stand below and add the pillows below that. The swing will support 350 pounds, depending on the overhead mounting.
This chair will have a full woven rope bottom and strands of rope to the wooden bar that is 37 inches across. The distance from the bar to the seat is 63 inches.
You can hang this chair from a hook on a porch, in a bedroom, from a tree in the yard, or just purchase the stand below to have it mobile.
Pros
Light weight easy to hang
Options for pillows and stand
Holds up to 350 pounds
Cons
Pillows will need storage
Pillows and stand are options and extra cost
Without stand will not be mobile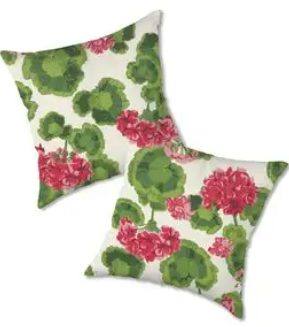 Replacement Pillows for Rope Hammock Swing, Set of 2
Pillows will come in sets of two with five color choices. Forest Hydrangea, Midnight Navy, Rose Garden, Geranium, and Barn Red.
They will be 22 inches square and 8 inches thick at the middle. The fill and fabric is made from a quick-drying polyester material.
Having more than one set will let you change your color pallet with ease. A storage solution will be needed when the pillows are not in use to extend their outdoor life and color.
For information on storage solutions or replacement cushions see my other post here.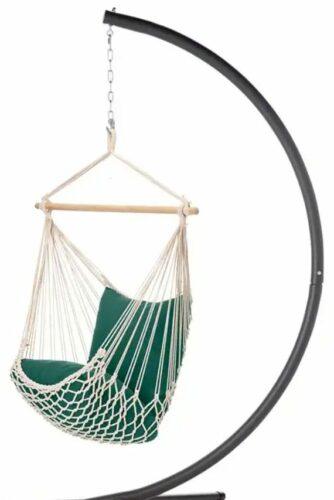 Steel C-Frame Stand for Hanging Rope Hammock Swing
This stand can be used for any hanging swing. It is made for the rope swing above. It will make moving your swing to another location very easy, one person should be able to move the swing.
The frame will hold up to 350 pounds with a proper level spot. The tubular steel frame is made from steel with a powder-coated finish.
You can disassemble this frame when you want to store it to save space. It will be 50 inches across and 94 inches tall. It will support almost any swing that has a S hook to attach. This will be a great addition to any hanging swing.
For more information on any of these products, use the link below

My final thoughts on these swings
If you are looking for Hanging Chair Swings for Outdoor for the comfort for one, each of these designs will have some great points. I like the rope type as it is easy to put up and can be stored easily. I have a tree to hang mine from and have a couple of hooks on tree for my hammock.
Your choice of the swing will depend on where you use it and the surface that it sits on. If the surface is not the best you may want to think about overhead support. For more choices in outdoor swings, see my category on swings here.
Thanks for reading my information, if you have any questions or comments on these items, send me a not with the forms below and I will get back to you shortly.