Best Patio Dining Sets
Join me in looking at the Best Patio Dining Sets for the spring of 2021. I will look at three sets that will seat four for smaller areas like a balcony or builders' grade deck (normally an 8-foot square space out the kitchen door.
The seating for four will allow you and three guests to eat comfortably and then spend a little time sitting around playing cards or just talking. Some will allow for shade during the hot summer sun.
These three sets will all have their own styles and seating comfort. You will have to decide what will work for you and I am going to help with the information below. Now let us look at each of these sets.
Click the blue link of the name to go directly to that item.
| Product | Material | Table size | Price |
| --- | --- | --- | --- |
| Butterfly | Molded plastic | 34 inches | $999.95 |
| Lancaster | Eucalyptus wood | 47.25 inches | $699.95 |
| Prospect Hill | Woven resin wicker | 45 inches | $1199.95 |
| | | | |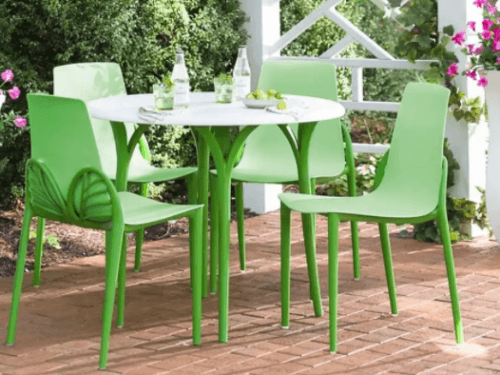 Butterfly Patio Dining Set – Green
Made from a restaurant-grade recycled plastic material, this set will be very good for most outdoor weather conditions.
With two-tone green chairs, all legs are a darker green than the seats and backs, and a table with a white top with green legs. This set will offer a splash of color for your outdoor space.
The table is 34 inches across and 29.5 inches tall. It will lightweight at only 23 pounds. The bottom of the white top will have a leaf and flower design that can only be seen from the floor, I find this an odd spec.
Each chair will be 20 inches wide, 20.5 inches deep, and 32.25 inches high. Each will weigh about 16 pounds. This set will be easy to move when needed. When not in use the chairs can stack for storage.
The chairs will have a curved seat and back for your seating comfort. Adding some cushions may make seat comfort better, you will then have to find a storage solution for your cushions.
Pros
Easy to take care of, will not rust
Two-tone bright green color
Chairs stack for storage
Cons
Smaller table than others
No hole in the table for umbrella
No arms on chairs for comfort
Lancaster Eucalyptus Wood Round Table and 4 Chairs
If you like the rich look of wood, this eucalyptus wood set will work well for your outdoor space. Some furniture made of this type of wood has been around for hundreds of years with the proper care, this is the type of furniture that you pass down to your kids.
Made entirely of eucalyptus wood, a wood that lasts very well in outdoor conditions with little or no maintenance. It will resist insects, rot and mold will only treatment of tongue oil once a year and an occasional wiping when you have a spill or debris left by others.
The table will be 47.25 inches across and 29.5 inches tall. It will have a 2-inch hole in the middle for an umbrella (not included). There is no lower leg support or lower umbrella support in this table, if you add an umbrella, you will need to add an umbrella stand to make it stable.
Each chair will be 24.75 inches wide, 22.75 inches deep, and 35.5 inches high. The chairs will have a slatted seat and back with solid arms for comfort.
Pros
Great look of wood
Eucalyptus wood great for outdoor use
Hole for umbrella in table
Cons
No cushions for comfort
Chairs do not stack for storage
Hardware may rust or discolor
Prospect Hill Round Dining Table and Chairs
Starting with aluminum frames with a off white woven resin wicker finish the Prospect Hill collection of patio furniture will be a great looking choice for those looking at the wicker styling.
The table will be 45 inches across and 29 inches tall. A shelf with a skirt of resin wicker on all sides will allow the storage of small items so you will not have to make a trip indoors.
The tabletop and lower shelf will have matching holes for the stability of an umbrella (not included). Adding an umbrella, you may not have to add an umbrella stand, depending on the size and weight of the umbrella. The tabletop is a tempered glass insert.
Each chair will be 28.5 inches wide, 27.5 inches deep, and 36 inches tall. The cushions in the picture are not included, they are available in three colors. red, green, and blue. The seat of each chair will be 18 inches off the ground.
Several other items are available in the Prospect Hill collection of patio furniture from Plow and Hearth, see my information here.
Pros
Rich resin wicker finish
The table has provision for umbrella
The lower shelf on the table for stability and storage
Cons
Cushions not included
Glass top may be difficult to replace if broken
Seats are narrow, only 18 inches between arms
For current pricing and availability, use the link below

My final thoughts on these patio dining sets.
When looking at the Best Patio Dining Sets for your patio furniture selection, you have three very different choices here. Choose your style- color, wood or wicker- that you are wanting for your space. Each one will have its advantages in looks and style.
How you make your decision will include several factors. Having the details of each of these sets will help in your decision.
If you need further assistance with your decision or just have a question, send me a note with the forms below and I will get back to you shortly.