When preparing your outdoor area for entertainment, you may want to look at different ideas on your seating solutions. If you have a balcony or small deck this article may give you some clues with patio furniture ideas for small spaces.
From just a couple of chairs to a full conversation set, you will have to look at some of the obstacles first. Most outdoor spaces that are attached to your residence will have a door from the inside and a majority of decks will have an exit to the yard. You have to take these doorways in your plans on how much space you really have.
Leaving a path from the interior doorway to the exit from a deck is needed. A balcony will only need an open space next to the door from the inside, although they do not have the space of a deck a balcony normally does not have an exit to the yard. You only have to leave room for one door.
Each patio area that is on the ground, I have a space that is made from patio pavers under a tree, will have its own entrance and exits created by the terrain and design of the space. Make sure that you create space for your guest to use the entrances and exits of these spaces when designing your furniture layout.
I have made a table of contents for those looking at a certain type of furniture and how it will fit. Use the highlighted names in the list below to go directly to that type of patio furniture.
Patio Furniture Ideas for Small Spaces
Table of contents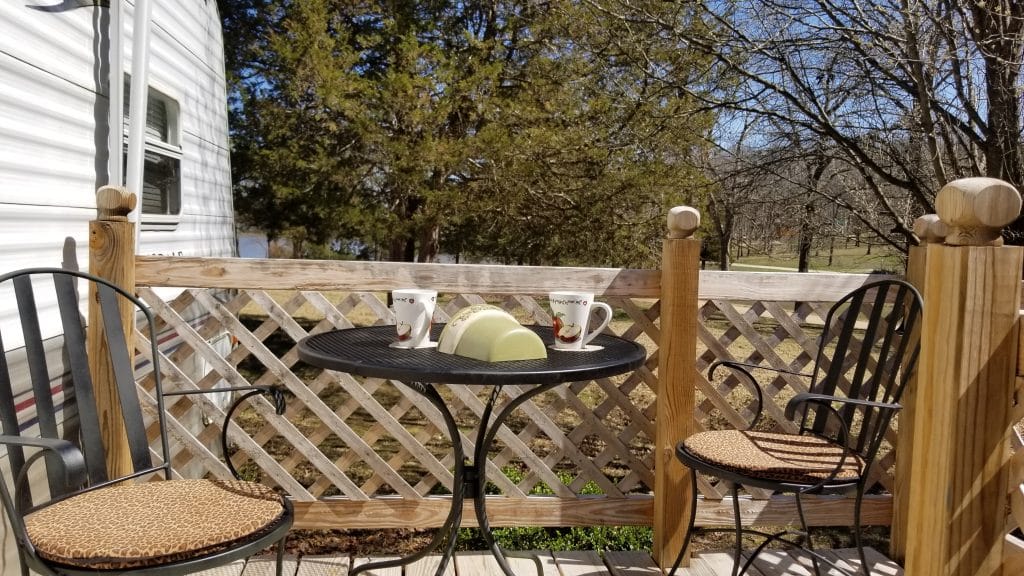 Bistro Sets
The most popular type of patio furniture for a balcony is a bistro set with a smaller table. The table will be too small for a meal, you can fix your plate and bring it out to your balcony. They will be great for a drink and a bag of snacks.
The bistro set will include two chairs and a small table. The table will be 18 to 30 inches across, this will vary from set to set.
Chairs will come in many styles with some having movement with swivel and rocking motions. The more bells and whistles the higher the price normally.
I have several bistro sets in my outdoor spaces, some have movement and some don't. For more expanded views and my information on bistro sets, use this link.
Pros
Most popular set for balconies or small decks
Cons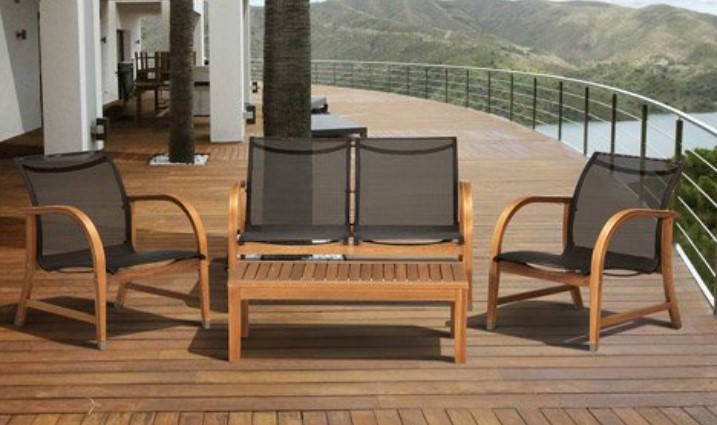 Conversation Sets
Conversation sets will be good for decks that are at least 8 feet square or bigger. Any smaller and you may have trouble navigating around it when you just want to walk through.
Most conversation sets will include a coffee table and seating for four. A love seat and two chairs are included in most sets, some will have two love seats or four chairs. You choose your seating so that it will meet your arrangement and seating needs.
Many styles of finishes are available from wood, metal, and resin wicker. These are the most popular today. Cushions or sling fabric are the most popular way to make the seating comfortable enough for long-term seating.
For more information on a conversation set for your patio area, see my post here.
Pros
Seating for four
Most sets will come with a coffee table
Cons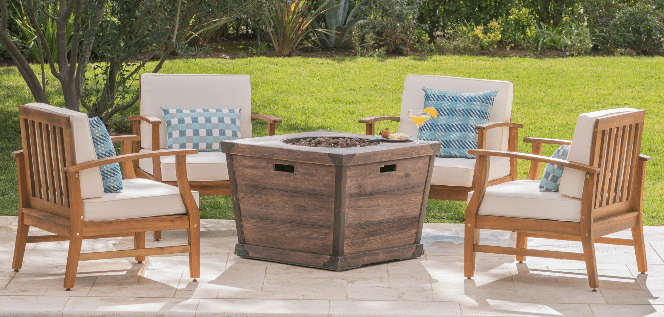 Chat Sets
Chat sets can just a couple of chairs to four chairs with a fire pit. Normally they do not come with a table that you can even put a drink on unless you get one with a propane fire pit.
The smaller areas will just be big enough for two chairs, my front porch is a small area like this. I have two swivel rockers and a real small table out there. It is just enough to relax after work with a drink and watch the other people go by going home.
For more examples of chat sets with fire pits, see my information here. For some chat sets without a fire pit, you can use this link to my information.
Pros
Most sets will have seating for four
Most include a side table or fire pit
Cons
Takes up the most space
Hard to arrainge in spaces that need a path by the seating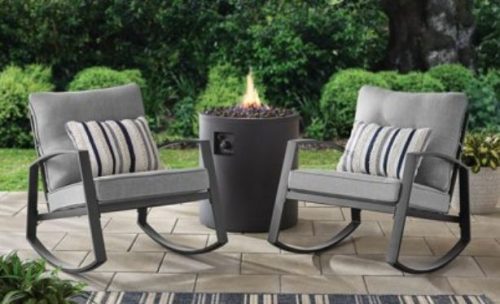 Rocking Chairs
For small areas like a front porch, a couple of rockers will make sitting with a cold drink and a friend a great way to relax.
A little bigger area will be needed than just two chairs with no movement. You can still fit a pair of rockers on a balcony if it is a bigger balcony.
A Glider can fit into this category also, it will need more room because of more front-to-back motion.
See some of my examples of rocking chairs here.
Pros
Has movement for extra comfort
Cons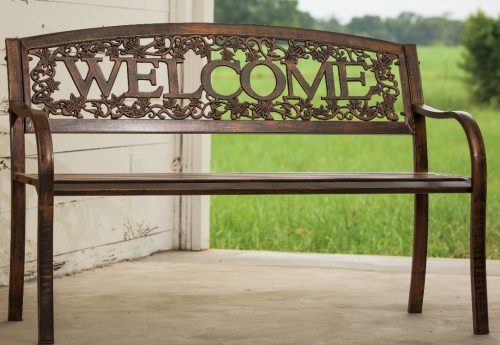 Benches
This is a broad category of seating. Benches will run from a regular park bench to a glider with front-to-back motion. Some will have storage under the seat, none will keep your stuff dry if your bench sits out in the weather.
Regular benches-park bench material. Plain looking to having a scrolled design on the back and arms.
Love Seats-bench with cushions to soften your buns. comes in many styles and some collections will have full patio furniture choices.
Gliders-Seating for two with motion. Gliders will have a device to give you about 3-6 inches of moving forward and back. Some will have cushions for long-term sitting.
A bench can be a great way to fill a small space and have seating for two. To look at the variety of benches available, use this link to my bench category.
Pros
Great for small spaces for seating for two
Some benches will have storage under the seat
Cons
Have to sit next to the other person
My final thoughts on patio furniture ideas for small spaces
Your space needs and the style of seating needs will determine what kind of patio furniture will work for your smaller outdoor space. I have several of these locations in my outdoor space. I have a bistro set on the small deck at the lake, a set of swivel rockers on the front porch, a gliding bench on a small BBQ area at the lake, and a pair of wrought iron chairs on a side deck.
If you just have a small balcony, a bistro set will be the best choice in my opinion. As your outdoor space becomes bigger, you can look at bigger sets.
If you have any questions or comments for me, use the forms below and I will get back to you shortly.