When looking at your outdoor spaces for a place to eat and relax, your choice of patio furniture table and chairs will make your space enjoyable for you and your guests.
The amount of space and the number of people you are trying to feed will guide some of your decisions. I will go over what is available and what will work best in the space you have available.
If you already have an idea of what you want, use the furniture category at the top and click on the type of patio furniture that you are looking for. I have many articles on different styles that are available online.
Use the table of contents below to go directly to that section of patio furniture.
Patio Furniture Table and Chairs
Table of contents
Front porch chairs with side table
For really small spaces you may need to just have 2 simple chairs and a small side table. I have this arrangement on my front porch as shown in the image to the right.
The size of the space will determine the size and movement of the chairs. I have enough room to have a couple of swivel rockers, if you have a smaller area you may need to have chairs that do not have any motion.
The tables for this size setting are normally 16 inches across or smaller. I have a couple of different tables that I use, one with a glass top and one that is made from wrought iron.
As you can see you can mix and match the chairs with different styles of tables. This style of furniture can be used in almost any space outdoors in need of seating and a place to put your drink.
Pros
Great for small spaces
Can mix and match styles
Cons
Seating for two
Not many matching sets in this style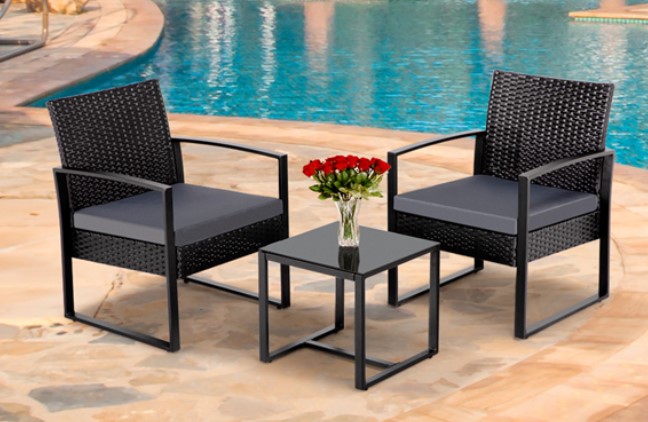 Bistro sets
A bistro set will include two chairs and a matching side table. Most tables will be between 18 and 30 inches across. This will require more room, but will normally fit on most balconies and small decks.
I have a bistro set on my small deck at the lake. We can add another chair if 3 people are going to eat. With its 30 inch table, we can have a small meal with drinks and not be crowded.
Bistro sets will also come in many styles, regular-sized with a small dining table, a bar height set with taller chairs and table, and bar type with a bar for a table.
Materials for the bistro set will also be a big choice when you go with this style of patio furniture. Wood, metal, and resin wicker are the most popular choices materials. For more information on your material choices, see my post here on types of materials for outdoor furniture.
For some reviews of some bistro sets for your outdoor space, see my post here.
Pros
Perfect for most balconies and small decks
Many styles and materials available
Sets include matching table
Cons
Cannot serve a whole meal
Only seating for two
Small dining sets for four
This is a popular choice for those with the extra outdoor space for a full-sized table, about 48 inches across, and four chairs.
Many styles are available in dining furniture, from wood, metal, or resin wicker shown in the image. Some sets will come with chairs with movement that will provide more seating comfort.
I have a wrought iron table with four spring chairs in a stone patio area in my backyard at home. I keep my folding dining set at the lake in the garage to use when we have company over for a meal, I have a small patio area at ground level at the camper. For more information, on the folding dining set see my post here.
Pros
Seating for four
Table big enough for a full meal
Table will have hole for patio umbrella
Cons
Need large space
Not used very often
Dining set for 6 or more
This type of patio furniture will require a lot of floor space to use comfortably. If it is too far away from the cooking area, the kitchen, or BBQ area, it will get little use. You will not want to haul the food from the kitchen to the table and when cleanup time comes around, you will face the same distance to take dirty dishes and leftovers.
If you are going to feed a lot of people often, this will be a great set for you. I find the larger dining sets great for those with a large covered or screened-in area in their outdoor space. I have never had such a large space, I do not have much experience in using a dining set for 6.
I have several folding 6-foot tables and folding chairs if I have an occasion to have this many people to eat outdoors.
Pros
Seating for 6 or more
Big enough for a thanksgiving buffet
Most will haveholeforpatio umbrella
Cons
Will require a lot of space
May not be used very often
Hard to store when not needed
My final thoughts on patio furniture table and chairs
You need to look at the space you have for a dining set before you set out to find out what will work for you. I have from a simple two chairs and a side table to a dining table with four chairs in different areas in my outdoor spaces at home and the lake.
I have articles on all of these types of patio furniture. Visit other posts on my site in the furniture category. I have some articles on seating, bistro sets, large and small patio dining sets. I also have some patio umbrellas in this section on my site.
If you have any comments for me or just a question on any of my information, use the forms below and I will get back to you shortly.