If you have a deck with the new composite deck material or a patio with a paver floor, you may want to look at one of these Modern Backyard Fire Pits. The composite deck material will only be good for a gas fire pit, the paver area, or other patio surfaces will be ok for a wood-burning fire pit.
With any outdoor fire pit, you have to first make sure you have the proper clearances for a wood or gas fire pit from the side of any dwelling. Check with the owner's manual for the fire pit that you have chosen to make sure of the clearance you will need as each fire pit may be different.
You can use the table of contents below to go directly to my information o fa subject or continue reading all of my information.
Modern Backyard Fire Pits
Table of contents
What makes a modern fire pit
When I think of a modern fire pit, I think of clean contemporary lines and solid neutral color. Clean lines can be smooth corners and flat panels on the sides. Most of the modern fire pit designs are propane-powered and have colored glass rocks in the fire bowl.
Gas-powered
Some of the low-profiled propane-powered fire pits will have remote tanks so that they do not have to be as high as the 20-pound propane tank. Remote tables for propane tanks can be matched to the fire pit in most cases, they will be an extra cost as most are not included with the fire pit purchase.
Many of the designs will include a matching top for the fire bowl to give you a table with a smooth top to use during the time you do not need a fire to keep warm.
The glass rocks in the fire pit can be changed to change the color of your decor. Each fire pit will require a different amount of glass fire rocks, check with your owner's manual. For some glass rock replacement examples, see my post here.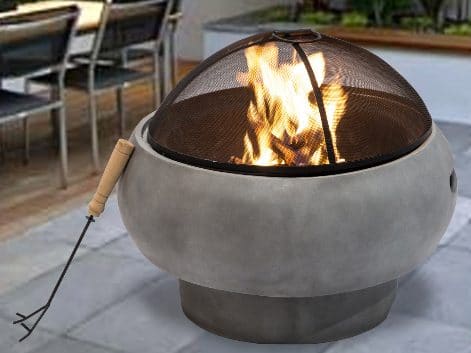 Wood-burning
Having around design with a smooth mantle and sides will make a wood-burning fire pit a more pleasing item to sit around in your backyard.
The round concrete fire pit shown in the image is a great example of a modern design in the wood-burning category.
The Peaktop wood-burning fire pit shown has many other styles in both wood and gas models. See my article on the variety of Peaktop fire pits here.
Gas fire pits
The MOdrn gas fire pit has very clean lines and a remote propane tank table (sold separately). With a 9 foot hose, you can move the tank behind your seating and get it out of the way. The long burn bowl will give you a glowing fire that all can enjoy.
The bright white finish will give it a very modern look and only be about 14 inches tall.
For more information on this and other modern gas fire pits, see my articles here.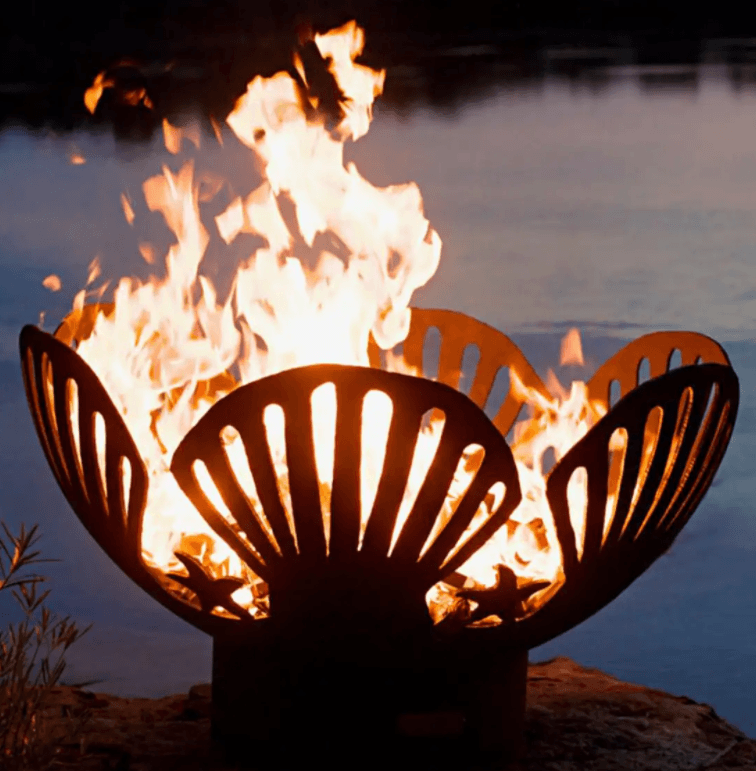 Wood burning fire pits
A sculptured wood-burning fire pit can be cut in almost any design. The side design can be seen from all angles. This will give you the ability to show off one of your favorite ideas or college to your guest.
For more information on a sculptured fire pit, see my information in a post here.
The concrete Peaktop brand will have clean lines and the wood-burning models will have a round design that will look like a big smooth rock.
To look at my post on the Peaktop models, use this link.
Modern accessories for fire pits
Tools for wood burning fire pits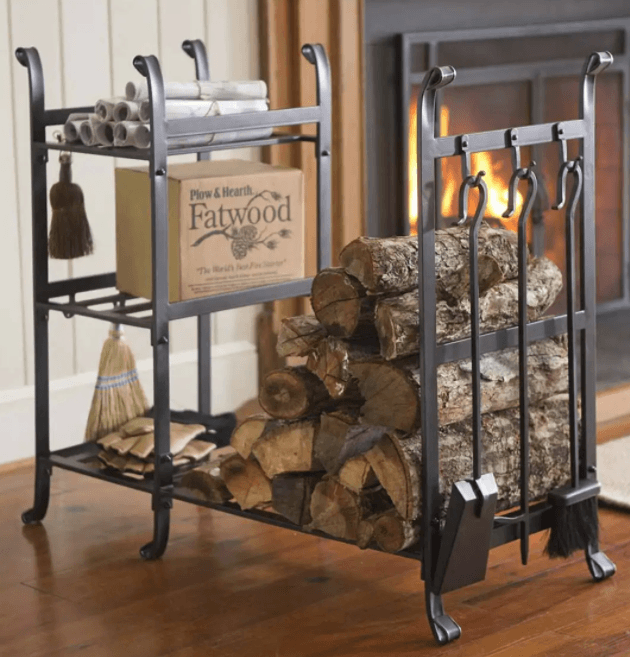 Several types of fireplace tools will come with decorative designs. Having a stand with clean lines will add to your modern decor.
A small wood rack with clean lines that are close, but not visible to your guests will add to your decor. Most will hold enough firewood for an evening's entertainment. Some will include matching tools. For more of my information on log racks with tools, use this link.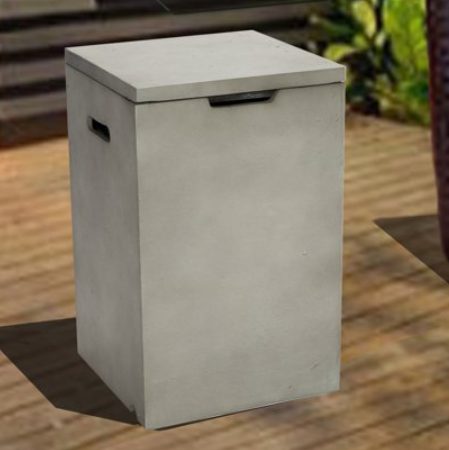 Remote propane tables
Two styles of remote propane tank tables will be available. A square or round table with either a tilt lid or aide door for tank access.
Most gas fire pits that do not have a storage place for the 20-pound propane tank will come with either a 6 or 10-foot gas line to hook up a remote tank. With the proper precautions, you can install a longer hose (make sure it is an approved hose) so that your remote tank can be farther away from your fire pit.
The worst thing you can do is to get a nice fire pit and have an ugly tank sitting in the open in front of your guests.
Gas fire pit wind guards
A new idea is to have a clear glass wind guard for your gas fire pit. They come in many shapes and sizes to fit almost any sized burn bowl. They sit on top of the mantle (the flat area around the fire bowl) and keep high winds from blowing the flame out.
They are clear glass to let you still see the flame and the reflection of the glass rocks in the burn bowl. Just beware that they get ultra hot and little hands may get burnt easily if they touch it.
To see some wind guards for gas fire pits, see my post here.
My final thoughts on the Modern Backyard Fire Pits
If you already have modern patio furniture, matching the style for a fire pit should be on your wish list. Many styles of fire pits are available in the modern style.
In this article, I have given a few examples of Modern Backyard Fire Pit. Follow this link for more reviews on fire pits.
If you have any questions or comments for me, use the forms below and I will get back to shortly.