In this article, I am going to look at different styles of Patio Furniture Tables to help you decide what would work best for your entertainment needs. This article will include small side tables to full dining tables in size.
I have not seen many tables made for the outside that have a storage drawer. Some coffee tables and side tables will have shelves on the bottom for open storage. If you need storage look at some of my storage ideas in my category here.
Use the table of contents below to go directly to a type of table to see if it is what will work for you. I will include the pros and cons of each type of table.
Patio Furniture Tables
Table of Contents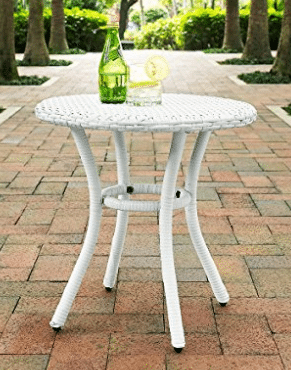 Side Tables
A side table is just like an end table in the house, it is a smaller table that sits by the arm of a sitting piece, a chair, or sofa so that you can put your food and drinks on. Unlike in the house, you normally do not have a lamp or doily on it. Although they make lamps for outdoor use, I have an article on table lamps here, the sun, string lights, or other outside lighting are normally what people use.
Many collections will have side tables to match the style of the patio furniture that you purchase. I have not seen many side tables that have a drawer for storage, it will collect moisture over time and things will mold. Some will have a lower shelf that you can store snacks or reading material on while you are using your sitting pieces. It is not a good idea to leave stuff on the shelf when the area is not in use, animals and bugs will love to get into your stuff.
One style of side table is used for hiding a propane tank for a fire pit or grill. These are normally very boxy and you cannot store other things behind the door when a propane tank is used.
Pros
Smaller table normally as tall as the arm of sitting pieces
Many collections have matching side tables available or included
Cons
No extra storage unless it has a lower shelf
Glass tops may be difficult to replace if broken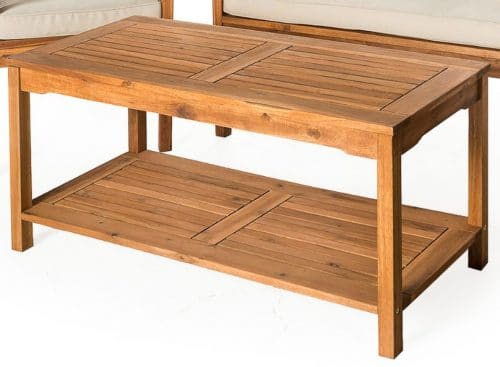 Coffee Tables
An averaged sized coffee table for outdoor use is 40 inches long, 20 inches wide, and 18 inches tall. The size will vary from table to table. Most will not be bigger, some will be smaller or shorter in height. Many conversation sets will come with a matching design of a coffee table, the height will usually match the height of the chair seats so that it will not seem too high or low.
Some coffee tables will come with a lower shelf that will allow some storage of your goods and give your table legs extra support. It is not a good idea to leave your stuff on the shelf or top when you are not using your furniture as it will attract unwanted visitors.
There are some tables of this size that can be used for storage. Some will be like a chest with an opening lid, others may have drawers to hide some of your stuff. Neither is water or weatherproof, your stuff may mold after a short time if you live in an area of higher humidity. Long-term storage of items should be done in a dry environment to control unwanted moisture damage.
Pros
Good for putting drinks snacks and reading material while sitting outside
Some will have storage space
Cons
No coffee table will have a provision for an umbrella
Stay away from glass tops as they are hard to replace if broken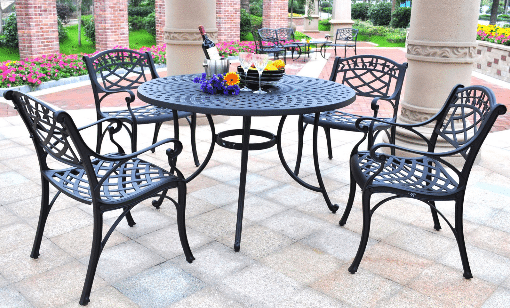 Dining Tables
Dining tables will come in a lot of sizes, from a bistro table that is about 18 to 24 inches across to a full dining table that will sit up to 8 people. I prefer a smaller bistro table on a deck or balcony and a dining table on a patio area or large deck. I use my bistro table a lot more than a dining table.
Most tables that are made for 4 or more people to sit at will have a hole in the middle for a patio umbrella. Some sets will come with that umbrella to match the color decor of the dining set.
I try to stay away from the dining tables with the glass tops, I have broken a few from the wind picking up the table and slamming it back down, neither table had an umbrella on it. My dad made a top out of plywood for one of my broken tables and continued to use it for years under a cover.
At this time my bistro and dining tables are both made of wrought iron with a grated top, I like this design very well and it holds up well to most outdoor weather conditions.
Pros
Great for an outdoor dining room-if you have space
Cons
Most will use a big dining table a few times a year in the warmer months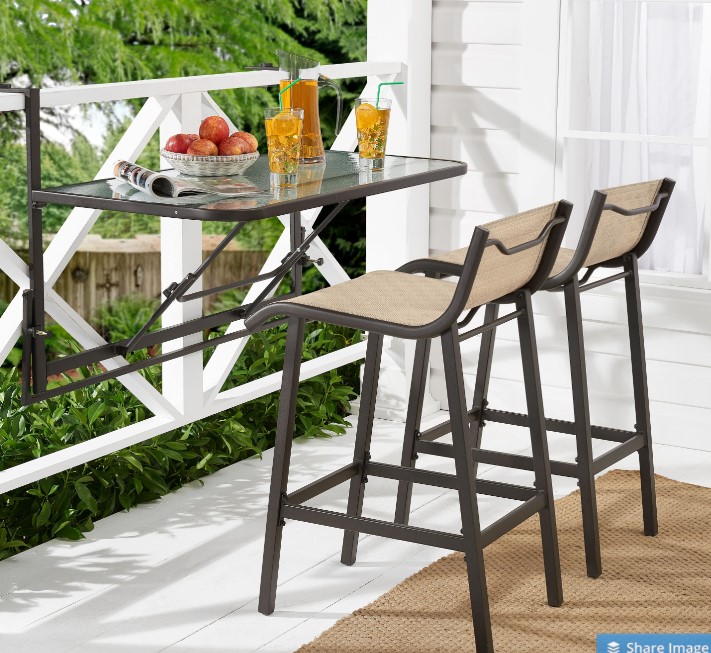 Pub Height Tables
This is a style that will not fit everyone's home. The higher height means higher seating and some older people may have trouble getting into the chairs, me included.
Most tables of this style are of the bistro set size with seating for two. They make a great choice for balconies or small decks and will make it easier to see over railings. I have one put height set that the table is made to attach to the railing of the deck to make it like you are sitting at a bar. See the Sand Dune bar height set here.
If you are purchasing this type of table, I would opt for a matching set to get the same style and the chairs will match the height of the table.
Pros
Higher than normal table, works great for decks with tall railing
Cons
Some may find it too tall to get into the chairs-older people like me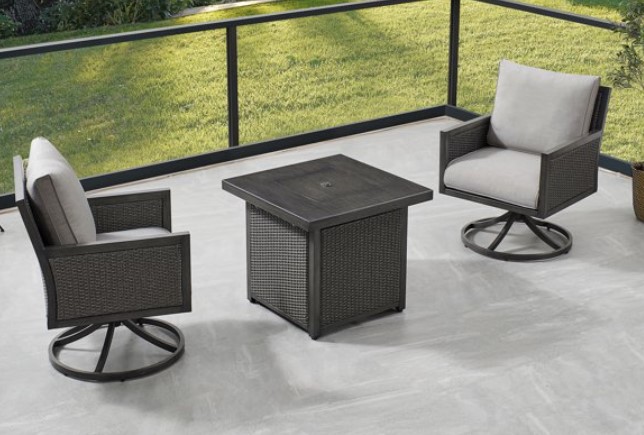 Fire Pit Tables
A fire pit table is a dual-purpose piece of patio furniture that can use all year round. They come with a cover for the burn bowl to make a flat surface on the top. The top is normally bigger than a regular-sized side table.
The majority of this type of table is powered by propane, there are some wood-burning fire pit tables, not many. Most are taller than a side table because they will have a propane tank stored under the top. Obviously, there is no storage under this type of table.
Some collections will have fire pit tables to match a chair set so that you can have a matching set of furniture in your outdoor space.
This is a popular choice if you like to sit out in the cooler months and have a cold one with your friends around a fire and do not want to have to store a fire pit in the warmer months.
Pros
Provides heat in the cooler weather
Cons
Propane fire pit tables are normally a little higher than coffee tables
Did you find the right style of Patio table
I hope that this information has been helpful in finding the right size and style of table for you. If you need help with finding the right material and style of finish, look at my information here.
Each type of table can be used inside or outside, except for the fire pit. Each will have its purpose in outdoor living spaces. I prefer a bistro set in small spaces and a conversation set with a coffee table in medium-sized spaces. The big dining tables will be used in bigger outdoor areas and are commonly not used enough to pay for themselves.