When looking for patio furniture for smaller spaces, the Amazonia Brooklyn Outdoor Furniture Without Cushions set may work well for you. The sling seating will last very well in most outdoor conditions. I have had a similar set for over 15 years and it is still holding up well.
With 2 armchairs a love seat and a coffee table, it will give you the basics of most conversation sets. Without cushions, there is no need to have a storage solution to keep them out of the weather.
For quick information on Brooklyn, patio furniture use the chart below. For more detailed information use the table of contents below to go directly to each section.

Materials
Frames-Eucalyptus wood
Seats and backs-Poly sling fabric
Size of seating
Chairs are 24.5 inches wide, 28 inches deep,
and 29.5 inches high
The love seat is 44.5 wide, 27.5 deep, and 29.5 high
Size of table
19.5 W x 38 D x 13
Price at time of the article
$493.16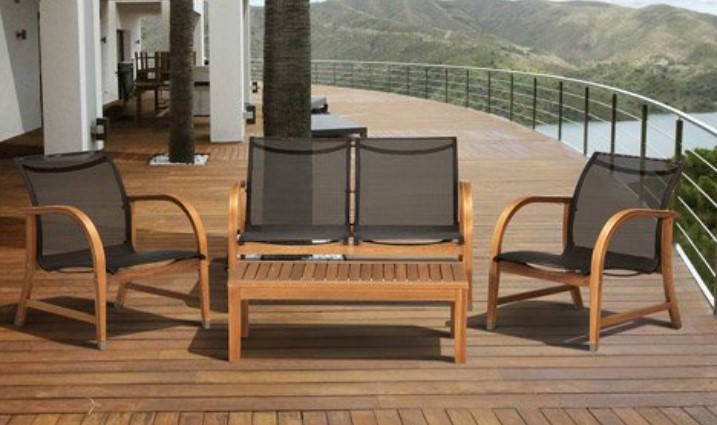 Amazonia Brooklyn Outdoor Furniture Without Cushions


Table of contents
Features and construction
The base for this set is the Eucalyptus wood frame that is in an open design. The seating will have arched arms on each end and a seat that is much higher in the front than the back.
The seats and back material is black poly sling material. This material is very good for outdoor furniture that does not spend any time under a cover. Cushions can be added at an extra cost, but are not needed for long-term seating comfort.
The Table has a slated design that will not let the water pool on the top. The table will have four straight legs, one on each corner to support the top.
A wood cleaning kit is included in the purchase of this set. It will include all the things needed for keeping your wood patio set looking new for a long time.
Extra chairs can be purchased in sets of four if you would like more seating and like the design of this furniture.
Size and special options
This patio furniture set is a regular size for most conversation sets. The 2 chairs and a love seat will provide seating for 4 average-sized adults. The coffee table will give you a great place for your drinks and snacks to sit out to enjoy the outdoors.
Each chair will be 24.5 inches wide, 28 inches deep, and 29.5 inches high. The love seat is 44.5 inches wide, 27.5 inches deep, and 29.5 inches high. No weight capacity was given for any of the seating for this set.
The coffee table is 19.5 inches across, 38 inches long, and 13 inches tall. Most coffee tables are about 18 inches tall, this one is a little shorter, this is because of the lower seating in the chairs.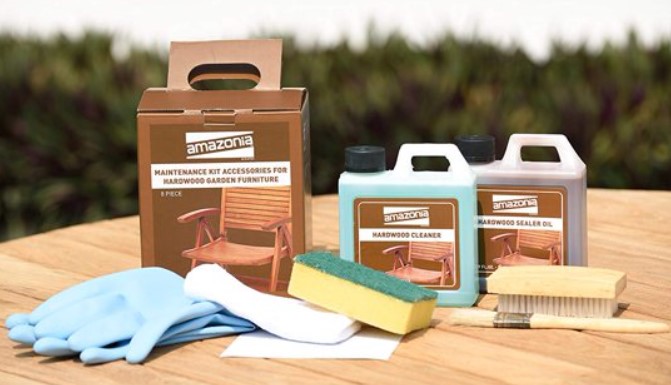 Assembly and/or care
Minor assembly is needed before you can use your patio furniture. The biggest complaint on assembly is that some of the holes did not align properly. I found the metal patio furniture much more of a problem in this area.
The four legs and the four pieces of skirting must be attached to the tabletop. Make sure that it is on its legs on a smooth level surface before the final tightening of the hardware for the best results.
The seating will need the frames to be assembled, two-arm sides with cross braces. Then the sling material will attach to the frames. The best practice is to have it sitting on a smooth level surface for the final tightening of hardware.
A care kit is included with this set that will include a hardwood cleaner, hardwood sealing oil, and several cleaning tools. Most spills can be cleaned up with a damp cloth between the heavy cleaning that is recommended at least once a year.
The fabric for this set is a poly material that will do very well in outdoor conditions. The big thing about this is to keep it out of the sun for long periods of time if you live in a very hot and sunny climate.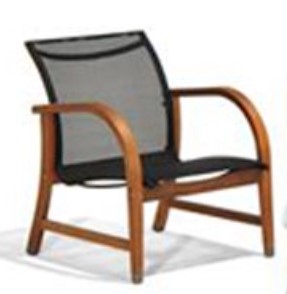 Pros cons of the Amazonia Brooklyn Outdoor Furniture Without Cushions
Pros
Woodcare Kit included with purchase
No cushions to store
Eucalyptus wood will last for many years if treated every year
Cons
Cushions would be an extra cost if you wanted them
Some may not like the low seating, may be hard for older adults to get up
If fabric is torn it may be hard to replace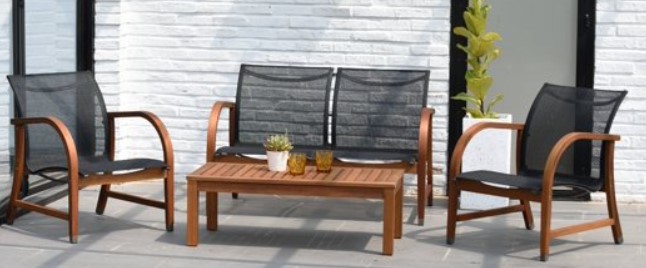 Similar products to look at
I will give you a list of seven similar wood conversation sets to choose from. You can click on the name and it will take you to my detailed information about that item. For more conversation set choices, use my link to my other patio furniture posts here.
Personally, I like the sling material over the cushions for the storage issue, so my favorite conversation set made of hardwood is the Amazonia Brooklyn set in this article.
Use this link to get the current price and availability of the Amazonia Brooklyn patio set
Final thoughts on the Amazonia Brooklyn Outdoor Furniture Without Cushions
I like the sling material for outdoor furniture, so the Amazonia Brooklyn is a favorite of mine in the list above. The wood will outlast its owners if properly cared for and the sling material will last for over 20 years if properly cared for, just keep it clean and sealed.
The wood material is not the least expensive for outdoor patio furniture, you get a better lasting product for your money. I think that eucalyptus wood is one of the better hardwoods for outdoor furniture.
If you have any questions or comments for me about this product or any other, use the forms below and I will get back to you shortly.