When looking at patio furniture for seating around with your friends, the Acacia hardwood type of conversation set should be on your list. The Manor Park 3-piece Outdoor Furniture No Cushions will be a great choice for those looking for something a little different.
With two love seats and a coffee table, it will seat four with a standard-sized coffee table. No cushions are included with this set, the curved seats will provide comfort for long-term seating.
Look at the chart below for quick details. For more expanded details of this Manor Park patio set use the table of contents below and click the category that you are wanting information on to go directly to that information.
Materials
Acacia wood with stainless hardware
Size of seating
48 inches wide
25 inches deep
35 inches tall
Size of table
20.25 inches wide
42 inches long
17.75 inches tall
Price at time of the article
$621.27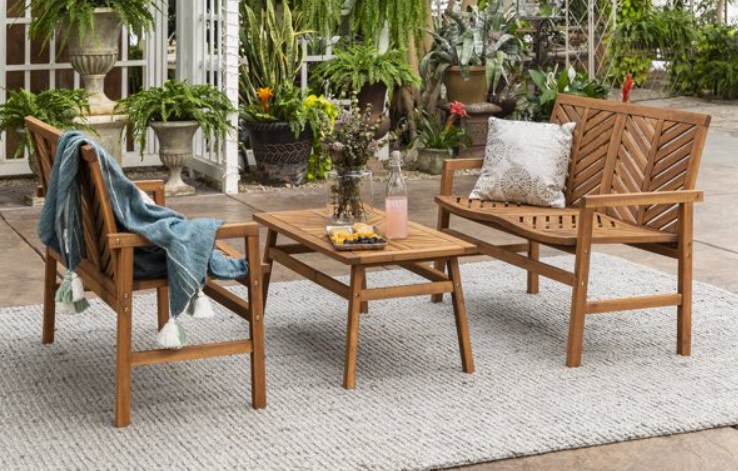 Outdoor Furniture No Cushions


Table of contents
Features and construction
The main construction of this patio set will be from Acacia wood. It is a very good hardwood for outdoor furniture. To keep it looking fresh and like new, you just have to treat it with a sealant oil once a year.
The Acacia wood is available in three finishes for the Manor Park conversation set, natural, driftwood, or dark brown. The price is different for each finish, please use the picture of the set above to go see current pricing for the finish of your choice.
The seats, backs, and tabletop will have a chevron or angled design of the wood placement. This will give this patio furniture a different look than the plain slatted look. Each sitting position will have a curved seat to make it comfortable to sit for long periods of time without cushions.
The table will have four legs, one at each corner, that will have a lower support bar to help with stability. The dual chevron application is included on the tabletop.
Size and special options
This is an averaged size conversation set for patio areas. It will fit well in any space that is 8 feet square or bigger. With the two love seats instead of the regular two chairs and a love seat, you may be able to fit in smaller areas.
Each love seat will be 48 inches wide, this will give you hip room for about 45 inches, more than enough for two average-sized adults. The love seat will be 25 inches deep and 35 inches tall. No weight capacity is given for this set.
The coffee table will be 42 inches long, 20.25 inches wide, and 17.75 inches high. This is just a standard-sized coffee table that will be the right height for your drinks and snacks while enjoying an evening outside with guests.
Many other types of patio furniture are available for the Manor Park collection from dining sets, conversation sets to individual pieces to fill some gaps in your seating or dining needs.

Assembly and care
Some assembly will be required before you can use your furniture. Hardware is included to fully assemble your set. Some customers did complain about hole alignment when putting their set together.
The love seats will need the arms attached to the seat base and back. Please make sure it is sitting on a smooth level surface when final tightening is done for the best results.
The coffee table will need the four legs attached, then the lower support bars. Sit up on legs for final tightening for best results.
Care of your patio furniture should be with just a damp cloth between the yearly deep cleaning and resealing with tongue oil. If treated once a year it will keep the colorfast and your set will look great for many years.

Pros cons of the Manor Park 3-Piece outdoor furniture no cushions
Pros
No cushions to store
Acacia wood will last a long time in outdoor conditions
Many other matching sets in this collection
Cons
May have to purchase cushions for long term sitting comfort
Two love seats and no chairs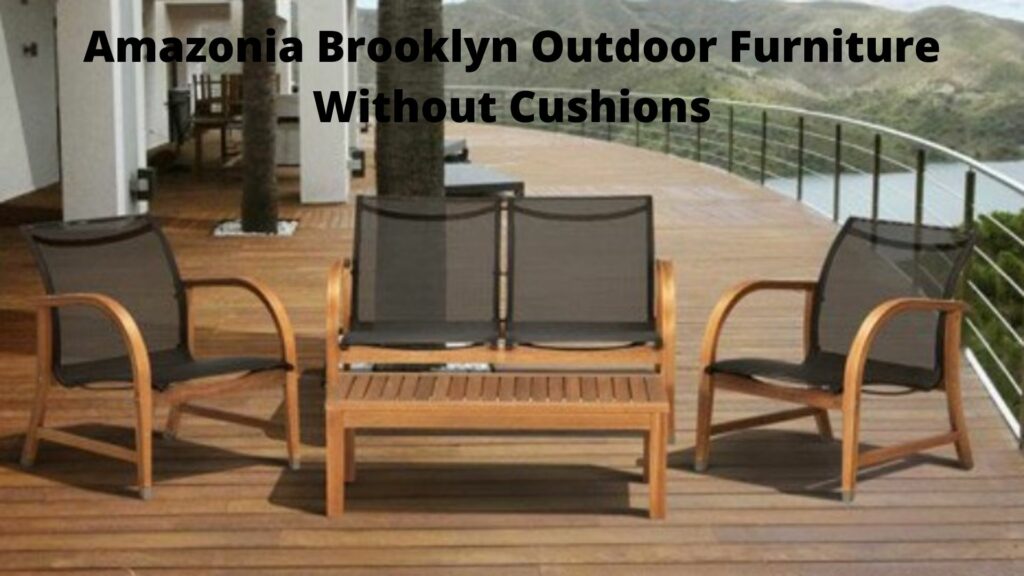 Similar products to look at
Below you will find a list of similar wood-based conversation sets. You can use the highlighted name to go to my expanded information on each set.
My favorite set will be the Amazonia Brooklyn set for its sling fabric seating material. This material lasts very well in outdoor weather conditions and is very comfortable for long-term sitting.
Final thoughts on the Manor Park outdoor furniture no cushions
There is a lot to like about the Manor Park conversation set with two love seats. The Acacia wood has a great finish that will last many more years than any metal finish. With no cushions to store you will not have to remember to take them out of the weather between uses.
I still like the sling fabric for outdoor furniture, it is very comfortable and lasts well in most outdoor weather conditions. For other examples of conversations sets, look at my category here.
If you have any questions or comments for me, leave them with the forms below and I will get back to you shortly.