In this article, I will give the details of the Costway Acacia Wood Patio Conversation Set. It has seating for four and a coffee table. The Acacia wood frames will last very well in most outdoor weather conditions.
Seat and back cushions will add to your long-term seating comfort. The seat cushions will be available in four colors to help you match your current outdoor color decor.
For the quick details of this patio furniture set use the chart below. For more of my expanded descriptions, use the bullet points in the table of contents to go directly to that information.
Materials
Acacia wood frames
Stainless hardware
Polyester cushions
Seating size
Chairs-27.5 inches wide, 28.5 inches deep, and 29.5 inches tall
Love seat-49.5inches wide, the rest same as chairs
Coffee table size
40 inches long
19.5 inches wide
16 inches tall
Price at the time of this article
$439.99 all colors
Wood Patio Conversation Set


Table of contents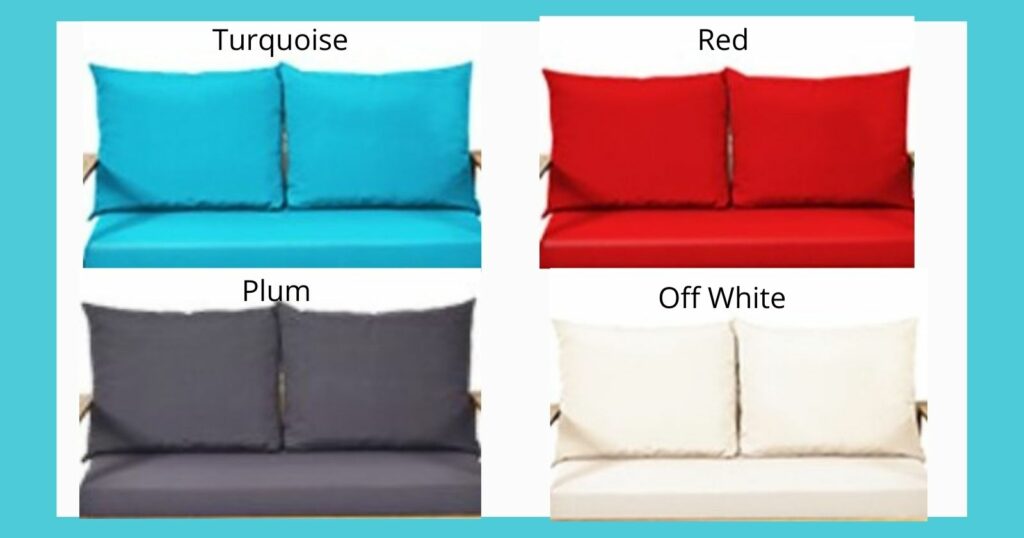 Features and construction
The construction will be a solid acacia wood frame that is made from a select wood. This will ensure that it will stay straight and hold its color for a long time. Stainless steel hardware will hold your wooden frame together.
The seats and backs of the seating will have cushions for long-term seating comfort. The cushions are available in four different colors, Off White, Red, Turquois, and Plum. The seat cushions will have square corners and the back cushions will look more like a pillow with a single edge.
A slatted design will be used on the tabletops and seat base. The seatbacks will have horizontal spindles to keep the cushions from failing.
Size and special options
This patio furniture set will be close to a standard size for a four-seat conversation set. The two chairs, love seat, and coffee table will give you the ability to change your furniture position to fit your patio size and current seating needs.
All the wood pieces in this set will have straight lines and give a boxy look and feel to this furniture. The straight lines will lead to a large weight capacity of the seating on this set at over 300 pounds per seating position. This is much higher than the average of 250 pounds per seating position for most patio furniture.
The seating will be 28.5 inches deep and 29.5 inches tall, with the chairs 27.5 inches wide and the love seat 49.5 inches wide at the outside of the arms. Each seating position will hold 353 pounds of weight. If you or your family members or guests are of the larger variety, this set may be what you are looking for.
The coffee table is 40 inches long, 19.5 inches wide, and 16 inches tall. The tabletop is standard size, it is just a couple of inches shorter than the average height of 18 inches for most patio coffee tables.
The cushions material is not given for this set, just states that it is made for outdoor conditions. I would make sure that you had a storage solution for them to make them keep their color and the material to last more than a couple of seasons.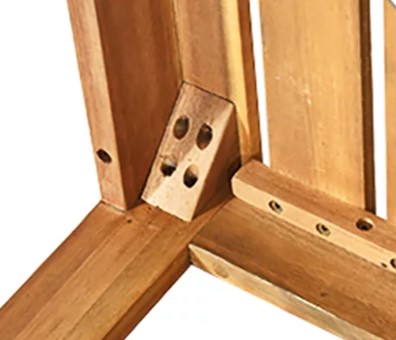 Assembly and/or care
The seating frames and coffee table will need to be assembled with stainless hardware. Just make sure the furniture piece is sitting on its feet on a smooth level surface before the final tightening of the hardware for the best results.
Taking care of the wood frames will be with a damp cloth for most problems. A once a year treatment with a sealing oil after a good cleaning will keep your wood looking fresh for many years.
The cushions will need a storage solution when not in use to last more than a couple of years in outdoor weather conditions. I have several ideas for cushion storage in this category.


Pros cons of the Costway Acacia Wood Patio Conversation Set
Pros
Acacia wood frames
Slatted seats can be used without cushions, will not be comfortable for long term sitting
4 cushion colors to choose from
Large weight capacity of seating
Cons
Cushions will need a storage solution
Coffee table is shorter than average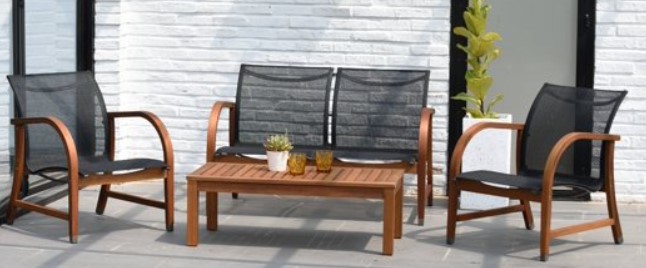 Similar products to look at
Please find my current list of wooden conversation sets below, use the highlighted name to go to my information on that patio furniture set.
I still like the Amazonia Brooklyn conversation set as this set has the sling fabric seating the last very well in most outdoor weather conditions without having a storage solution for when it is not in use.
Final thoughts on the Costway Acacia Wood Patio Conversation Set
When looking at patio furniture for your seating needs, this Costway set will work for those who like little maintenance and need a larger than average weight capacity of the seating. Just a once a year deep cleaning and resealing with proper Oil. The big thing is to store the cushions out of the weather when not in use for the best results.
Other patio sets may work better for you if you do not need the big weight capacity, to look at other conversation sets see my additional information on conversation sets here.
For those who have questions or comments for me, use the forms below to contact me and I will get back to you shortly.