If you have more than one area in your outdoor space to have a fire pit and you want to only have one, the Living Accents Portable Wheeled Fire Pit may be a great choice. The wheels and handle will allow you to move over smooth surfaces with ease to get your fire pit from one location to another.
The top of this fire pit does not come off to add or move wood like many others, it has a sliding door on one side to adjust and add firewood.
The sides will be open with a grate to allow a full view of the flames from your fire. The top will direct smoke away from your guest's eyes for better enjoyment.
Use the chart below for the quick details of the Living Accents fire pit. For more details use the table of contents below to go directly to that information.

Materials
Steel frames and body
Porcelain coating on lid and burn bowl
Wooden handle
Size of fire pit
29.5 inches across
45 inches tall
Body 28 inches tall
Fire bowl size
28 inches across
3.5 inches deep
Price
$112.99
Portable Wheeled Fire Pit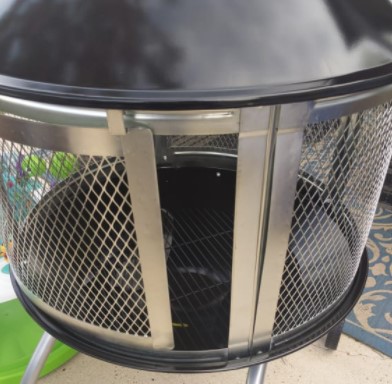 Features and construction
The big feature of this fire pit is the wheels, it makes it easy to move when cool. The wheels are not very big or flexible, so movement over rough terrain may be difficult. Running on smooth grass or concrete is where this feature will work best.
The second big feature is the way the wood is added, there is a sliding door that will move to allow the user to move or add wood. The door is hung from a heavy-duty wire that is attached to the top of the sides. It does not move on wheels it just slides so you must keep the wire in good conditions to make it operate smoothly.
The third big feature is the chimney shape of the top of this fire pit. It will direct the smoke up and away from your guest's eyes like a chiminea. Everybody knows that the smoke will follow you no matter where you sit, this will give everyone a clear eye.
The body and frame are made of steel with a porcelain coating for the burn bowl and top. The other areas will get a bright silver finish.
Size and special options
This is a very tall fire pit at 45 inches. It will be 29.5 inches across on the outside. The burn bowl will be about 28 inches across and 3.5 inches deep.
The empty weight of this fire pit is 33 pounds, very heavy compared to other portable fire pits. The wheels will help when you need to move to another location.
The sliding door to get to the firewood will allow you to use firewood that is 24 inches long or less. This is bigger than some others. A burn grate is included for the bottom of the burn bowl to let air under the firewood for a better burn. If you burn wood that burns too hot it will damage this grate and it will not last very long. The discoloration is ok after a few burns, if it starts to warp, you are using too hot of wood.

Assembly and/or care
Following the assembly instructions carefully will result in the best use of this fire pit. Some have complained about the door not fitting well, they may have a bent wire that is supporting the door.
The Living Accents fire pit is not very stable until all the parts are installed, some customers have stated that the instructions are not very clear, I have not been able to find assembly instructions for this model online.
Taking care of your fire pit will be like many others in this class. I would recommend a good cleaning of the burn bowl before storing it as this will keep the moisture from gathering in this area.
A damp cloth is all that it will take the outside surfaces to keep looking like new if you clean it at least once a season. The burn grate will discolor after a few uses, this is natural.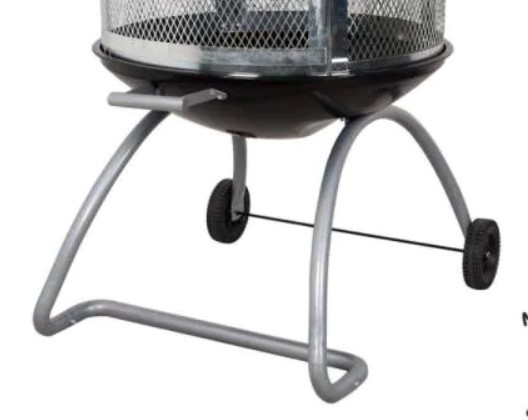 Pros cons of the Living Accents Portable Wheeled Fire Pit
Pros
Has small wheels to help in moving across smooth surfaces
Chiminey to keep smoke out of eyes
Side screen to see fire from all directions
Cons
May be tough to move over rough terrain
Hard to take with you, really tall
Door may be difficult to use while hot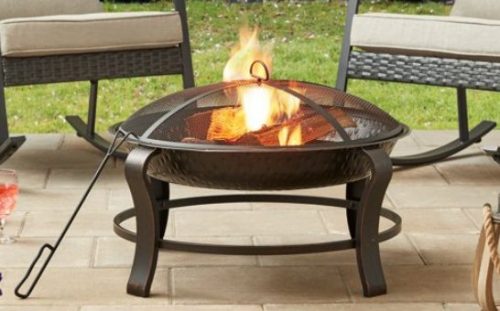 Similar products to look at
Although these products all use firewood and can warm your outdoor spaces, the look and feel of the fire pit for your backyard may be different than mine. I have had a similar fire pit to the Owen Park for about 15 years, I keep it in the shed when not in use and make sure it is clean after it is cool. It is just now getting some pitting in the fire bowl.
Click on the name of each product to go to my details to see what works best for you.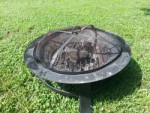 Final thoughts on the Living Accents Portable Wheeled Fire Pit
The Living Accents fire pit will work great for those who move their fire pit from location to location over a smooth surface to different areas of their outdoor spaces. The wheels are not made to go over rough terrain.
The door of this model may take some getting used to, it slides to add or adjust the firewood. Many may find this very hard to get used to.
If you have any questions or comments on this item, use the forms below to leave me a message and I will get back to you shortly.