I will give you the information on the MF Studios Sectional Patio Sets with Gas Fire Pit Table in this article. You will have to see if the ability to arrange the seating is right for you.
With a gas fire pit that converts to a side table and blue fire rocks for a great visual effect at night, this fire pit will get plenty of use all year round.
There will be seating for five in this set with a glass-topped side table that is the same size as the seats. You can use the sectional pieces by themselves or hook them together with the included clips.
For quick information look at the chart below, to go to more details about this patio set, use the blue highlighted table of contents below to go directly to that information.
To go directly to the pricing and availability of the MF Studios Sectional patio furniture use the link below.
Materials
Steel frames with resin wicker finish on seating pieces
Steel with black powder-coated finish for the firepit
Chair placement
Chairs can be arranged in several ways, pieces hold together with connectors
Chair size
Each seating piece without arms will be 25.5 inches wide, and 29.5 inches deep, 25 inches tall
Each seating piece with arms will be 29.5 inches wide and 25inches tall
Firepit size
The firepit will be 28.4 inches square on the top and 24.8 inches tall
Firepit media
Blue fire glass rocks
Price
$1009.99
My rating
9.2 out of 10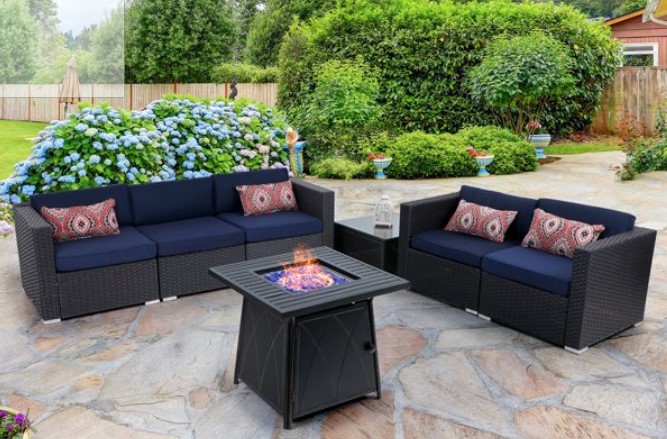 Patio Sets with Gas Fire Pit


Table of contents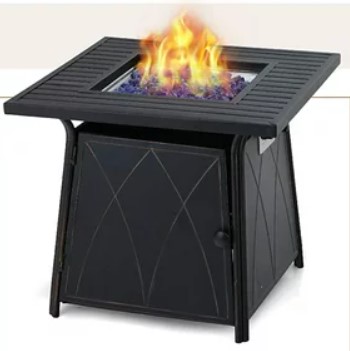 Features and construction
The MF Studios Sectional Patio Sets with Gas Fire Pit will come with five seating pieces, one side table, and a gas fire pit. The seating pieces will interlock with clips in quite a few arrangements.
The seating and side table will have metal frames with a woven resin wicker finish on all sides and backs. The chairs will come with two pieces with arms and three pieces without arms, all will have backs.
The side table is the same size as chairs without a back. It will come with a glass top or you can use a cushion on it for an ottoman or footrest.
Each seating position will have cushions for the seats and backs. The cushions will have a solid foam insert and blue Olefin fabric covers. This is one of the better fabrics for outdoor furniture. The covers will have zippers for easy removal and cleaning.
The fire pit will have an all-metal construction. A door on one side will allow access to the 20-pound propane tank (not included) that will sit on a round base. A control panel on another side will allow you to control the flame or use the electronic igniter.
The square stainless fire bowl will have blue glass fire rocks and a round burner. The fire rocks will be cleaner than lava rocks and your burner will be less likely to clog. A metal cover is included in this set so that you can use the fire pit as a side table when no fire is needed.
Size and special options
The biggest special option on this patio set with a fire pit is the ability to arrange the seating and the cover for the fire pit. This makes for furniture that is more likely to be used year-round in most climates.
Each chair with arms will be 29.5 inches wide and 25 inches tall. The chair pieces without arms will be 25.5 inches wide and 29.5 inches deep. The seats will be 12.5 inches off the floor without the 4-inch cushion.
The side table will be 25.5 inches square and 12.5 inches tall. It will come with a glass top to use as a side table or put one of the cushions on it to use as an ottoman or footrest.
The fire pit will have a square design with angled sides that are smaller at the top than the bottom. The top will be 28.4 inches across and 24.8inches off the floor. The control panel will be hidden under the top on one side. The full metal insert cover for the fire bowl will be 15.4 inches across.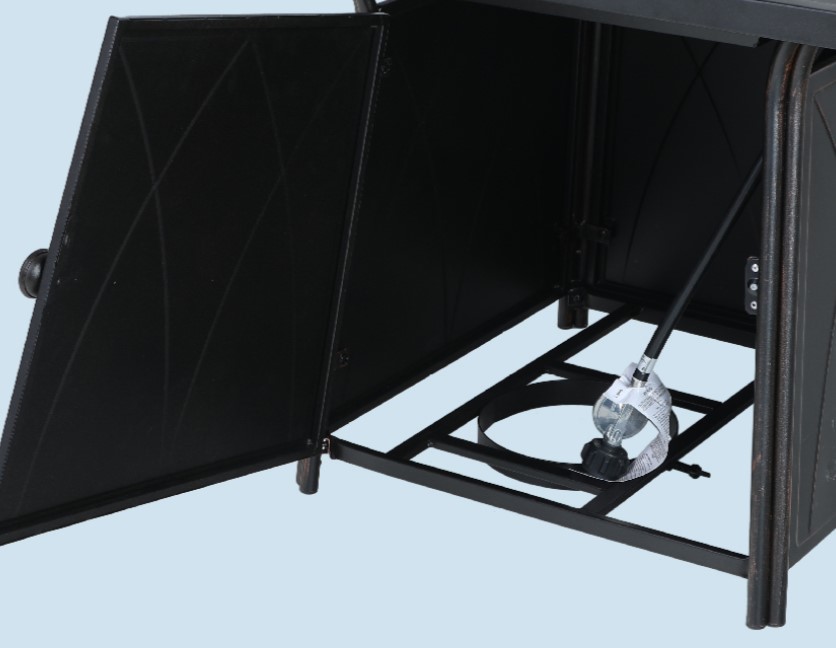 Assembly and care of your Patio Sets with Gas Fire Pit
The assembly of this set should take most about an hour. It may take longer to arrange the seating once it is together than the assembly. All tools are included in the hardware pack for assembly. The Allen wrench that is included may not work for everyone, you may have to use one out of the toolbox.
The chair bases will need backs and arms attached with the included screws. The feet also will need to be attached, I did not see any way to adjust the feet for uneven surfaces.
The ottoman or side table will only need feet and the glass top installed.
The fire pit will take the most time as you will have to attach the legs to the top and bottom frame, then attach the three non-movable sides. The door will also need to be attached along with its knob. The best results for stability will be to final tighten the screws when the fire pit is on its feet on a smooth flat surface.
After the final tightening of the hardware, you will have to add the fire bowl, fire ring, and control panel. Once this is done, you can add glass fire rocks and a propane tank.
Careful cleaning will have you some patio furniture that will last many years. The metal parts have powder-coated finishes, they will need to be cleaned with only a mixture of mild soap and water. Any harsh chemicals, even glass cleaner will start the finish to peel or fade in color.
Cushions should be stored with not in use. For stains or if you want to wash them, the covers have zippers for easy removal. For some of my storage ideas look at my storage category here.


Pros cons of the MF Studios Patio Sets with Gas Fire Pit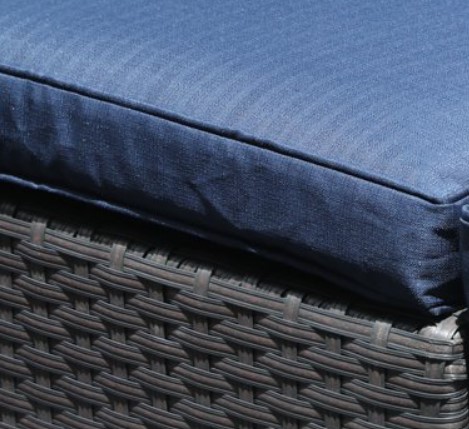 Pros
Seating can be made to fit most areas

Each seating piece can be attached to another seating piece. Can have a sofa and love seat or five different chairs.

Glass fire rocks

The blue glass fire rocks will five a great looking glow after dark. This will add to your fire enjoyment.

Cover for fire bowl

This patio furniture set will come with a metal fire bowl cover that can convert the fire pit to a side table after it is cooled.
Cons
Cushions will need a storage solution

All outdoor cushions should be stored out orf the weather when not in use to make them last more than a few seasons.

No motion in seating

All seating pieces will have no motion, you can arrange them in many different ways.

Only sold online

At this time, this patio furniture is not sold in any stores, you must order online.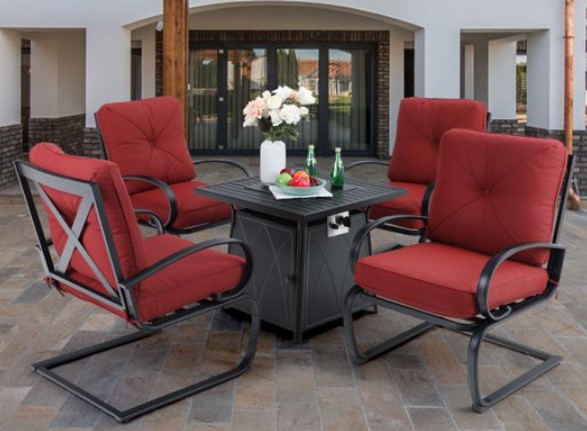 Similar products to look at
I still like the MF Studios Spring Chairs with fire pit the best for its low price and some movement in the chairs for extra seating comfort.
Bexley
Hanover Orleans
Final thoughts on the MF Studios patio sectional with fire pit
If you are looking for seating for five or just a set with a sofa, this is the right set for you. The chairs can be rearranged in any design for those hard-to-seat areas. The fire pit is a plus also with its blue glass fire rocks and metal cover when no fire is needed.
This set will fill many needs for your outdoor seating and heating needs at a price under $1000. Most patio furniture sets with fire pits will start at way over $1000 without the sectional seating and cover for the fire pit.
If you have any questions or comments for me, use the forms below and I will get back to you shortly.