When looking at patio furniture that you want to last a lifetime, I would choose one made from Acacia Wood. The Tucson Patio Set with Fire Pit will be a great choice for under $1000.
Available in three color combinations, you will find one that fits your outdoor decor. The fire pit will have the stacked stone look to make it at home in wood or stone patios.
In this article, I will give you the facts to make a great decision on the right choice of wood patio seating and a gas fire pit. Use this link to other articles on patio furniture with a fire pit if you want to look at other choices.
For quick details use the chart below. For further details, you can use the table of contents below and click on the blue subject and go directly to that information.
For those just looking for the current pricing and availability of this patio furniture set, use the following link.
Materials
Chair frames are Acacia wood
Firepit frames are steel with
a lightweight concrete finish
Cushions will have polyester fabric covers
Chair size
24 inches wide
20.5 inches deep
33.5 inches tall
Firepit size
32.2 inches across the top
23.8 inches tall
Fire bowl media
Lava Rocks
Price
$933.33 to $953.33
Depending on color choice
My rating
out of 10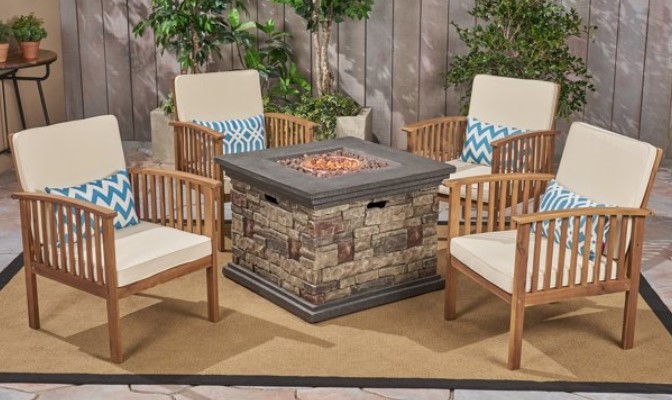 Patio Set with Fire Pit


Table of contents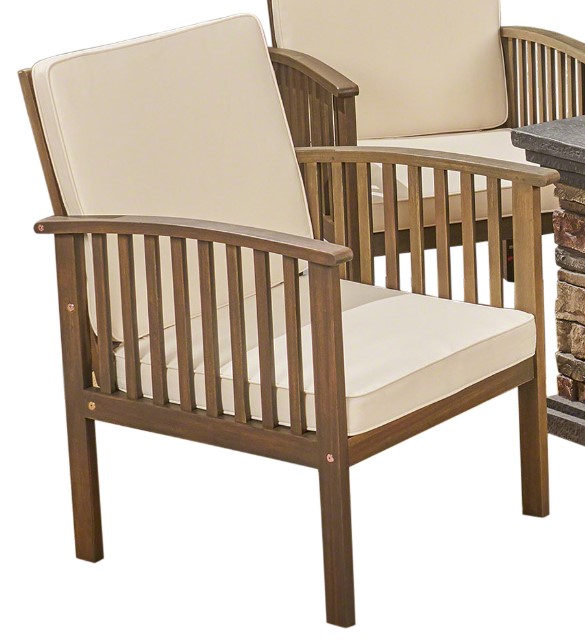 Features and construction
This set will have an all-wooden construction of the chairs. The acacia wood for the chairs will last a lifetime with proper care, making sure it is clean and treating once a year with tongue oil.
Chairs will have both seat and back cushions. Cushions will have polyester fabric for covers, these cushions should be stored when not in use to make them last more than a few seasons.
Color choices for this set will be two cushions colors (cream and dark teal) and two wood tones (brown patina or gray), the fire pit will remain the same in all three combinations. The dark teal cushions are only available in the brown patina wood tone.
The fire pit will have steel frames and a molded and painted lightweight concrete finish to look like stacked stone. The square fire bowl will have a round burner with lava rocks as a fire medium.
Size and special options
This patio furniture set will fit on most outdoor areas that are at least feet square comfortably, any smaller and it will feel cramped.
Each chair will be 24 inches wide, 20.5 inches deep, and 33.5 inches tall. The seat will be 12.5 inches off the floor with cushions. Arms are 25 inches off the floor.
Cushions will have polyester fabric covers. They will be 20.5 inches deep and 21 inches wide.
The firepit will be 32.2 inches across the top of the mantle and 23.8 inches tall. A side door will allow access to a 20-pound propane tank (not included). Another panel will have a control panel for an electronic igniter and flame control.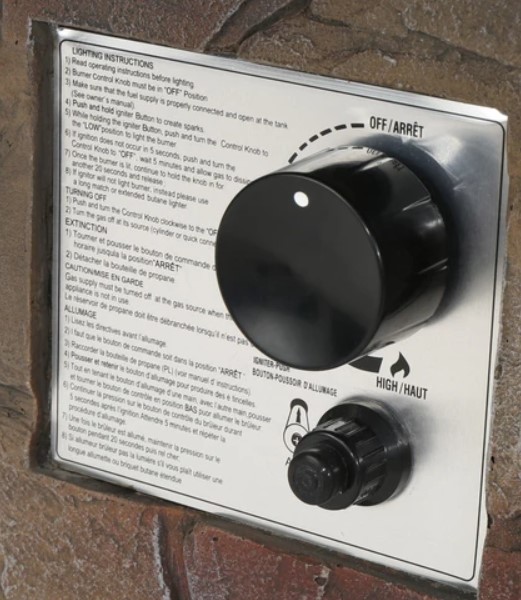 Assembly and/or care
Assembly should take the average person less than an hour. The chairs will come in four major pieces and the fire pit will need the burner and lava rocks installed.
The chairs will need the back and seat attached with included screws. Be careful to add the sides to the proper sides as the screws are inset a little and it will not look good to have them hang out if installed wrong. After the chair is set on its feet, do the final tightening of the hardware for the best results.
Taking care of your patio furniture will be easy, just a mild soap and water mixture will take care of most spills. Just do not use any harsh chemicals as it will damage the wood finish and painted finish on the fire pit. Even glass cleaners can start the paint to discolor and peel over a short time.
Cushions should be stored when not in use to prevent fading over time. Look at some of my storage solutions here for help.

Pros cons of the Tucson Acacia Wood Patio Set with Fire Pit
Pros
Acacia wood frames

Acacia wood is one of the best woods for outdoor furniture. If taken care of (onea year treatment with oil) it could outlast its owners.

Propane storage under fire pit

The propane tank will store behind a door of the fire pit and not be seen. This will give you a cleaner look to your patio.

Faux rock look of fire pit

The fire pit will have a faux rock finish that is made from lightweight concrete with a painted finish.
Cons
No movement in chairs

Chairs have straight legs with no movement. The cushions are the only thing that will make for long term seating comfort.

Cushions will need a storage solution

Any outdoor cushions should be stored out of the weather to make them last more than a few seasons.

Lava Rocks in burn bowl

Lava rocks do produce some dust and can clog the burner holes if not cleaned properly. The glass rocks look better, they would be an extra cost with this set.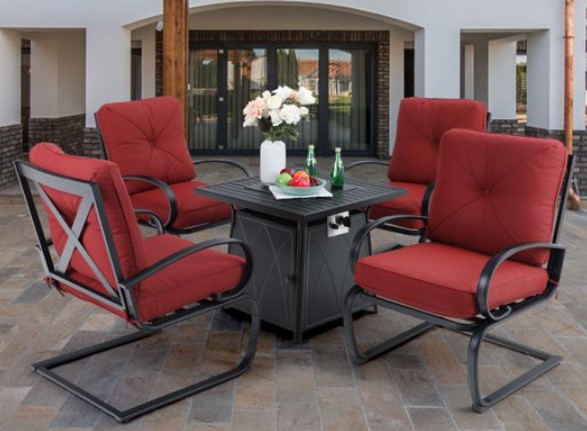 Similar products to look at
I have these similar Chat sets with a fire pit in an article here. I will be doing individual articles and will link as I get them done. I like the movement of the MF Studios with spring chairs and its low price.
Final thoughts on the Tucson Acacia Wood Patio Set with Fire Pit
I hope that you have found my information helpful. The Tucson patio furniture will last a lifetime if taken care of properly. The price is under $1000 and will look good in any patio area. The fire pit will give you a great heat source during the cooler months of fall and spring.
The biggest problem with this patio set is the cushions, they will only last as long as you take care of them. Please store your patio cushions when not in use.
If you have any questions or comments, use the forms below and I will get back to you shortly.