In this article, I will look at the MF Studios Spring Chairs Patio Seating Sets With Fire Pit. I will give the details to give you the best information to make a great choice in your patio furniture for your home.
The set will include four chairs with some motion and cushions for comfort and a gas fire pit with a cover for when you do not need a fire to keep warm. The cover will allow you to use this set year-round and not have to purchase extra patio furniture to have a side table.
For those just looking for the current availability and price, use the red banner below. For those looking for other information, you can click on the sections in the table and contents to go directly to my information on that area.
Materials
Steel with black
powder-coated finish
Chair size
25.4 inches wide
29.7 inches deep
34.8 inches tall
fire pit size
28.3 inches wide at the top
22.8 inches wide at the bottom
25 inches tall
Fire bowl medium
Glass fire rocks
Price
$729.99
My rating
out of 10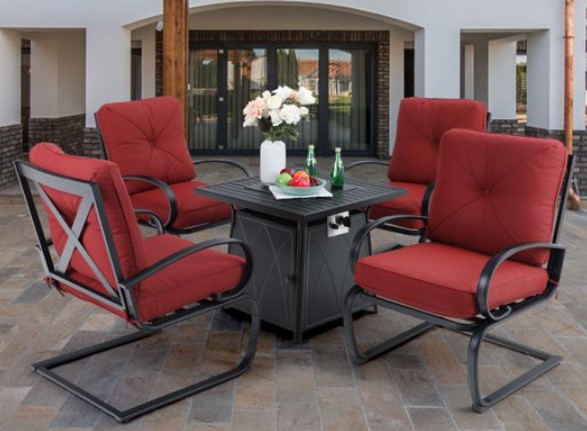 Patio Seating Sets with Fire Pit


Table of contents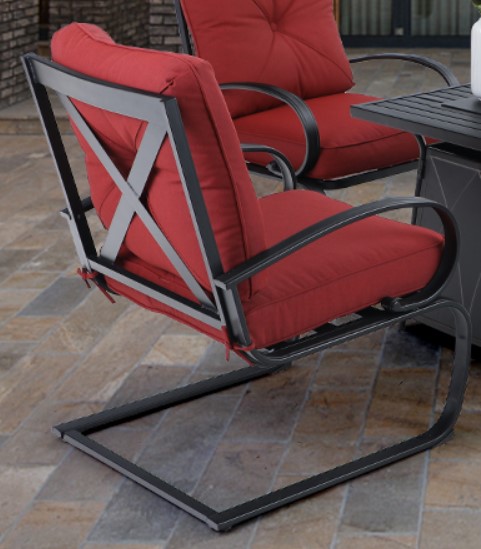 Features and construction
This patio set will have steel frames with a black powder-coated finish. The sea shape of the chair legs will give this chair a little bounce, not a true rocker but it will give it a little movement.
The cushions for both the seats and the backs will give you an extra bit of comfort. The seat cushions will come with fabric ties to hold them in place.
The fire the gas fire pit will be of square top design and it'll be a square all the way to the bottom. One of the side panels can be opened to allow access to the 20-pound propane tank (not included) that is stored underneath under the fire bowl. The propane tank will sit on a lower frame with a round design to hold the bottom of the tank in place.
One other side panel has a control panel with an electronic starter and flame control.
A square fireball will have a metal cover for when you don't need a fire pause to turn this fire pit into a side table. The square fireball will have a round fire burner and blue glass fire rocks for fire medium.
The top of the fire pit will have a slat design with a smooth top cover and the sides will have an arch design. The center of the removable cover will have a ring that folds down into the cover for storage. This ring makes it easy to remove the cover for when you want a fire.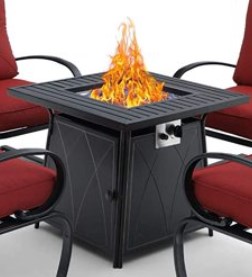 Size and special options
This set will have a couple of options not found on a standard patio set. The C shape of the chair legs will give you a rocking motion, I have a similar set at my patio table in the back and they are very comfortable for long-term sitting. The front curve of each leg will have a nonslip pad installed to help keep your chair in place.
The other option is the cover for the burn bowl when no fire is needed. This will allow you to use your fire pit as a side table for snacks and drinks without the cost of buying another piece of patio furniture.
Each chair will be 25.4 inches wide, 29.7 inches deep, and 34.8 inches tall. The seat will be 13.9 inches off the ground without the 3.9-inch thick cushions.
The fire pit will be 22.8 inches across at the base and 28.3 inches across at the top. It will be 25 inches tall. The burn bowl will be 15.3 inches across, the same size as the included cover.
On the high setting, this fire pit will put out around 50,000 BTU's of heat. Each chair will support up to 350 pounds of weight, this is one of the highest capacities of any patio furniture set.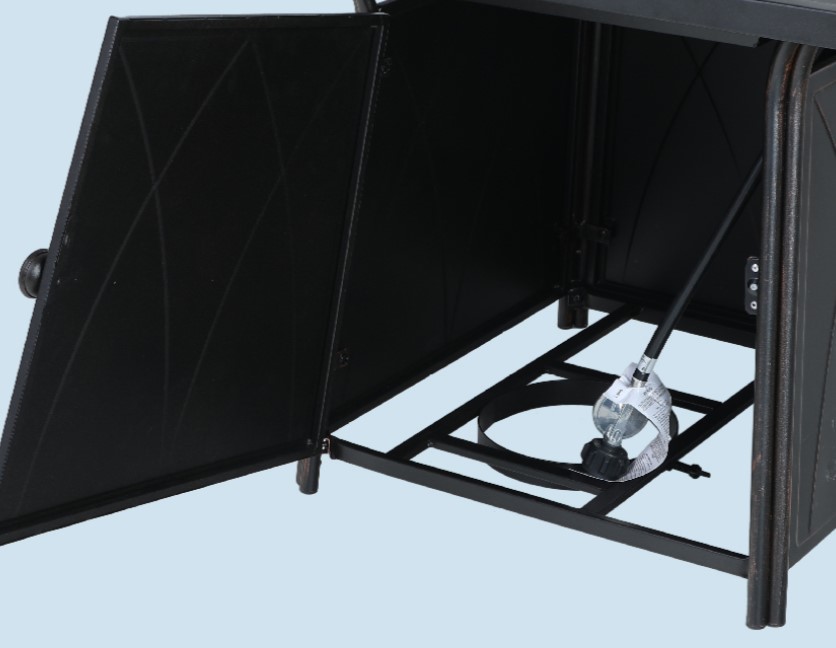 Assembly and/or care
Some assembly is needed for this patio furniture, should take less than an hour for those with some mechanical abilities. I did not get any instructions for this set so I will not guess on the total assembly.
This set like most other patio furniture will only need a damp cloth to keep looking fresh. Do not use any harsh chemicals as they will damage the powder-coated finish. The paint will fade and start to peel when even a glass cleaner is used after a while.


Pros cons of the MF Studios Spring Chairs Patio Seating Sets with Fire Pit
Pros
Cover for burn bowl

The fire pit will include a metal cover with lift ring to use it as a side table when no fire is needed.

Movement in chairs

The legs of this chair will be a "C" shape that will give a little bounce to each chair when you are sitting in them.

Tank hides under fire pit

A door will allow acess to change the propane tank when needed.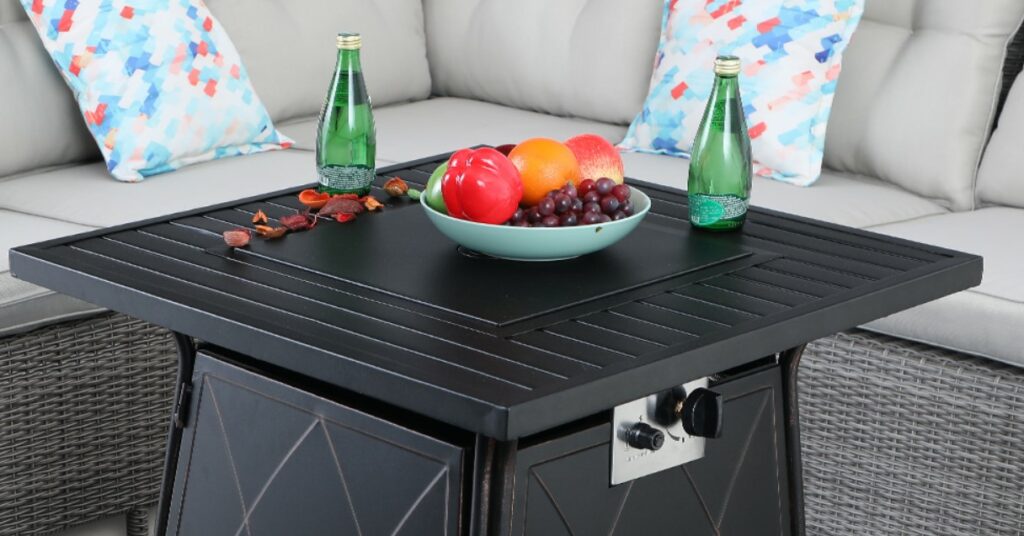 Cons
Cushions will need a storage solution

For any outdoor cushions, a storage solution will be needed to make them last more than a couple of years. See some of my storage ideas in my posts here.

Only sold online

This product cannot be purchased at the store, you must order it online and have it delivered (

delivery is free

).

Not a true rocker

Although it has motion the motion is very limited, only a slight forward and back motion.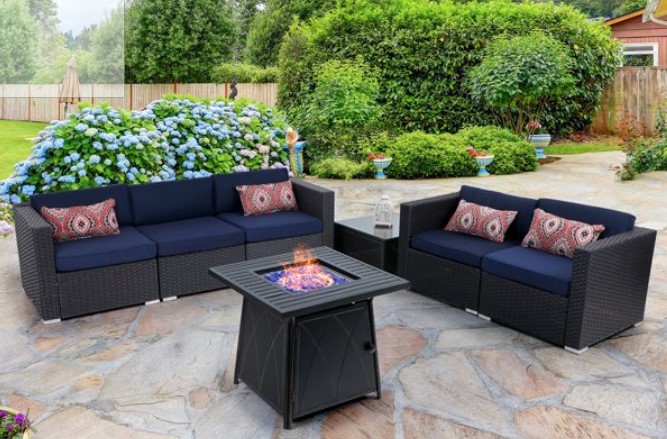 Similar products to look at
The six patio furniture sets below are in the same class as the MF Studios spring chair set. I like the MF Studios sectional set for the additional seating and flexibility in arranging the seating.
Final thoughts on the MF Studios Spring Chairs Patio Seating Sets with Fire Pit
The price for this patio furniture with movement and cover for the fire bowl is great, a lot of conversation sets start in this price range. The fact that you can convert the fire pit to a side table and the fire glass is included makes this a great purchase for the money.
I would invest in a storage solution for the cushions to make them last more than a few seasons.
If you have any questions or comments, use the forms below and I will get back to you shortly.