Are you looking for a patio furniture set that could fit a smaller space with the most benefits, look at this example-Mod Furniture Propane Fire Pit Table and Chairs Set? With a small table, small fire pit and two chairs this set could fit in a lot of small decks or patios.
This set will include a square design in the chairs and fire pit, with a modern touch in the metal-legged chairs with resin wicker upper covering. The seat cushions with the lumbar pillow will add to your seating comfort.
For a quick look at the details of this patio set, use the chart below. To go directly to my information about the fire pit seating set, use the table of contents below.

Materials
Steel frames
Glass insert for tabletop
Woven Resin wicker upper portion of the chairs
Polyester cushions
Media in the fire bowl
Lava Rocks
Size of fire pit
16 inches wide
28.5 inches tall
Size of chairs
26.7 inches wide
28.3 inches deep
33.4 inches tall
Size of side table
15.7 inches across the bottom
13.7 inches tall
Price at the time of the article
$628.35 to$749 depending on cushion color
My rating
8.5 out of 10
Fire Pit Table and Chairs set


Table of contents
Features and construction
In this patio furniture set, you will get two chairs, a side table, and a gas fire pit. Each chair will have a seat cushion and a back pillow.
The chairs will have steel frames with a woven resin wicker finish for the upper portion. The legs will be a single bar on each side from front to back with non-skid feet on the front and back of each side to keep your chair in place.
Seat cushions and a back lumbar pillow is included for each chair. The will have polyester covers in three available colors Navy Blue, White, or Gray.
The same leg design will be on the side table with a solid metal top with a tempered glass insert. You could use this side table if the glass is broken.
The fire pit will have a door on one side to change the 20-pound propane tank (not included). A control panel is an inset on the top right side with an igniter and flame control. A round fire ring will have lava rocks to help with the heat.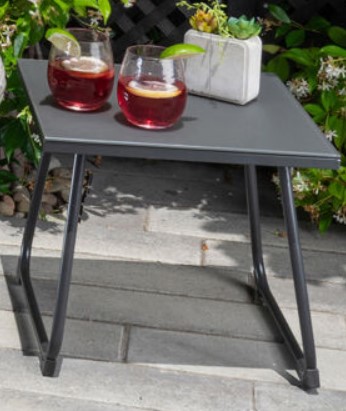 Size and special options
The chairs will be 26.7 inches wide, 28.3 inches deep, and 33.4 inches tall. No capacity is given for the chairs. These chairs can be used without the cushions if needed.
The side table will be 15.7 inches across and 13.7 inches tall, this is a little shorter than most patio tables. The tempered glass top is just an insert and the table can be used without it.
The fire pit is 16 inches square and 28.5 inches tall. The propane tank will sit behind a door and this fire pit can be used on most patios or a balcony if you are at least 3 feet from a wall. The fire pit will put out 40,000 BTUs of heat on the high setting.
Non-skid feet will be included on the chairs and side table to help keep them in place.
A natural gas conversion kit is included with this fire pit if needed.

Assembly and/or care
Assembly should take most of a very short time. With the chairs and table, the legs will have to be attached. The glass top will need to be added to the table.
The fire pit will need the door attached. Then fire bowl added and the control panel attached. Add lava rocks and a propane tank to get started.
Most of the care will be with a damp cloth. Do not use any harsh chemicals even glass cleaner as this will harm your painted surfaces. A mild soap and water mixture can be used for heavier stains.
The cushions and pillows should be stored when not in use for a while, this will keep them from fading in the sunlight.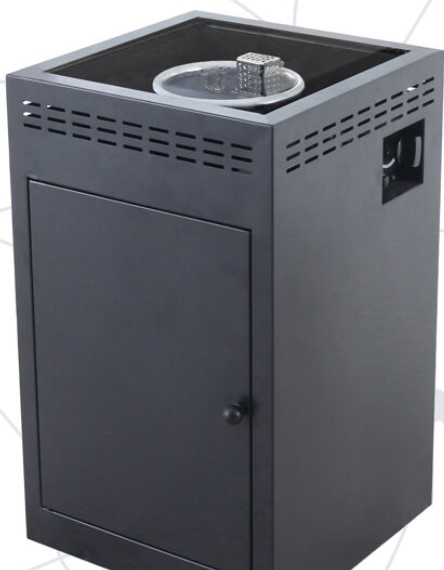 Pros and Cons of the Mod Furniture Montauk Fire Pit set(affiliate links)
Pros
Side table included

Some sets will have a conversion for the fire pit, this set will include a side table

A natural gas conversion included

If you have natural gas on your patio or deck, you can convert this fire pit at no extra cost

Modern clean design

The front-to-back single bar leg design is very clean for the side table and chairs. The fire pit has smooth sides that give it a very modern look.
Cons
Cushions will need a storage solution

When you are not using the cushions, they should be stored out of the weather and sun to make them last more than a few seasons

No motion in the chairs

These are straight-leg chairs with no motion

Lava Rocks not as pleasing as glass fire rocks

Most of the higher-priced fire pits will have glass fire rocks that have a very good reflection of the flames, it will be extra cost with this set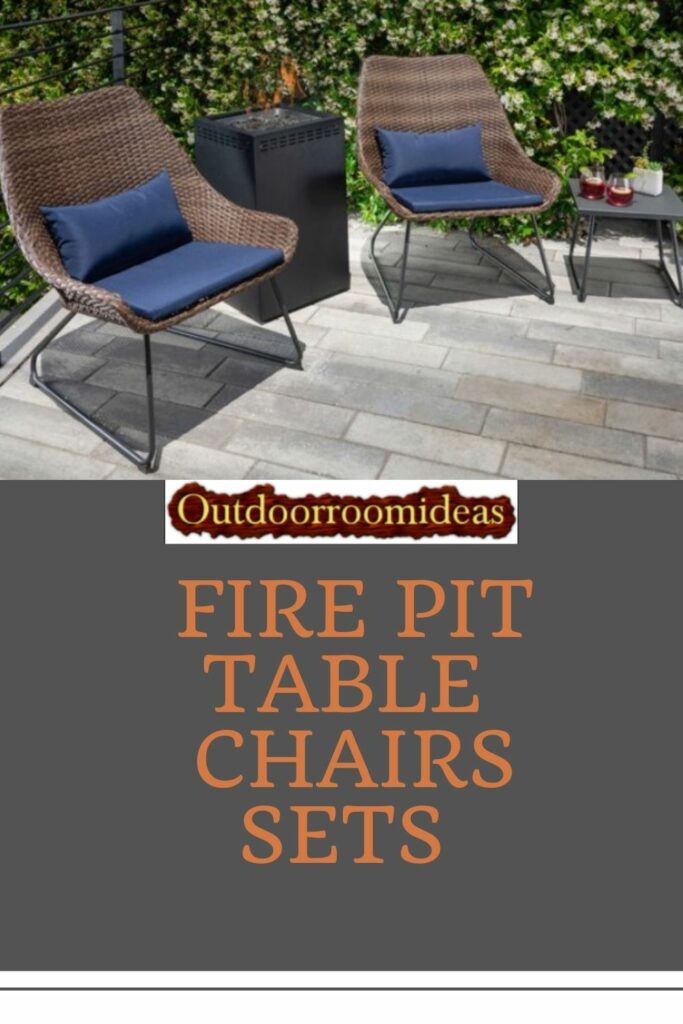 Similar products to look at
There are many choices of gas fire pits with seating, in this article, we will compare those with seating for two.
You can look at each of these fire pit sets in my article here.
Final thoughts on the Mod Furniture Montauk Propane Fire Pit Table and Chairs set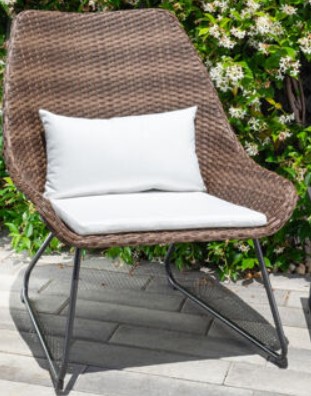 For smaller spaces, this set will really feel big with the included side table. For those with a balcony in their apartment, this would be a great set that will not take up a lot of space and be lightweight if you have to take it in for storage.
The clean lines of the steel bar-type legs and the woven resin wicker on the chairs will give this a rich feel for your guests. The glass tabletop will add to the clean lines of this set.
If you have any questions or comments about this or any other post on my site, send me a note with the forms below and I will get back to you shortly.