When looking for a dual-purpose patio furniture set, this set with seating for four and a propane fire pit will give you both seating and heating for your patio area.
The four individual chairs will give you seating that can be arranged around the fire pit in many ways. The Bexley Propane Fire Pit Patio Set will fit most decors with the choice of two fire pit finishes.
Materials
Chairs- Iron frames with resin wicker finish
Cushions – Polyester fabric
Firepit – Steel frames with lightweight concrete finish
Chair size
27.25 inches wide
27.75 inches deep
30 inches tall
Firepit size
Faux wood finish-32.2 inches across
23.8 inches tall
Stacked stone finish – 30 inches across
24 inches tall
Fire bowl media
Lava Rocks
Price
$1684.97
My rating
out of 10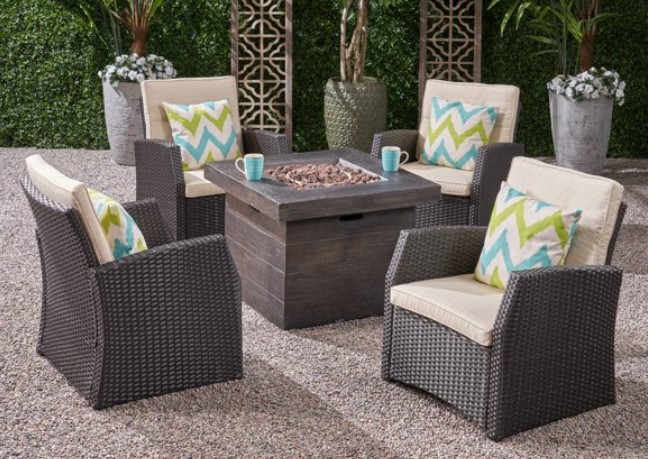 Propane Fire Pit Patio Set


Table of contents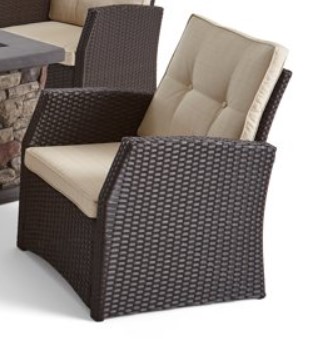 Features and construction
The four individual chairs will give seating for four. The chairs will have iron frames with a woven resin wicker finish. The wicker will be full panels all the way to the floor for the sides, back, and front sides.
The fire pit will have a steel frame and lightweight concrete finish. The lightweight concrete can be formed to look like wood or stacked stone and then be painted to give it a realistic look.
The square fire bowl will have a round stainless steel burner. The burn bowl will be filled with lava rocks for medium. The lava rocks will radiate the heat very well. The bad is that the lava rocks will give off dust that can block the holes in the burner and lead to hard-to-light and not a full flame around the burner. Keeping the burner clean will help here.
Size and special options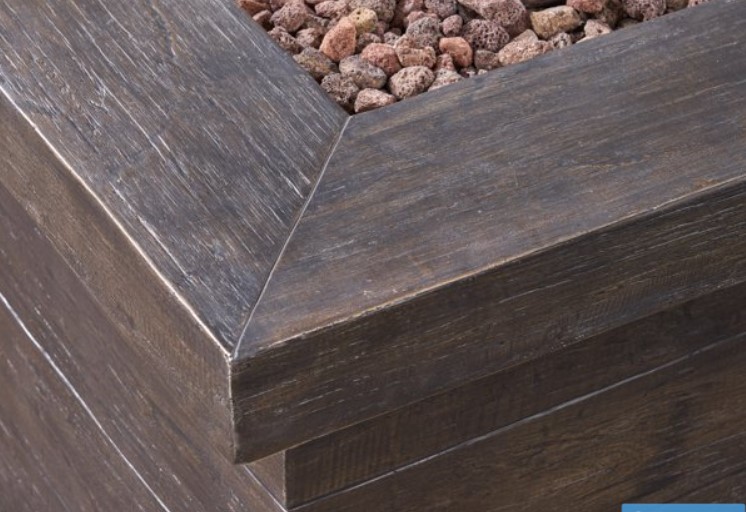 This patio furniture set will have four straight-legged chairs and a propane-powered fire pit. The comfort will be provided by beige seat and back cushions.
The chairs will be 27.25 inches wide, 27.75 inches deep, and 30 inches tall. The seat will be 13 inches off the floor and 22 inches wide between the arms.
The fire pit will have two different sizes for the different styles. The stacked stone finished fire pit will be 30 inches across the top and 24 inches tall. The faux wood fire pit will be a little larger at the top at 32.2 inches and a little shorter at 23.8 inches tall.
The fire pit will be powered by a 20-pound propane tank (not included) that is stored behind a door on one side of the fire pit. Another side will have a control panel that will include an electronic igniter and a flame control knob.
The cushions will have polyester covers. The shape will be almost square with flat sides. The seat cushions are 22 inches wide and 20.75 inches front to back. They should be easy to replace from some of the replacement cushions companies. See some of my posts on replacement cushions here.
Care of your Bexley Propane Fire Pit Patio Set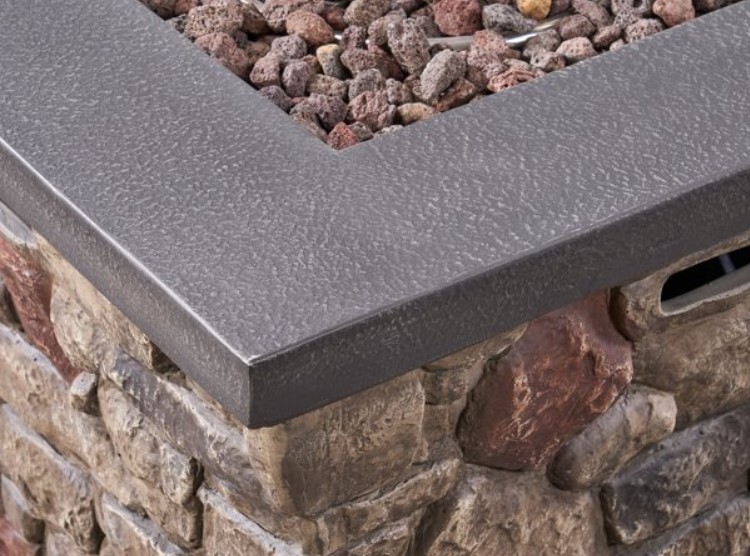 The resin wicker finish on this set will take outdoor weather very well. To clean it just use a damp cloth or a mild soap and water mixture for harder stains to remove. Do not use harsh chemicals as they may fade the color of your wicker.
Cushions should only be cleaned with a damp rag as any cleaning with chemicals may fade or damage the material of the cushions. My suggestion for any outdoor cushions is to store them out of the weather when they are not in use. See some of my storage solutions here.
To take care of your fire pit you will need to keep the burn bowl free from a lot of dust from the lava rocks so that it does not block any of the holes. This will keep your fire up to its best potential when burning.
The exterior of these fire pits is a painted finish over the concrete. This can be damaged with some chemicals and the finish will start to discolor and peel.

Pros and cons of the Bexley Propane Fire Pit Patio Set
Pros
Resin wicker finish

Resin wicker is one of the toughest materials for outdoor furniture. It will not rot or fade in most outdoor weather conditions.

Propane tank hides under fire pit

A door on one side will open and allow access to the 20-pound propane tank use to power the flame of this fire pit.

2 choices of fire pit finish

The lightweight concrete will be available in two finishes. A stacked stone in various colors or a woodgrain finish in a distressed wood look.
Cons
Cushions will need storage solution
Lava rocks for fire bowl media

I prefer the look of glass fire rocks over lava rocks. The lava rocks produce some dust that may block the burner if it is not kept clean.

No motion in the chairs

The chairs have no motion with its staight legs. The only seating comfort is in the cushions.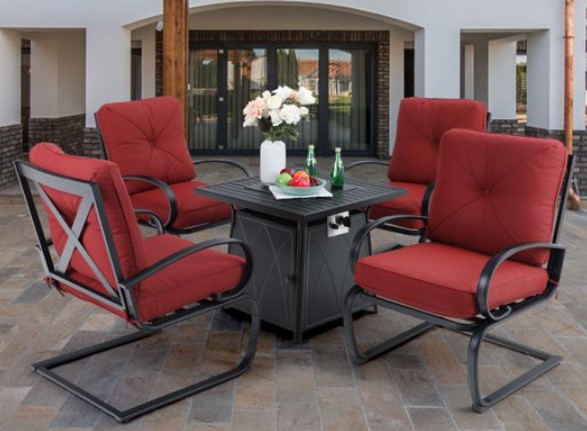 Similar products to look at
My favorite chat set with a fire pit is the MF Studios set with the spring chairs. It is priced well and has some movement in the chairs.
Hanover Orleans
Final thoughts on the Bexley Propane Fire Pit Patio Set
With a choice of two different finishes on the fire pit, it would be easy to most outdoor decor styles with this patio furniture set. The chairs and cushions will remain the same for both of the Bexley sets.
The cushions will need a storage solution like all other patio sets with cushions. The fire pit and chairs should last very well in outdoor weather conditions with proper cleaning.
If you have any questions or comments, use the forms below and I will get back to you shortly.