For something a little different, this Wicker Patio Sofa Set will have a three piece sofa and two ottomans. This set is a sectional set and each piece can be used in different ways.
The sofa pieces can be hooked together for one sitting piece or a place to take a nap. The ottomans have removable cushions so that they can be used as a side or coffee table.
This set can seat up to five people with no problem or seat three with a place to put your drinks, snacks, or feet for comfort, your choice on how you use this set.
For the quick details look at the chart below. To see the current price and availability, use this link.
Quick Details of the Goplus wicker patio sofa set
Material
Steel Frames
Woven resin wicker finish on chairs
Table all steel with wood grain painted finish
Sectional size
25.5 inches wide without arm
29.5 inches wide with arm
29.5 inches deep
25 inches tall to the top of the wicker
The seat height is 16.5 inches
Ottoman size
29.5 inches across and
25.5 inches across
16.5 inches tall with cushions
12.5 inches tall without cushions
Price
$447.99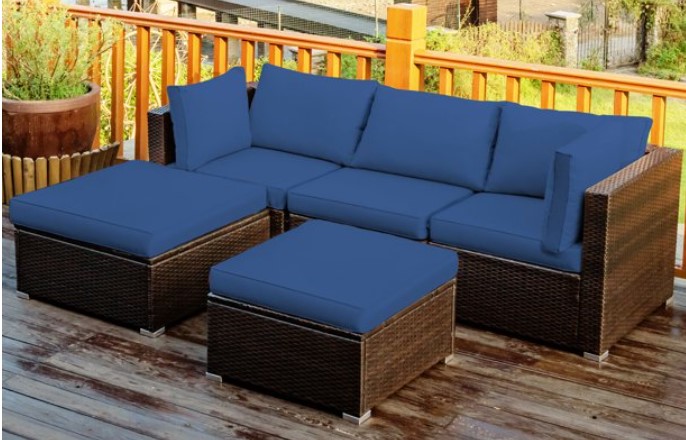 Wicker Patio Sofa Set


Table of contents
Features and construction of your Wicker Patio Sofa Set
The frames will be made of steel with a hand-woven resin wicker finish. The wicker will have a modern squared-off design that will have a dark brown finish. Cushions are available in two colors, bright red or navy blue.
Each seating position will have a 4-inch thick cushion with the backs of the sofa having a pillow-type cushion. Two cushions can be used for extra back cushions, a head cushion for a nap, or just on the ends for resting your arm on. The ottoman cushions can be removed to use as a side table or coffee table.
Cushions will have sponge-type padding covered with polyester material. Each cushion will have a zipper so that the covers can be removed for cleaning. The seat and ottoman cushions will be 4 inches thick.
The sofa will come in three separate parts and can be positioned in different ways. The ottomans can be positioned to be used as extra seating, footrest, or side tables with the cushions removed.
The feet of each piece will be an aluminum piece that is attached to each corner where each piece would contact the ground. These feet will be angled to attach to the steel frames.
Place your two armed pieces together to make a love seat and put the large ottoman at the end of the armless piece and you have a lounger and love seat with an ottoman or side table. This set is very versatile in how you set it up.
Size and special options
This set will come with two armed chairs, one armless chair, and two different sized ottomans. The pieces can be arranged in a lot of different seating patterns. Each of the ottomans can be used for seating, the bottom part of a lounger, footrest, or a side table without the cushion.
The armed chairs will be 29.5 inches wide with 4 inches arms. The armless chair will be 26.5 inches wide, the same as the smaller ottoman. Each chair will be 29.5 inches deep and 25 inches tall. The seating area will be 26.5 inches wide for each piece.
The ottomans will be in two different widths, 29.5 inches, and 26.5 inches, they will match the width of each seating piece if you want to extend your seat with a foot cushion. The top of the cushion will be 16.5 inches the same as the seats on the chairs, this will allow you to use them as an extension on the chairs without them looking out of place.
The cushions for all seats are 4 inches thick and have square sponge material for the base and a polyester cover. The back and side cushions will have a pillow-type design with sponge filling and the same polyester cover.
Each piece will have aluminum feet to keep your wicker finish protected from sliding your furniture on the floor surface. These feet do not have any adjusters for uneven surfaces.

Assembly and care of your Wicker Patio Sofa Set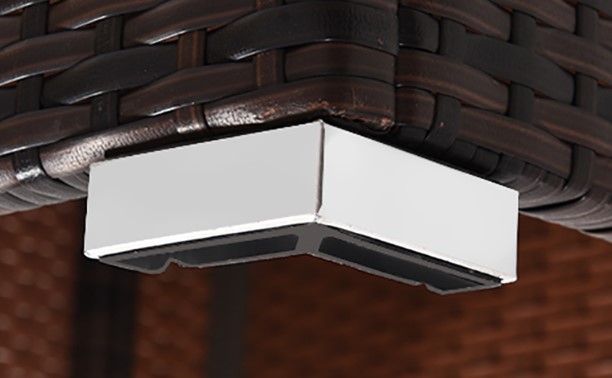 The assembly of this wet should be easy for most with some skills. Most people will be using their patio furniture in less than an hour after opening the box.
The chairs will need the backs added to the seat base. The parts should be laid out in pairs to match the screw holes for the arms before assembling the backs to the seat bases. Then the arms attached to the proper seat assembly. before adding cushions you will need to install the feet to each corner of the seat bases.
The ottomans will only need the feet to be installed before you add cushions if you are using them.
Care of your resin wicker patio furniture with cushions will be with a damp rag for the wicker and cushions. Any harsh chemicals can damage the wicker or fabric color if used.
The cushions should be stored out of outdoor weather conditions if they are not in use for any length of time. This will prolong their outdoor life by a few years. The cushions do have a zipper to remove the cover for cleaning so that you do not have to wet down the foam insides.
Pros cons of the Goplus Sectional sofa with ottomans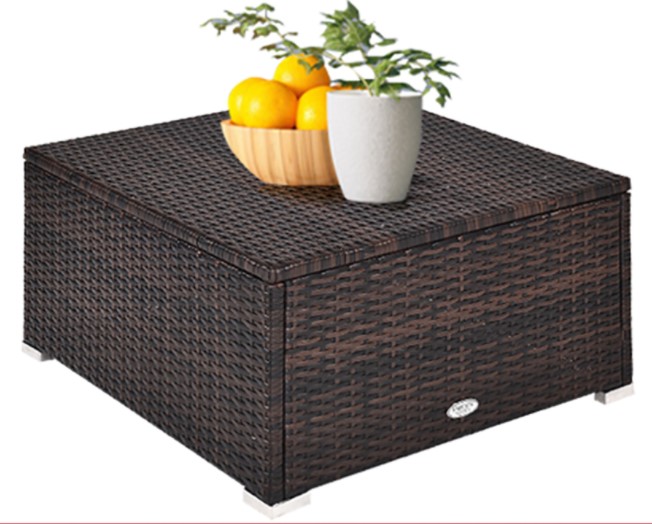 Pros
Ottomans can be used as tables

Just remove the cushions and you can use an ottoman as a side table or use both for a coffee table.

Handwoven resin wicker finish

The multi-colored brown resin wicker is very rich-looking. The set will look like it cost a lot more than it does.

Sectional pieces can be used separately

The seating pieces can be a sofa or a love seat size. The ottomans can give you a lounger if you add it to a seating piece. You can set up this set as individual seating also.
Cons
Ottoman table short

When the cushion is removed, the ottoman table will only be 12.5 inches tall, this will be pretty short for most when using for a drink table. Most other side or coffee table is around 18 inches tall.

Cushions will need a storage solution

Any outdoor cushions should have a storage solution if they are to last more than a couple of years. The material will start to fade from the sun and rain if not stored when not in use.

No adjustment on feet

This set has aluminum feet that do not have the ability to adjust for irregularities on the floor surface. This set will be better to be used by the pool or on a flat deck or patio surface.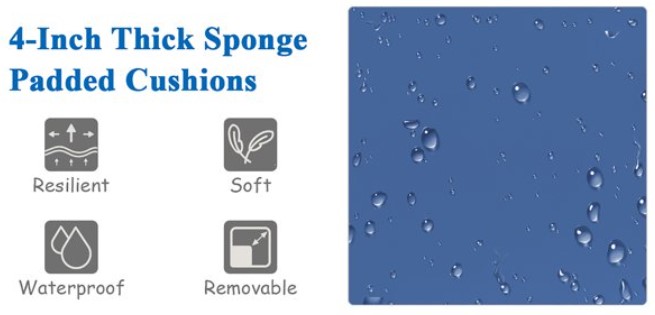 Similar products to look at
There are several options for sectional or patio furniture with sofas available in wicker today. The list below is some of these options that I have articles on.
The number one favorite of my customers is the River Oaks Sectional set followed closely by the Brookbury patio furniture set. Use the links to see the details for your self.
For the most current information on this wicker sectional set, use the link below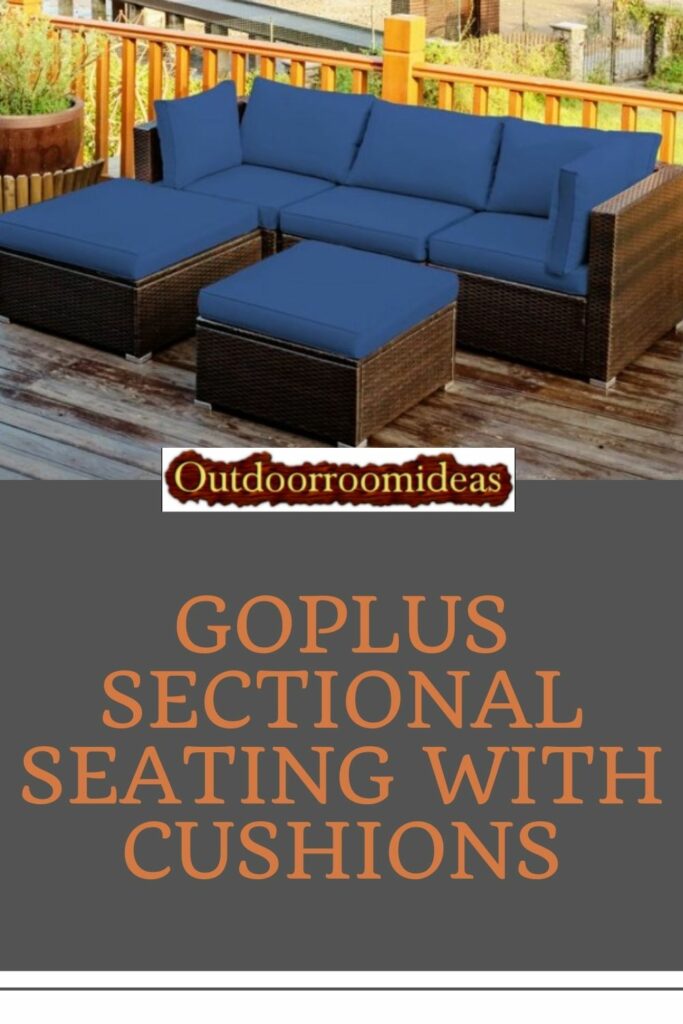 Final thoughts on this Wicker Patio Sofa Set
The Goplus sectional seating set will be very versatile for any outdoor space. You can arrange the pieces in an unlimited number of ways and change your seating at your leisure to fit the situation. The ottomans can be used with cushions or without depending on your needs.
The big drawback to this set is the cushions, as with any outdoor cushions they should be stored when not in use for any length of time to extend their outdoor life.
If you have any questions or comments please use the forms below and I will get back to you shortly.